How Difficult is Gorilla Trekking in Rwanda or Uganda?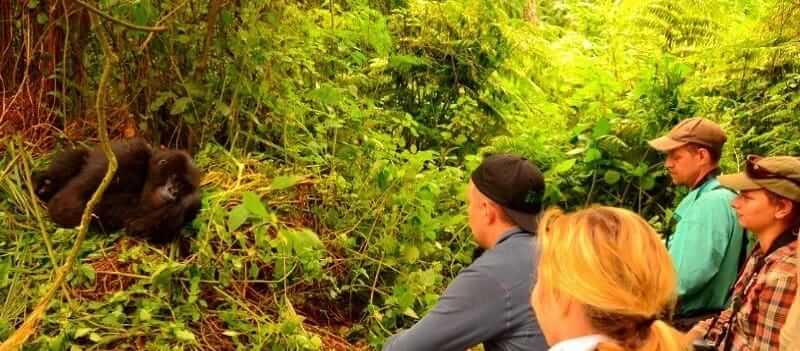 How Difficult is Gorilla Trekking in Rwanda or Uganda?
In this blog as we continue to highlight the basic tips for a gorilla safari. Find out which is gorilla group is the toughest and difficult to find on a gorilla trek. Which gorilla family is the most popular and preferred to track in Rwanda? The easiest gorilla group to find, how many hours you spend on average searching for the gorillas and being with them. And all the need to know info on the common question asked by trekkers; "How Difficult is Gorilla Trekking in Uganda and Rwanda?
Now that you have booked and secured your gorilla trekking permit and only waiting for the calendar to click that date so that you can go for the long-awaited adventure. What you need to know next as you plan for this mesmerizing adventure is to know the level of difficulty and physical fitness levels required for one to go gorilla trekking in Uganda or Rwanda.
Worry no more,  our travel experts will offer you with the needful information about what it takes to trek which particular gorilla family. And with prior (advance booking), you will be able to secure a gorilla group based on your fitness levels. You surely won't be allocated a distant gorilla group if you disclose in honesty your desire and fitness levels at the time of booking.
Gorilla trekking in Rwanda and Uganda involves hiking in rough terrains and weather conditions as you approach an allocated gorilla family. As for the elderly, there are always local guides and porters to assist you to carry your backpacks to ease any possible difficulties you may encounter as you trek the gorillas. The guides can be hired at a minimal fee starting from $20 for the whole day. They will surely be of help you to relieve of the burden of carrying your packs leaving you to concentrate on meeting the gorillas and taking photos of these enchanting primates.
Still, if you are wondering whether or not is gorilla trekking difficult? You should as well know that the hike in search for the gorillas is always a daunting task and dehydrating. Therefore, be sure that you will burn some calories on this day! Sometimes it takes over 4-8 hours to find the gorillas. And sometimes within 30 minutes – 3 hours, you are at per with the giant silverback. It is therefore worthy that you take energy-giving breakfast or carry energy-giving snacks and drinking water for the gorilla trek.
The foresty environment where you hike is tropical and therefore, insects such as tsetse flies, wasps, etc. are common, which dictates that gorilla trekkers need to use insect repellants to deter off the insect bites and protect their skin. Once a visitor follows very well our advice on what to wear and pack gorilla trekking, there will be no difficulties during the trek. As you approach to meet the gorillas, please ensure that you follow the guidelines of your lead guides and park rangers to prevent any unexpected problems while in the jungle.
Of course, a lot of people always ask questions about "how difficult is gorilla trekking" and how to enjoy the trek. If yous till have more to find out, follow the article below;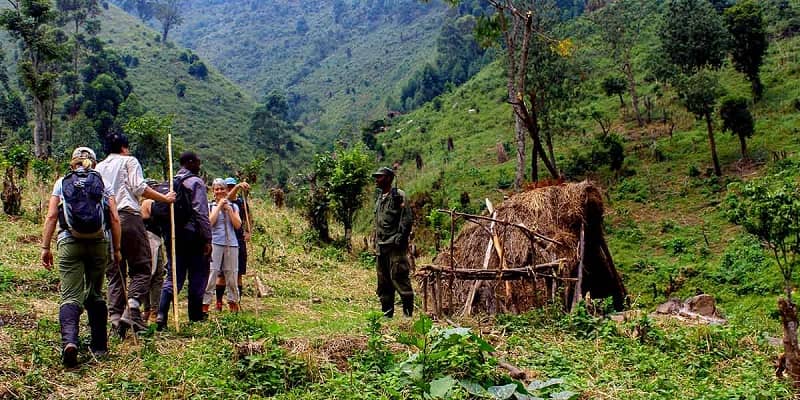 How is the Gorilla trekking activity organized?
The gorilla trekking process involves driving to the park headquarters early in the morning to attend a briefing from the guides about the dos and don'ts of the activity. After, you then drive to the starting point of the trek for your allocated gorilla family. The hike into the jungle then begins as you disembark off from your safari vehicles. Here, the difficulty level of the trek is determined by the terrific and tough terrains, slippery slopes, the weather conditions and the speed of the lead guides and fellow trekkers.
If you are lucky, you find that trekking some gorilla families takes a bit less effort and therefore less tiresome. This often depends on the current gorilla movements and their previous day habitats location.
The vegetation thickness will also determine the easiness or toughness of the hike into the forest. So trails may be created where they are not and those that are not visibly clear will be cleared with some tools.
Crawling and bending may be applied where the thickets are dense. On some rainy days, a slippery ground is the order of the pathways, meaning using stronger boots helps much. This means you should then have a walking stick to give you support where necessary.
Another difficulty experienced as you go about gorilla trekking is walking in the bushy areas so as to see the gorillas. For those aged between 15 years to 50 years, this may not seem too difficult to take. But even those beyond that age as long as they do fitness training in ordinary days may not find it hard to hike for many hours. If you intend to do gorilla trekking, ensure you make some treads days before the trip.
When you are on the trail to meet the gorillas, Don't be afraid to ask for a stopover rest in the jungle so as to regain your back and or refill your tank. You are advised to drink plenty of water and carry some quick calories – biscuits and chocolate to keep your energy levels at maximum.
The good news is that most people who track gorillas find the hike to be far less demanding than they expect, and 99% of cases, whatever exhaustion you might feel on the way up will vanish with the adrenalin charge that follows the first sighting of the silverback gorilla!
Recommended Tips for a Successful Gorilla Trekking Adventure
Ensure that you book your gorilla trekking permit in advance so that you can secure a gorilla group of your fitness level and interest.
Always consider hiring a porter even if you think you can carry your items. This is seen as a way off supporting and giving back to the community. Perhaps, it is not even that expensive, starting from as low as $20 per person
In case you feel more about the photographic moments with the gorillas, we advise that you choose a gorilla group with bigger numbers. This will reward with the best photoshoots ever!
Make sure to carry the necessary gorilla trekking clothing and wear. You can see a list of these explained here
Put on good hiking sturdy boots, the trails are always rough and mostly muddy to go about.
Make sure you are physically okay to begin the hike, else, please notify the guides at the time of the briefing.
When using the camera, please remember that FLASHLIGHT is prohibited, this may disorganize the gorillas and cause a commotion.
Gorilla trekking is a lifetime memorable adventure, why not travel along with a person, or two or a group? Don't be that mean!!
Throughout the trek, always listen carefully to the advice of your ranger guide. These are trained officials to guide you towards the best gorilla trekking experience in Rwanda or Uganda.
Recommended Gorilla Trekking Tours in Uganda and Rwanda
But before you make your gorilla tour booking, understand clearly when is the best to gorilla for trekking in Uganda, Rwanda or Congo.
In conclusion, for you to enjoy the gorilla trekking adventure in Uganda or Rwanda, ensure that you follow the proper guidelines regarding the entire process. Checking with packing list plus knowing the proper gorilla trekking gears, it will help you to enjoy the gorilla adventure tour greatly.