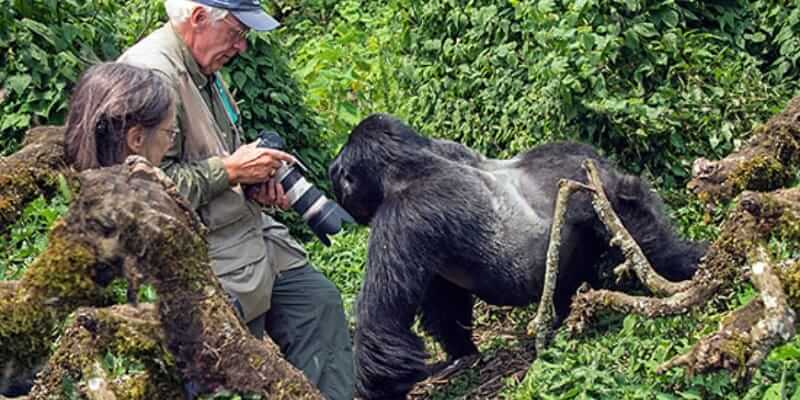 4 Days Rwanda Gorilla Trekking Tour Overview
The 4 days Gorilla tour starts and ends in Kigali, the capital of Rwanda. Enjoy 4 days of exploring Rwanda's beauty which involves a magical gorilla trekking adventure in the Volcanoes National Park where you meet face to face with the mountain gorilla giants resident in the Virunga conservation area. The pricing for this 4 Days Rwanda gorilla trekking tour includes a gorilla permit of $1500 each person visiting the gorillas and your 3 nights accommodation in Rwanda.
Safari Highlights for The 4 Days Rwanda Gorilla Trekking Tour
Day 1: Airport Pickup & Transfer to Volcanoes National Park
Day 2: Mountain Gorilla trekking in Volcanoes national park
Day 3: Golden monkey Tracking / Dian Fossey Hikes visit
Day 4: Kigali City tour, Genocide Memorial & Departure
Gorilla Trekking takes place in the Virunga ranges of Volcanoes National Park where about half (400) of the 800 remaining mountain gorillas in the world can be found in this park which gives you the chance to track these highly endangered species as well as the golden monkeys which can also be found in the bamboo vegetation of the park. 8 visitors are allowed to visit each of the 10 habituated gorilla groups per day in this park which is an indication of over 80 gorilla permits issued out daily. This gorilla trekking tour will also take you for a Kigali City Tour to visit the genocide memorial site that is a commemoration center for the tragic 1994 Rwanda genocide which claimed over 800,000 nationals. You will also visit the Kandt National Museum where you will be taken around to tour a variety of historical items left behind by the Belgium government when the country got independence.
DAY 1: AIRPORT PICKUP & TRANSFER TO VOLCANOES NATIONAL PARK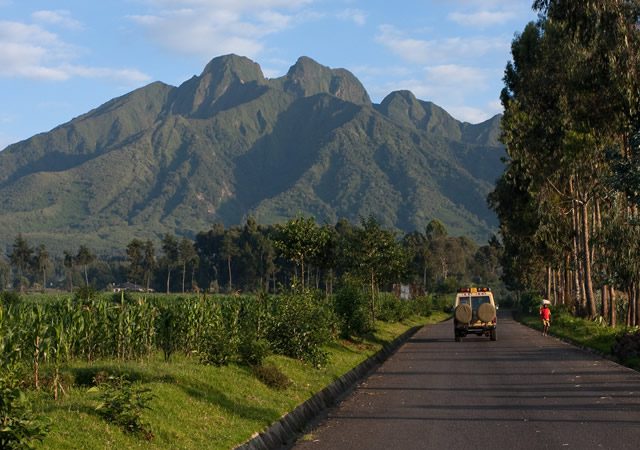 You will meet with a tour agent/guide from our company at the Airport upon arrival. Following a briefing about your 4 Days Rwanda Gorilla Trekking tour and the flow of each day's activities, you will drive to Kigali with your tour guide for a luncheon. After your lunch, Go for a Kigali city tour visiting the genocide memorial center where you will be narrated about the 1994 genocide. Later, start your 2 hours journey to Volcanoes National Park with amazing views of the rolling thousand hills of Rwanda along the way. On arrival, you will check in at the lodge of your choice for dinner and overnight. 
Accommodation Options: Mountain Gorilla View lodge (Up Market), La Palme Hotel (Moderate), Kinigi Guesthouse (Budget), Meal plan : Lunch and Dinner
DAY 2: GORILLA TREKKING IN VOLCANOES NATIONAL PARK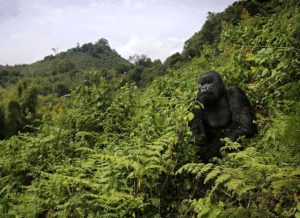 Wake up to a heavy breakfast in the morning and get transfered by your driver-guide to the park headquarters in Kinigi where you will attend to a briefing about gorilla trekking rules and regulations and be allocated to the gorilla family before embarking on the trekking adventure. Gorila trekking in Rwanda is surely a thrilling adventure one should take. You will witness and have the amazing views of the Virunga ranges, as you get up-close with these gentle giants watching them play, feed, guard young ones, among other things. On your way back to the lodge, you will be able to see other animals resident in the park such as elephants, monkeys, buffaloes as well as various species of birds. Later after trekking head back to the lodge for a late lunch. Throughout the evening, you can take a walk in the community or choose to stay and unwind at the lodge.
Accommodation Options: Mountain Gorillas view Hotel/ 5 Volcanoes Lodge (Luxury)/ Da Vinci Lodge, Gorilla Solution Lodge, Le bamboo Lodge (Deluxe)/Muhabura Hotel (Budget).
DAY 3: GOLDEN MONKEY TRACKING / DIAN FOSSEY TOMBS HIKE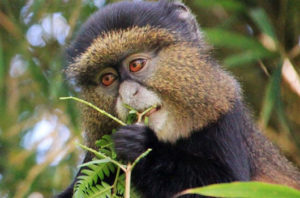 Breakfast in the morning and thereafter, you will head on for a guided walk with a ranger guide to trackto track the golden monkeys, these animals are very interesting to watch while they play, move around trees and feed.
Alternatively, you may opt for a hike to the Dian Fosssey tomb, where you will learn more about the American zoologist who once took care of mountain gorillas but was murdered by the poachers (please note that; optional activities are not included in the final costing). After the trek, return to the lodge for lunch and in the afternoon, visit a local school where you will interact with the locals.
DAY 4: KIGALI CITY TOUR & DEPARTURE
After breakfast, you will pack up and leave the Volcanoes National Park getting on a picturesque journey to Kigali City. When you have time, you will on reaching Kigali go for a city tour visiting few remarkable places like pottery projects, markets, handicraft shops, the national museum etc. Later have lunch still in the city and drive to the airport for your flight back home.