Gorilla Trekking in Uganda, Where to go, When to Visit Uganda
Gorilla Trekking in Uganda happens in the tropical rain forests of Bwindi Impenetrable National Park and the Mgahinga Gorilla National park located southwest of Uganda.  The trekking adventure in "Uganda's Switzerland" is like no other in Africa. The amazing gorilla trek takes through the cold misty jungles of the tropical rain forest hiking muddy trails and steep slopes until you meet the mountain gorillas. Seeing the last remaining mountain gorillas in the world is spectacular as the pain and fatigue of the strenuous hikes will vanish away. From the travelers' perspective, Bwindi Impenetrable National Park is arguably one of the most mystical destinations to visit for an exceptional gorilla trekking experience in Africa.
If you are lucky to book a gorilla trekking safari to Uganda, this is an amazing opportunity to visit the largest population of mountain gorillas in the world.
How To Plan a Safari For Gorilla Trekking in Uganda
Gorilla trekking in Uganda is a hike into misty jungles of Bwindi Forest, a jungle that is home to more than 500 mountain gorillas of the 900 estimated to be remaining in the world. The trek in Bwindi involves the trails through the dirty and bushy jungles of the forest led by armed local guides as you search the mountain gorilla giants.
Where to see Mountain Gorillas in Uganda?
Mountain Gorillas can only be found in Bwindi Forest National Park in Uganda with the bigger half of the remaining gorillas. The gorillas in Bwindi live in troops referred to as Gorilla Groups or Families. There are 12 habituated gorilla families that can be visited by trekkers in Bwindi.
Another destination to visit for gorilla trekking in Uganda is the Mgahinga Gorilla Family with the smallest portion of the gorillas that frequently moves to and from the Virunga volcanos in Uganda and DR Congo. In Mgahinga, there is one habituated gorilla group; the Nyakagezi Gorilla family although it is estimated that the park has over 80 gorillas living in there.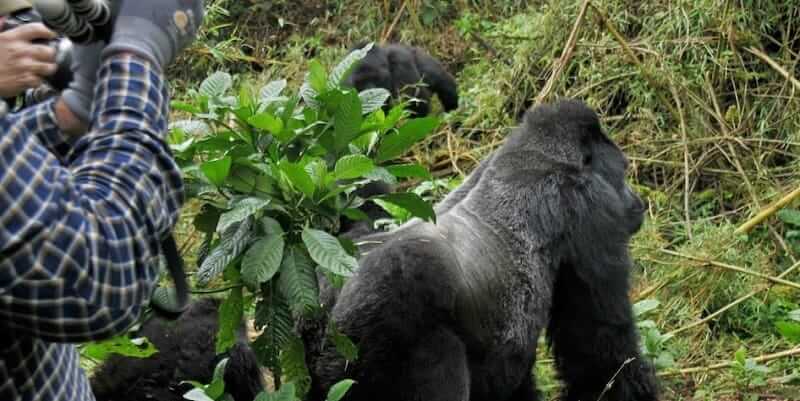 Besides Uganda, mountain gorillas can be seen in the Virunga National park that is shared by Congo and Rwanda and the Volcanoes National park in Ruhengeri, Rwanda. Bwindi is the most popular place to trek the gorillas in Uganda. The park is located in the Southwestern part of the country and is one of the most diverse national parks in East Africa.
Gorilla Trekking Areas in Bwindi Impenetrable National park
Bwindi Forest, the most visited place for gorilla trekking in Uganda is divided into four sectors; these are, Buhoma sector, Ruhija sector, Rushaga sector, and Nkuringo sector. Buhoma is the most preferred sector visited by trekkers with the largest number of gorillas and gorilla groups living in this region. These are Mubare, Habinyanja, Rushegura, and the Nkuringo group. For a remarkable adventure with the gorillas in Buhoma, It is advisable that you book your safari accommodation nearer to the sector offices where the gorilla trekking permit is issued. Our safari travel experts can help you do this. Simply contact us.
What to expect on a day of gorilla trekking in Uganda?
Your day of gorilla trekking in Uganda begins early in the morning as you wake to have breakfast at the lodge and later transfer to the park headquarters. At 7:00 am, all trekkers line up for an insightful briefing from the officials of Ugandan Wildlife Authority where you learn more about the gorilla trekking guidelines and the gorilla groups to track on the day. This follows the guides dividing you into groups of not more 8 people each and you will be assigned to the different gorilla groups to track for the day. Unlike in Rwanda, Gorilla trekking in Uganda requires a certain level of physical fitness due to steep slopes and difficult trails to undertake.
Gorilla Trekking in Bwindi Begins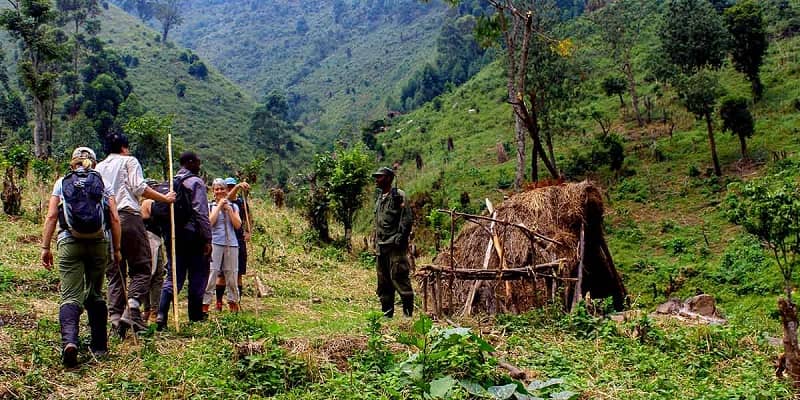 Your guides will after being assigned to a gorilla group lead you to the starting point of the hiking trail leading you to the allocated group. Whereas some groups start the trek at the park headquarters, other trails require you drive to a starting point of the trekking trail. You typically will not know until the day of if you will need to drive or start your trek from the headquarters.
The hike into the forest begins as your ranger guide leads you through the thick bushes of the forest hiking up and down the rolling hills of Uganda. Each group of trackers is accompanied by armed guards to guarantee your safety while in the jungle.
How long Can the Trek Last For?
Gorilla trekking in Uganda may last anywhere between one hour to 6 hours (or sometimes even longer). The fact that gorillas are wild animals, their movements is quite unpredictable. To find the allocated gorilla family easily, your lead guide will follow the footprints of these primates following their previous movements and present-day location. To enjoy the trek without hassle, we recommend hiring local porters to help you carry your backpacks so that you don't strain yourself during the trek. They (porters) go for as low as $15 for the full day.
How Do Mountain Gorillas Look Like?
Mountain Gorillas are enchanting primates to watch as you get closure to them. You will forget about the strenuous exercises and hike taken all day long. Mountain gorillas share about 98% of Human DNA. This is evident in their way of life, emotions, waves of laughter, intelligence and sensitivity. The gorillas are also said to be highly suspectable to human diseases. This is why trekkers are not supposed to exceed a 7 meters distance when with them. Even when they walk close to you, you are advised to stay calm and look down.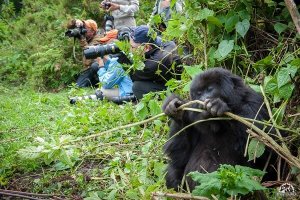 You will be obliged to spend one hour with the gorillas in which period you can take pictures (BUT NO FLASHLIGHT) with the gorillas, ask questions, and enjoy seeing them play and guard against each other. Drinking and eating around the gorillas is strictly prohibited.
The maximum of 1 hour spent with the gorillas is intended not to discomfort the gorillas as they may harm and make agitated moves when humans stay longer in their premises. Your guide will lead the group back to the foothills of the forest again. You might be lucky to find various wildlife animals as you hike back to the lodge.
What is the Cost of Gorilla Trekking Permits in

Uganda?

Gorilla permits in Uganda are sold by Uganda Wildlife Authority at a standard price of US$ 600 per person per day. This permit is what guarantees you to spend one hour with the gorillas. Contrastingly, Permits in Rwanda are double the price at US$1500, and Congo gorilla permits are sold at $400. This is why going for gorilla trekking in Uganda is much cheaper and safe cheaper than in Rwanda. Congo is less visited as the country is politically unstable and Ebola prone.
How To Acquire Uganda Gorilla Permits?
The easiest way to acquire gorilla trekking permits in Uganda is through the local tour operators. A packaged deal that includes your lodging, transport, food, and permits will save you a lot of time and headache when booking. However, it is possible to do the trek by yourself if you have your own transport or take a local Ugandan bus and can get to Bwindi.
When is the Best Time To Go Gorilla Trekking in Uganda?
Gorilla trekking in Uganda is a year-round activity and permits are issued every day. However, most people prefer to stay dry and travel during Uganda's dry season which is May-September and January and February. This is because the sun is very bright during these months and visitors are much less likely to experience muddy trails while on the trek. Whichever month you choose to visit for gorilla trekking, it all pays the same price. the experience will be exhilarating.
What to wear for Gorilla Trekking in Uganda?
There is no much contrast on the recommended wear for gorilla trekking in both Uganda and Rwanda since the activity is all the same. If you are wondering what to wear for the trek, read about what we recommend below
We recommend the best safari clothing and backpacks. Putting on such safari clothing will allow you to blend well into the forest colors and environment. Best colors recommended to put on include Khaki, Army-green clothing and brown.  Make sure that the shirts/blouses are long-sleeved to protect your arms from any possible scratches of the thorny plants. You may also accompany these with gardening gloves which will protect your hands from being hurt when you try to touch on the plants and tree branches as you hike in the jungle.
It is also recommended that you carry along with you a rain jacket in case you get caught up in a morning shower.
Wearing a long pair of stockings are recommended as you will be hiking through the thick bush. You will need to tuck in these socks so as to avoid the mean ants getting into your pants.
A good pair of hiking boots is very essential. These will give you the best experience when trekking the gorillas. Don't think of going for a trek in your sneakers or sandals.
What to bring along for gorilla trekking in Uganda
We may not mention all that you need to carry for the gorilla trek, however, the following are very essential if you have the best gorilla trekking safari in Uganda.
We advise that you remember to bring your safari backpack to keep all your materials in.
It is also necessary if you bring one or two bottles of drinking water to take as you may drain out while still in the search for the gorillas.
Having an insect repellent is also recommended. This may be in the form of a spray or body cream. You might as well drop in some sunscreen just in case.
Walking Stick: we were provided one of these where we stayed at Bwindi Lodge, which is an ideal place to stay while tracking the gorillas.
Having your pair of binoculars for gorilla trekking in Uganda is really a good idea especially if you a bird lover
And of course, don't forget to have a camera! You're going gorilla trekking and so photography on your adventure is a MUSt do to have lasting memories. Please be advised that FLASHLIGHT photography is not allowed. That's why we recommend a Fujifilm X-T10 with a 200mm telephoto lens for the best shots on the safari.
Where to stay in Bwindi Impenetrable National Park?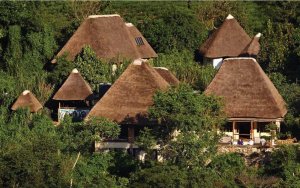 Wondering where to stay for gorilla trekking safaris in Uganda? Bwindi Impenetrable National park has a number of accommodation options including safari lodges and campsites. We recommend the following lodges for the best experience on your tour.
Nkuringo safari lodge in Nkuringo Sector

Gorilla Forest Camp In Buhoma Sector

Buhoma Community Campsite & Bandas in Buhoma Region

Silverback Lodge,

Bwindi-View Bandas

With Stunning views of Kabale Hills

Gorilla Safari Lodge in Ruhija Sector
All these lodges provide full board, all alcoholic drinks, comfortable beds, complimentary massages, and laundry services. You can contact us to help you with the booking for any of the above