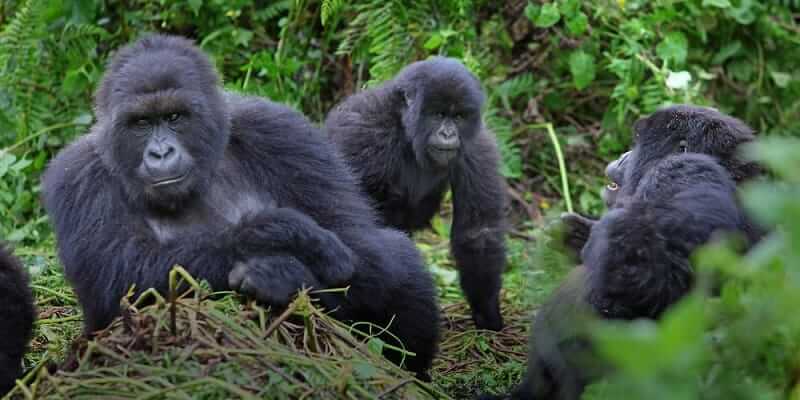 1 Day Rwanda Gorilla Trekking – Short Gorilla Tour Description
Book this 1 Day Rwanda gorilla trekking safari taking you to encounter the mountain gorillas in the Volcanoes National Park on this magical thrilling adventure with Visit and Tour Rwanda. This short day gorilla safari starts and ends in Kigali, Rwanda's capital and central business district. You will leave very early in the morning, heading to Volcanoes National Park, north-west of the country to track the mountain gorillas on this safari trip.
Your 1 Day gorilla trekking safari in Rwanda's Volcanoes National park rewards you with an exceptional opportunity to met the highly endangered gorillas in their natural habitat but within a shortest time possible. Indeed, this gorilla safari is designed to perfectly meet the demands of visitors who have a very fixed time budget in Rwanda but are much more than willing to spare some time for an exhilarating gorilla expedition.
1 Day Rwanda Gorilla Trekking Safari Itinerary
You will start your 1 gorilla safari from Kigali the capital of Rwanda. This safari requires you to wake up at about 4:00 am and get ready to leave the hotel/residence at 4:30 taking a 2-3 hours journey driving to Musanze District in the Northern province of Rwanda where the Volcanoes National Park is located. The whole journey from Kigali to Musanze is a 116 Kilometers Journey.
By 7:00 am, we shall arrive at the park headquarters in Kinigi where we merge with other trekkers of the day to attend to an insightful briefing on the basics of Gorilla trekking, the gorilla families assigned to each trekking group and later by 8:00 am, you will be dispersed off into the forest to start the gorilla trek with your assigned park ranger guide.
Gorilla trekking in Rwanda usually lasts between an hour to 6 or 8 hours. This largely depends on the previous movements and current habitat of the mountain gorillas, Remember these are wild primates and their movement is highly unpredictable. Upon locating the gorilla family assigned to track, you will be permitted to spend 1 hr with them enjoying their enchanting behaviors as they play, jump and feed in their habitats. You can take photos of the gorillas BUT WITH NO FLASH. After the 1hr which seems to be like minutes, then we trek back out of the forest and then transfer back to Kigali for your flight back.

What you need for Gorilla trekking in Rwanda
Gorilla trekking requires you to caary the following items on your gorilla safari
Water: Rwanda Gorilla trekking safaris can be very tiresome and you need to refill your tank as the trek goes on. It is advisable to park a few water filtration tablets before you come for the trek.
Boots: You will need good waterproof comfortable shoes. Some times it rains during the trek, so skid proof shoes can come in handy.
Rain Jacket: You are advised to carry rain jacket because if rains very often in Volcanoes National park
Snack: You can carry a light snack to give you some energy during the walk in the forest
Trouser and Shirts The forest in Volcanoes National Park is covered with thick undergrowth, therefore light trousers and long sleeved shirts are advised.
Socks: You will have to tuck in the trousers into the socks to avoid insects crawling inside.
Gloves: You will need Gardening gloves because you will be grabbing tree branches, leaves, name it, and some can be thorny.
Camera: Carry a good camera to capture this lifetime experience (no flash)
Included in Rwanda gorilla Safari
Airport Transfers
Bottled Water
Bottled Water
Experienced English speaking Driver
4X4 Safari car for Transportation
What is excluded in the Safari
Visas
Tips for Driver and Guides
Souvenirs
Insurance
Air tickets
Drinks from the Accommodation
Laundry
Anything not discussed during the initial meeting
Related Gorilla Trekking Safari Itineraries