Golden Monkey Trekking in Rwanda – Volcanoes National Park
Golden monkey trekking in the Volcanoes National park of Rwanda is yet another magical and thrilling adventure to encounter on a visit to Rwanda. Tracking these gold-furred primates of Rwanda rewards you with an enchanting experience after an exhilarating gorilla trekking adventures in the mountains and plains of Volcanoes National park in the Virunga ranges.
These nice-to-see primates have a unique golden fur skin adding a beautiful and attractive look which will force you to take exciting photo moments of them.
Despite being overshadowed by the most famous gorilla trekking activity in the park, golden monkey trekking is also an additional activity to someone who has finished having an experience with the gorillas. This is why in most cases, it is a combined tour experience for both gorilla trekking and golden monkey tracking when you visit the Volcanoes National Park in Rwanda.
Where to Go for Golden Monkey Trekking in Rwanda?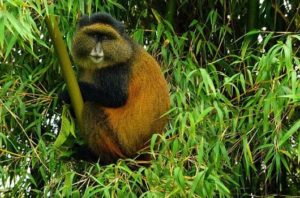 The golden monkeys are only and only found in the Virunga ranges covering the sections of Congo, Uganda, and Rwanda. These enchanting but endangered primate species are evidently resdient in the bamboo forests as well as vegetation at the far base of Volcanoes Mountains.
The golden monkeys are well known to feed on mostly the bamboo shoot. There are two habituated troops of these primates living within the Volcanoes national park. The larger troop is located in the Sabyinyo having 80 to 100 members (This makes it the most visited troop).
To track the golden monkeys in the Sabyinyo area, you must first obtain valid golden monkey trekking permits just like the gorilla trekking process. These permits cost only $100 and there is no limit to how many people can do this trek as it is on gorilla trekking where only 8 people are limited to each gorilla group. Golden Monkey trekking also has no age limit.
How is Golden Monkey Trekking Conducted?
Golden monkey tracking is always conducted once in a day and this only takes place during the morning hours after having your breakfast and a guided briefing from the park rangers.
Therefore, visitors must arrive at the park headquarters at exactly 7:00 am to attend the insightful briefing and later be guided on the traisl to find the golden monkeys in the forest.
It is very easy to find the golden monkeys since they live in the bamboo forest which is the common vegetation around in the park. By just following the traces of fresh leftovers from the bamboo shoots eaten, you are able to find these primates in less than an hour.
You will be guided to spend one(1) hour with these enchanting primates taking photos of them and enjoy them as they try picking the bamboo shoots and also make vast leaps from tree to tree and this is possible with their long tails that provide balance. These long tails can also get stuck by the bamboo and then these are cut off as you will view some monkeys with short tails.
The Golden monkeys are some of the shyest monkeys you can come close to within a meter. They are also very delightful for photography and the flash is allowed which is not allowed for the other primate species, ie the gorillas and chimpanzee trekking in Rwanda. These monkey species also love camera flashes and also love moving out of the park into the open potato fields in order to eat the Irish potatoes that are left behind after the harvest. The monkeys also dig and clean the potatoes before eating and this is so amazing to watch!
What Level of Physical Fitness is required for Golden Monkey Tracking?
The golden monkey trekking activity is by far one of the less strenuous hikes to take within Volcanoes National park. Since these primates live at the bottom of the mountain with in the bamboo forest and the terrain is also slightly flat and so easy to hike. It only needs basic fitness to hike to see these great creatures. 
What to Carry for the trek in Rwanda
Carry your hiking shoes as usual
A rain jacket
Drinking water
A camera with a flash
Where to Stay on a Golden Monkey trekking Safari?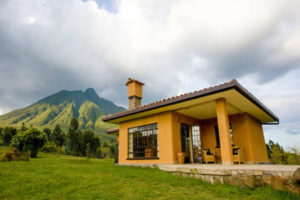 The same accommodation facilities for gorilla trekking safaris that are near and close to Volcanoes National Park still offer the same accommodation for golden monkey treks. There are many hotels, lodges as well as camps you can book and stay in depending on your budget plan,
Some of these facilities are very close from the trail point of most of the activities in Volcanoes National Park. And the far lodges are only 1 hour away from the real starting point. The guests can also want to stay in Kigali and then leave so early at 4:40 am to arrive at the park headquarters for a briefing.
Though is stressing and we advise this to those who have got only one day for gorilla trekking, golden monkey tracking as well as the volcanic hike. This is because this is stressing and we don't often advise it. We therefore recommend the 2 or 3 days gorilla safaris.
Types of Safari Accommodation available.
We have also collected these lodges into three categories including; High-end luxury accommodations, the mid-range accommodations, the basic accommodations.
The High-end Luxury facilities.
These are between 3.5 to 4 stars lodges with good facilities than those of mid-range accommodations. Some of these have got internet services as well as minibars and fantastic structures. Many of these facilities give continental cuisines and a swimming pool.  The room prices range from $300 to 500 per person per night.
These are also moderate facilities with 2-3 star services. These rooms are also self-contained and have got a dining room that is attached to them and are only used by the lodge residents. The price ranges from $100 to 290 per person per night.
These are also modest styles with humble beddings. These budget accommodations also don't have services like television, mini bars and sometimes don't have hot water. This means that you will be required to order room service with hot water. Even though they are budget accommodations, they have got restaurants that gives nice meals to clients.
All the stages of accommodation are there in close vicinity to the heed quarters of the park. These also allow you to participate in many activities. Some of the activities include; golden monkey trekking, mountain gorilla trekking, and the volcano hike. We have also given information about some of the accommodation facilities that we have to use. In case you want to book these facilities, contact us please.