[cz_title id="cz_78596″]
Gorilla Families in Rwanda
[/cz_title]
Mountain Gorillas are categorized into groups and there are different Gorilla families in Rwanda.Trekking Mountain Gorillas is probably one of the most captivating activities in Africa. On a sad not it can only be done in Uganda, Rwanda and the Democratic Republic of Congo in  the whole world. In Rwanda trekking mountain gorillas can be done in one place and that's Volcanoes National park in Musanze (former Ruhengeri). The park currently has 10 habituated Mountain Gorilla groups and only 8 permits are allocated to every group making availability of 80 permits per day. The mountain gorilla groups differ every group has something unique to offer like character, size, dominance and more. Some mountain gorilla groups are led by Silverbacks which are very peaceful and if you portray the same character then it would be recommended to bond with a peaceful family.
[cz_gap height="20px"]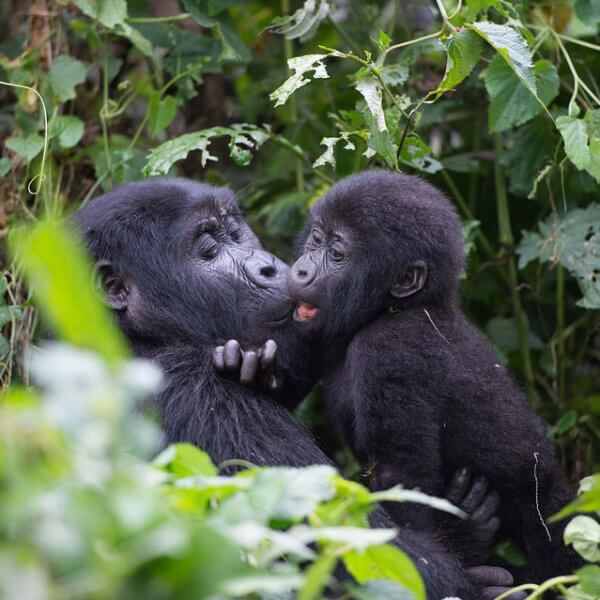 [cz_title id="cz_96698″]
Take a look at the list of gorilla families in Rwanda
[/cz_title][cz_gap]
[cz_image id="cz_52259″ image="2141″]
[cz_title bline="cz_line_left_side" id="cz_28715″ sk_lines="background-color:#5a3708;width:5px;height:52px;top:-1px;" cz_title=""]
Susa family (Susa A)
Susa group is the biggest Mountain Gorilla family in Rwanda in Volcanoes National Park. The group originally had a total of 42 members before it split and reduced to a current total of 33 members and 2 silverbacks. This  gorilla family has very interesting and amazing twins with a huge size that attracts tourists attention.  It's also the first group that Dian Fossey first studied during her years in Rwanda. The group is apparently the hardest to track but turns out to be the most preferred by most gorilla trekkers. Susa A inhabits the lower base of Mount Karisimbi.
Susa gorilla family was named after River Susa which runs through the area where the gorilla group normally calls home. Susa gorilla family is indeed historical and one of the popular groups in as far as conservation studies of mountain gorillas is concerned.
Susa gorilla family that Dian Fossey studied while she was at Karisoke Research Center in Volcanoes National Park Rwanda before her sudden death in 1985.[/cz_title]
[cz_title bline="cz_line_left_side" id="cz_51498″ sk_lines="background-color:#5a3708;width:5px;height:52px;top:-1px;" cz_title=""]
Sabinyo Family
The Sabinyo gorilla family currently has 13 members and 2 Silverbacks. Sabyinyo gorilla family in Rwanda came into existence shortly after the death of a dominant silverback that led the group thirteen. After his death, a few females left teaming up with other males from group eleven to form a total of 4 females and two Silverbacks and also have their name changed to Sabyinyo gorilla group or family. One of the Silverbacks that leads this group at the moment is the largest in Volcanoes National Park. This group usually roams on the slopes of Mountain Sabinyo and this makes it relatively easy to track.
Named after Mount Sabyinyo, a piece of the great Virunga Volcanoes that translates to "old man's teeth" in Kinyarwanda, Sabyinyo gorilla family stays in Volcanoes National Park and comprises of 9 members that are frequently found in the gentle foothills of Mt. Sabyinyo and Mt Mgahinga. Sabyinyo group is one of the closest groups normally found at the edges of the park therefore easily accessed and allocated by the trackers for visitors to trek. On a good day, it could even take you less than 2 hours to access this group.[/cz_title][cz_image id="cz_40492″ image="2156″]
[cz_image id="cz_80476″ image="2154″][cz_gap][cz_title bline="cz_line_left_side" id="cz_24094″ sk_lines="background-color:#5a3708;width:5px;height:52px;top:-1px;" cz_title=""]
Amahoro Family
Amahoro gorilla family is the most peaceful family in volcanoes National Park, The word "Amahoro" means peace in Kinyarwanda and therefore this group is known for its peaceful ways. This group has lost members to groups that are very aggressive because of its peaceful character. Amahoro Gorilla Group currently resides on the slopes of Mountain Visoke and has about 18 members with 2 Silverbacks.It is difficult to trek this group because of where it resides on the terrain slopes of Mountain Visoke  and the terrain is strenuous. If you have a peaceful character in nature and love peace as well then you might have to book your permits for trekking this gorilla group.
"Amahoro" is a word to mean peace in Kinyarwanda. Amahoro is therefore a peaceful family and those that have managed to track this group will definitely testify that indeed all members are very peaceful. This Family is led by a silverback called "Ubumwe" which means togetherness. This group inhabits the slopes of Mount Bisoke. It established its home there but can move up the mountain occasionally which, makes it hard to track them.[/cz_title]
[cz_title bline="cz_line_left_side" id="cz_26091″ sk_lines="background-color:#5a3708;width:5px;height:52px;top:-1px;"]
Agashya Family
Agashya family is formerly known as group 13 but recently changed its name. This group got its name due to the initial number of the 13 individuals that started the group. This family was initially led by a dominant silverback called Nyakarima who was later on overthrown by another dominant leader – Agashya who leads till today. The name Agashya means 'News' and surprisingly the family was named after him. It apparently has way more members that it did previously! The tally is about 27 members with just one Silverback. They also roam on the slopes of Mountain Sabyinyo just like the Sabyinyo family.
Also known as Group 13 (thirteen), Agashya gorilla family is easy to identify by number and so the name. Currently the group has about 25 members with one silverback, 12 females, 7 babies, and 3 juveniles. They enjoy the green vegetation of the PNV.[/cz_title]
[cz_image id="cz_97079″ image="2160″]
[cz_image id="cz_101066″ image="2166″]
[cz_title bline="cz_line_left_side" id="cz_109350″ sk_lines="background-color:#5a3708;width:5px;height:52px;top:-1px;"]
Umubano ('Live Together') Family
With 13 members including 2 Silverbacks, Umubano gorilla group was formed by members of the Amahoro family after one of its Silverbacks called Charles, broke off to form his own group. Despite the peace in Amahoro group, Charles and Ubumwe has endless battles till Charles could not take it any more hence, the birth of Umubano Group. Apparently, this group lives in the same territory the Amahoro Group.This family was initially part of the Amahoro group before forming one of their own due to instabilities between Charles and Ubumwe the Silverbacks. As Charles grew older, he was tired of taking orders thus fighting and challenging the leadership of Ubumwe. Ubumwe also accepted Charles to take two of his females to form his own group. They meet on several occasions but the two never fight.[/cz_title]
[cz_title bline="cz_line_left_side" id="cz_32516″ sk_lines="background-color:#5a3708;width:5px;height:52px;top:-1px;"]
Umubano ('Live Together') Family
Hirwa family is a new group and has 16 members with one Silverback. It was formed by members from the Sabyinyo family and group 13 but later on more members joined to increase the tally to 16. It roams between the mountains of Mount Gahinga and Sabyinyo. This is one of the luckiest groups in the park and slots among the few that managed to get twins. Their twins were born in the year 2011. The word 'Hirwa' means 'Lucky One'. Need some luck or rather are you lucky? You might need to trek to see this family.The name Kwitonda was adopted from the dominant silverback in this group. Akarevuro who was young in the reign of Kwitonda has taken over the leadership after the demise of Kwitonda. The two other Silverbacks in the group, Kigoma and Magumu also submitted to the fact that Akarevuro had taken over the leadership of the group. In September 2012, Kwitonda was found dead at the age of 40. His health had started deteriorating and the pressure from the young gorillas also affected him.[/cz_title]
[cz_image id="cz_37622″ image="2168″]
[cz_image id="cz_93131″ image="2171″]
[cz_title bline="cz_line_left_side" id="cz_48707″ sk_lines="background-color:#5a3708;width:5px;height:52px;top:-1px;"]
Karisimbi Family
Just like the name, this group resides on the slopes of Mountain Karisimbi. It has 16 members with one silverback. It's a breakaway faction of Susa family reason why they also call it Susa B. Karisimbi gorilla family is currently the hardest to trek because it resides on the upper slopes of Mount Karisimbi that sits on an altitude of 4507m. The Silverback of this group took his group to a very far place that is hard to reach so as to stay away from trouble. If you need a real physical challenge or rather some serious hiking then you ought to reserve your permits for this group.
Karisimbi previously stood at a score of 15 members but unfortunately some of their members called it quits and joined other groups. Today this group has 11 members including 1 adult female, 4 Silverbacks, a Black Back and 2 infants.[/cz_title]