Gorilla Trekking Age Limit in Rwanda and Uganda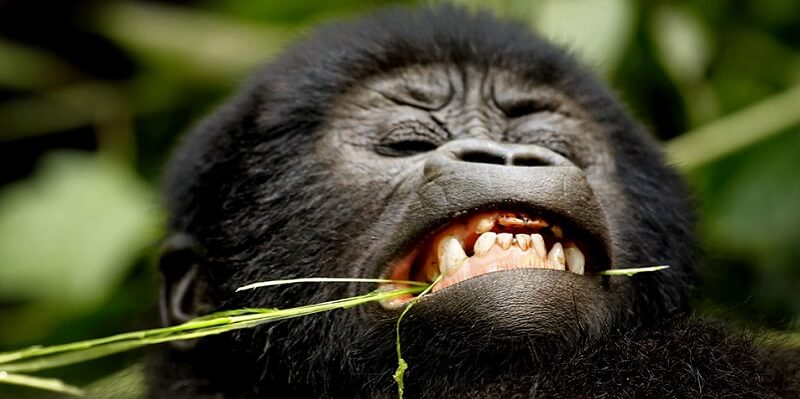 Gorilla Trekking Age Limit in Rwanda and Uganda
To go for gorilla trekking in Rwanda or Uganda, the authorities responsible for this awe-inspiring adventure set aside certain regulations to be observed for a successful trekking encounter. The gorilla trekking age limit in Uganda and Rwanda, therefore, is 15 years despite your physical appearance and size.
Mountain gorillas live in live only in Bwindi Impenetrable Forest National Park and Mgahinga Gorilla National Park in Uganda,  in the Volcanoes National Park, Ruhengeri – Northwest of Rwanda as well the Virunga NationalPark of Congo.
Listed in the International Union for Conservation of Nature (IUCN) as the critically endangered species, the age limit for gorilla trekking is enforced to forbid children below 15 years getting closer to these primates. This is because they (gorillas) are assumed to be vulnerable to human diseases and this is very common with infants below the age of 15 and can easily spread such diseases to these endangered species while in an encounter with them.
Another reason why there is a gorilla trekking age limit in Rwanda and Uganda is that children below 15 years are very unpredictable and may behave weirdly while in a face to face encounter with the large apes. Children can opt to run away rather than scouting or bowing down in case the gorillas become irritated due to human presence in their habitat which can make these species to follow trekkers as they are wild animals although they are habituated.
Gorilla trekking is not safe throughout and the fact that they are wildlife species their behavior can easily change depending on the varied mood and surrounding atmosphere. For people above 15 years, they are believed that they can assist themselves in case of any occurrence in the forest and they are grown up to abide by the whole gorilla trekking rules in the destination.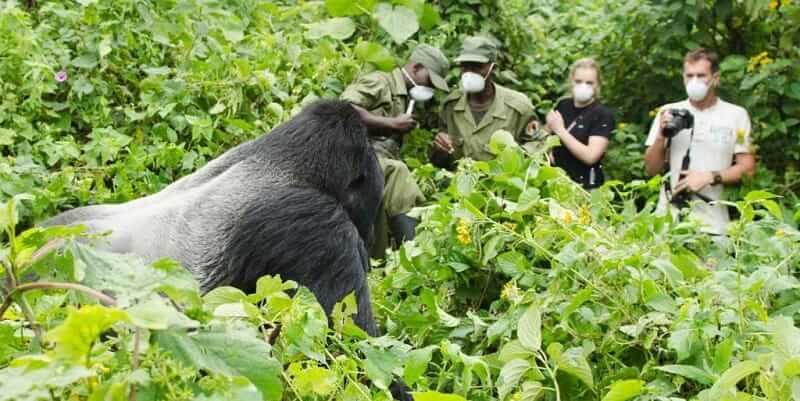 Mountain gorillas have emotions; they are fearful and scared by strange occurrences in their habitat take for instance the flash lights from the cameras. They can become irritated depending on what they feel, in most cases get overwhelmed and feel challenged in their habitat and the best that they can do is fight back in self-defense.
The forests where gorilla trekking takes place are also thick and features several trails and can be hard for children below 15 years to catch up with the map of the area and in case of any off-trail route taken. This can really be challenging to trace.
Children naturally playful and can slow down the speed of that person responsible for them and indirectly impacts on the guide and the tracking group at large given the time that is allocated for visitors to be in the forest with the mountain gorillas. For persons above 15 years, they can easily follow the rules and be less playful while on the trek.
To minimize such negative results, persons under 15 years are not allowed to go for gorilla trekking safaris in any of Uganda, Rwanda, DRC destinations. Uganda Wildlife Authority (UWA), Rwanda Development Board (RDB) and Institut Congolais pour la Conservation de la Nature (ICCN) have therefore managed to limit children from this amazing adventure using a gorilla permit for anyone willing to track mountain gorillas. Your tour operator or park authority will also request visitors to present their passport copy especially for all those who book gorilla trekking permits.
If you are identified to be less than 15 years, then automatically you will not be given the permit and also advised not to go for the trek. In case you succeed to access the permit on booking, you may not run away forever but will be sighted on the actual gorilla trek.
Before setting off gorilla trekking, there is an early morning briefing and all tourists are required to present their original copies of passports. Should your age be doubted? then they may request for your birth certificate and if afterward it is affirmed that you are under the age limit, you will not be allowed to go for gorilla trekking in stunning vegetation of Bwindi Impenetrable Forest, Mgahinga Gorilla National Park, the Virunga National Park or Volcanoes National Park.
You can only be lucky if it is a very special plan that is arranged between the parents and the park authorities but this rarely happens because the law is strict.
In conclusion, gorilla trekking is a once in a lifetime adventure that requires visitors to be physically well in order to hike to view gorillas in the wilderness. The gorilla trekking age limit still stands as strict as it is; i.e. 15 years and above. However, let's find out in the next article how it may be possible for a child below 15 years to track the gorillas.