[cz_title bline="cz_line_right_side" smart_fs="true" id="cz_37806″ sk_lines="background-color:#5a3708;width:8px;height:8px;top:10px;left:1px;" css_right_line_left="1px" sk_lines_con="height:4px;top:5px;" cz_title=""]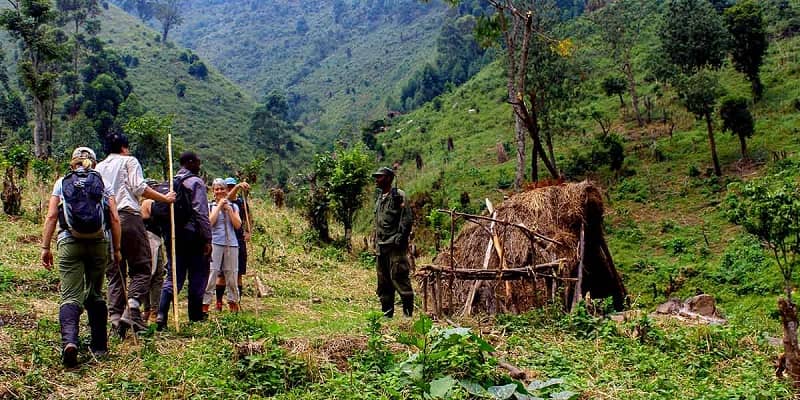 What To Wear for Gorilla Trekking Rwanda, Uganda & DR Congo
[/cz_title]
Gorilla trekking in Rwanda today is undoubtedly the most popular activity by travelers coming to Africa all over the world. It is always a good idea that when traveling to such foreign destinations you have an idea on the recommended dressing code, especially on a safari holiday. This article suggests for you the best travel advice and insightful tips on what to wear for gorilla trekking in Rwanda.
It is most often warm on the plains of the Volcanoes National park yet very cold and misty at lower altitudes in the mountainous areas of Uganda and Rwanda where the gorillas are always found. Therefore, a rain jacket, fleece and good quality walking shoes/boots are essential items to pack for your gorilla tour. But there is more to explore on the essentials, read ahead in the next paragraph!
[cz_title bline="cz_line_right_side" id="cz_108973″ css_right_line_left="1px" sk_lines="background-color:#1c7727;width:8px;height:8px;top:10px;left:1px;" sk_lines_con="height:4px;top:5px;" cz_title=""]
Best Clothing to Wear for

 gorilla trekking in Rwanda
[/cz_title]
Both Volcanoes National Park and Virunga National parks are located at higher elevations and this makes them rainy, humid and cold especially in the nights. Therefore, as you plan your gorilla trekking safari to Rwanda or Uganda, You need to wear the right clothing to protect you from coldness, thorn pricks, nettles or insect bites while on the trek. Below is what our travel experts have to say on 'What to wear for gorilla trekking in Rwanda and Uganda".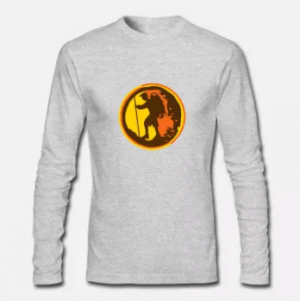 Put on Long Sleeved Shirts, T-shirts &  Long Trousers
If you are to enjoy the gorilla trekking adventure in Rwanda or Uganda or DR Congo, we advise that you pack and wear long-sleeved clothing (i.e. long-sleeved shirts, T-Shirts, and Long trousers. Our travel experts recommend Khaki zip-up trousers or jeans and strong cotton shirts/T-shirts to ensure that you are protected against any thorny piercings from tree branches, nettles, or anything else that may prick on your skin.
As for ladies, you should ensure that you wear comfortable undergarment clothing such as bras since the trek and hike in the forest may turn out to be strenuous, therefore please ensure that you follow this advice.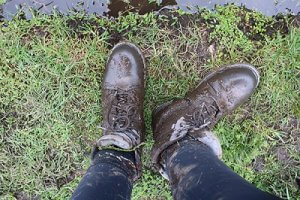 Wear Sturdy Hiking Boots
Since the hiking trails at times become slippery especially during the rainy season, hiking is difficult in the normal boots. This, therefore, requires you to have a good pair of hiking sturdy boots that can give you support as you hike up and down the mountainous hillsides. When selecting the boots to wear, make you choose that is comfortable for you. If not, you may be lucky to be given gumboots (rubber boots) at the park offices.
Thinking of something like white sneakers? Not really recommended, this wont be a party game, but a gorilla trek
Choosing a good pair of sturdy boots guarantees that you will have good stability, balance, and support to your ankles. Boots are supposed to be fastened with long cotton type socks. It is important to tuck your long trousers into your socks to protect your body from fire ants that you may encounter in the forest.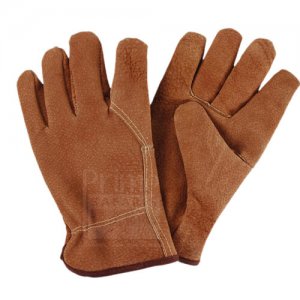 Wear Good Sturdy Gardening Hand Gloves
You may wonder why need gardening gloves? Well, you will need to wear hand gloves (sturdy gardening gloves). This will help to keep your hands safe on your gorilla trekking adventure.  Gardening gloves have a strong skin to give you support as you hike in the forest.
None the less, they also give you support on tree branches and vines. They will also give you protection against nettles such that you don't get scratched.
Of course, you can put them off when you meet the Gorillas in order to take good photos.
You Need to Carry and Wear a Rain Jacket/Poncho
The fact that gorillas are tracked in the tropical rainforests like Bwindi, the chance of rainfalls on any day is high. Therefore, as you consider the best items to pack and wear for gorilla trekking, make a rain jacket or a small poncho very necessary. In case you are carrying a poncho, please make sure it is a light one you can fold and put in your backpack once the raindrops stop.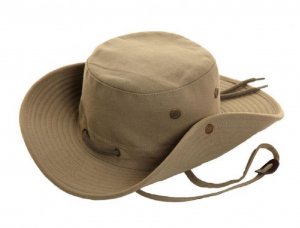 Consider wearing a Sun-Hat 
This doesn't really have to be that expensive, you can purchase one from the local shops nearby the park and lodges. But if you can carry one as you travel, well and good. The hat will surely protect your head and neck from the rain (should you not have a rain jacket) and or the hot sun in Africa.
Alternatively, some people choose to wear a baseball cap but surely this does not protect your neck from the scorching sun once the humid and mist in the mountains evaporate. At least by the end of the trek, you will be glad that you wore your hat.
Wear Enough Repellent to deter off Insects
As you trek to find the gorillas, higher chances are that you may come across different insects in the forest. Therefore, make sure before the hike begins, wear such enough insect repellent that will protect you from insect bites and infections. You may as well apply specialized body cream on your exposed body parts.
You need to wear a warm Sweater
A sweater in Africa? Yes, and this is very essential. Let me tell you why? These parks where you visit for gorilla trekking are rainforests. This implies that evenings and early morning are always cold and misty.  In Bwindi Impenetrable Forest, the temperature is averagely on 11°C/52°F and near Volcanoes National Park or Mgahinga Gorilla Park 10°C/50°F, even lower at times. This is why some luxury lodges in the park locations have fireplaces in cottages or rooms and other lodges give visitors hot water bottles for comfort throughout the cold night.
Therefore it is important that you carry one sweater or a hoodie, or a cardigan to wear on such cool nights and early morning as you head out for gorilla trekking.
Other Essentials for Gorilla Trekking in Rwanda, Uganda and DR Congo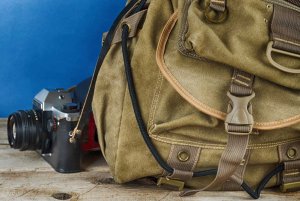 Make sure you have a backpack
With your backpack, you will find it very easy for you to enjoy the gorilla trekking experience. Put your essentials such as packed lunch, camera, energy-giving snacks, jacket, sweater, hat, and gloves in this backpack as you go about with the hike. Binoculars will not be necessary unless you are a Birder.
Other things you also pack in the backpack may include a Swiss-Army Knife, First-Aid Kit, Insect Repellents, and sunglasses.
Use Ziplock Bag to cover anything you are trying to protect from water, plus to keep the Deet Based Insect Repellent from spilling in the bag, other items.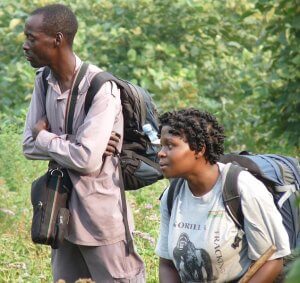 Hire Porters as you trek the gorillas
Generally, gorilla trekking is a tiresome experience and carrying a backpack all day even makes it more strenuous. As such, you can hire local porters who can help you to carry your backpack and other items and leave you to concentrate on trekking the mountain gorillas. The porters are available at the gorilla trekking trailheads in Uganda at Bwindi Impenetrable Forest and Mgahinga Gorilla National Park and Rwanda at the Volcanoes National Park.
Hiring a porter is also seen as a way of contributing to the survival of the locals in these communities where you track the gorillas from. From as low as $10 per porter, they can make a decent income which pays for homes, school fees for children, food, medical care, and more.
In some cases, porters even go further and help to carry people with disabilities on a stretcher like contraptions to see the Mountain Gorillas of Rwanda and Uganda.
Travel with a money belt or Bag
The money bags are mainly recommended for visitors since these help with safety for money, it's advisable that they are made of cotton so as to be able to be carried near the body to avoid sweating. It's also necessary to wear it fast and then a safari cloth put on top to provide more protection to the cash, once it's put on top of clothes; it leaves you vulnerable to thrifty. The important documents to be put in this money bag should include; a passport or a copy of it, phone numbers (emergency), as well as the international immunization card.
What is the right color for your safari clothes?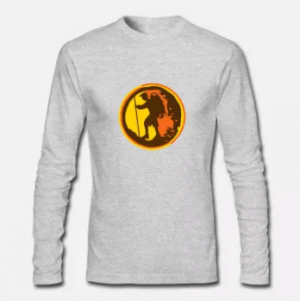 When going for gorilla trekking, one should wear neutral colors like light brown, green, Khaki. Bright colors and dull colors such as black and blue shirts are not recommended for the gorilla trekking experiences since they attract tsetse flies and other insects.
Shorts On Safari in Africa: These are mostly recommended to be worn at the lodge and during day time when is the sun is much. They are not good for gorilla and chimpanzee hikes, volcanic hikes or nature walks since they expose the body to dangerous tree branches, vines, and thorns. The shorts should be worn when an insect repellent has used on the body.
Gorilla Trekking Recommended Socks: These should be of the cotton type or wool since they offer protection to the feet.
Gorilla Trekking Safari Jackets to wear: This should be light enough for your body to carry. This is recommended mainly because, in most of the national parks where hiking and trekking take place, rain is expected in the evening hours of the dry season, so these jackets can be of help especially during jungle time.
These items below are so important to pack and wear as you travel to Uganda or Rwanda for your gorilla trekking safari;
Citronella soap: this is so important since it both acts like soap and an insect repellent; this type of soap is also anti-bacterial to the body.
Insect repellent: The most frequent repellent that works on both mosquitoes and tsetse flies is RID. This can also be bought online and can be applied on with clothes.
Sun Blocker cream: this cream will help you protect your face and eyes from the hot sun of Equatorial Uganda.
Hand Wipes: these are handy items that help with preventing germs and can be bought here in Africa; they can help in situations where there is no water.
Sunglasses: These help with protection from the direct sunshine.
Malaria medicine: here consider the best tablets and Malarone is always recommended as well as Doxycycline. These are considered effective in malaria treatments. This can be accompanied by a medicine bag containing all your medication to help you on your safari.
A pack of toiletries: these can contain many items depending on the sex of the tourists.
First Aid: this should be carried in case a tourist gets injured from the jungle.
Other Important Equipment to carry for your safari in Africa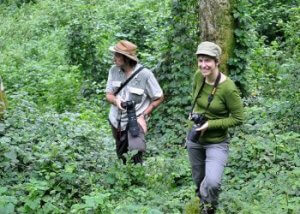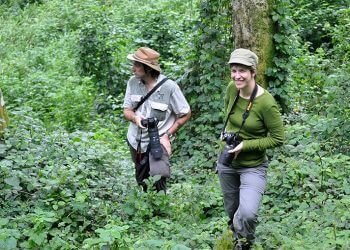 These items below are the necessary gadgets and equipment's on any safari to Uganda and Rwanda. In case you are bringing a laptop, smartphones, and tablets, you must end ever to protect enough protection.
Bring Camera and extra batteries: End ever to carry a camera that is well equipped with its items as well as a lens cleaner to keep the camera lens clean.
Binoculars: You are advised to carry a pair of binoculars and these will depend on which activity you are to carry out like birding or game driving.
Camera Memory card: you are advised to carry extra memory cards for the cameras if you are to take many photos in the jungle
Travel Journals: these can be brought along to write down some unique experiences within the places visited.
Flash Light. Bring this along to help you take photos even in the dark like during night game drives.
Please Note:
In Rwanda, plastic bags are not allowed and you will be charged for dropping them around. Uganda is also against plastic bags though they are still in Use. In case you have space left in your luggage, end ever to carry some souvenirs like balls, children books, t-shirts to give away to the nationals while on your safari.
Light bags are right for an African safari and always remember to carry specific day packs to engage in nature walks, chimpanzee treks and the mountain gorilla treks. The heavy bulky bags or suitcases are discomfort and will make your safari difficult especially with carrying the bags to the safari cars and to the lodges.
Always an activity will determine which gadgets a traveler will need to pack and this will help in avoiding unnecessary packaging which is done by most of the tourists. Different safari activities like Hiking, gorilla and chimpanzee treks, mountain climbing bicycling and volcanic hiking require different safari gadgets and so tourists should take time and know exactly which activities they are to engage in.
Have we left any essential item on what to wear for gorilla trekking?
Everybody has their opinion about the gorilla trekking experience. We would like to know what you put on during this amazing adventure and of course what you recommend?
[cz_gap height="15px"]