Complete guide to Rwanda Gorilla Trekking 2019/2020
We will give you the most up-to-date Rwanda gorilla trekking guide, gorilla safari highlights, travel advice and tips on planning a successful Rwanda gorilla tour, the accommodation while on a gorilla trekking safari in Rwanda and when to visit in order to be able to trek the gorillas. We present you the most updated guide to gorilla trekking in Rwanda, what primates to see, the gorilla tour and travel agents, when to visit and the safari lodges where to stay.
Rwanda Gorilla Trekking Guidelines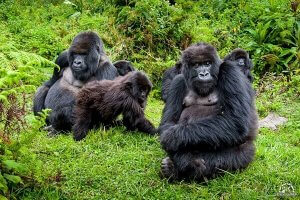 Mountain gorillas (also known as Gorilla Berengei Berengei) can only be located in Uganda, Rwanda, and Congo in the Virunga conservation ranges. For an exhilarating Rwanda gorilla trekking experience, you can find these enchanting and highly endangered primates in the Volcanoes National Park, (Parc Nationale Des Volcans). As of 2017, the Volcanoes National Park is habitat to 10 habituated mountain gorilla groups which implies that up-to  80 gorilla permits are available on a daily basis to allow visitors go for the trekking experience in the forest where they can encounter these primates. A group of 8 people can be allowed to visit a specific allocated gorilla group and are allowed to spend only an hour with these endangered apes. For the best experience, the Susa group is the best to track with a humming total gorilla population of 36 gorillas. One is allowed to visit the gorilla after presenting a valid gorilla permit that costs $ 1500 per person per trek. Part of your contribution of the gorilla permits is donated to fund the conservation of the gorillas.
What To expect on a Rwanda Gorilla Trekking Safari?
On your gorilla trekking day in Rwanda, your day starts very early morning, This means that you should ensure that you book for your accommodation that is very close with the park headquarters in Kinigi. After having your breakfast, you will be picked by your driver-guide to go for a briefing at the park headquarters at 7:00 am. In the briefing about gorilla trekking, you will be enlighted about the safety precautions and the basic etiquette to consider while trekking the gorillas.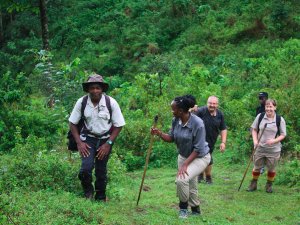 You will then be assigned a lead gorilla trekking guide who will lead you on the way to meet the gorillas. The management of the park (Rwanda Development Board) has over 80 gorilla trekking guides well trained and speak English and French. Together with your group members, the guide will lead you to the starting point of the hike into the forest, This may be tiring depending on your physical strength (this is why when booking your gorilla safari, be sure to tell your tour planner about the physical strength to be allocated to an appropriate gorilla family). Remember they are called mountain gorillas so an element of hiking is a must. Trekking the gorillas takes anything from 30 minutes to a couple of hours. On meeting the gorillas, you will be amazed to see the giants of the highlands and they will also be acquitted to see the humans.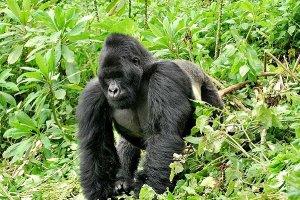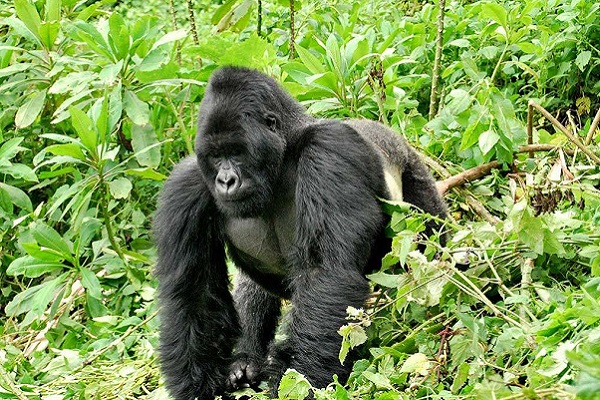 Gorillas live in groups led by a male silverback. A mature silverback could weigh as much as 200kg, or even 3 times the overall weight of an average man. Some gorilla groups have more than one silverback, and this is increasingly amazing to see. You will be able to see that gorillas in the group are scattered over the thick forest trees and vegetation around and will carry on with their interactions and even feed without any concern of their human visitors although they will be observing you with interest. At this point, be sure to keep your voices down, do not get too close to them (maintain a distance of about 7 meters away from them). On a rare note, you will be lucky to find a playful young gorilla that will boldly approach with curiosity and inquisitiveness. (At times, it is advisable that when they come very to you, you will need to move away; why? this is to safeguard them from contagious human diseases.)  As you go about the trekking activity, you will have the most magical and thrilling adventure with the gorillas and in the forest as well. The climate in Musanze ( 1,700m above sea level) is mostly cold. Please carry along with warm clothing to keep your temperature normal and warm.
What is the Cost of A Gorilla Permit in Rwanda?

Every traveler when resident or non-resident is required to present a gorilla permit in Rwanda to be permitted access to the gorillas in the Volcanoes National Park. The breakdown costs for Rwanda gorilla permits is here below;
Standard Price for the Permit: USD $1500.00 per person for all trekking visitors to Rwanda.
Special (Exclusive) Gorilla Trekking Experience: costs US$ 15,000 (available on request)
Photography & Filming the mountain gorillas: US$ 5000 for 3 days consecutively. A large crew of 8 people: US$ 12,000
Rwanda Gorilla Trekking groups, and where to find them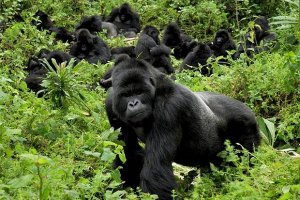 As mentioned earlier, mountain gorillas In Rwanda can only be tracked within the Volcanoes National Park, a section of the bigger Virunga ranges. It is estimated that over 400 mountain gorillas are living in the Virunga Ranges which is shared by the Mgahinga gorilla national park in Uganda, Volcanoes National Park in Rwanda and the southern area of Virunga National Park (in the DRC).
Mountain gorillas in Rwanda are divided into 2 groups; that is; the ones reserved for study or research purposes (limited to only scientists and researchers only). These special gorilla groups include the Beetsme and Pablo's Shida's which have the highest number of gorillas in the park.
Besides the special gorilla groups, there are 10 habituated gorilla families available for tourism by the general public and visitors. These groups can only be visited by at most 8 people per day and visitors are limited to only an hour with the gorillas. The gorilla families habituated for public tourism among others include; Ugenda, Umubano, Susa group, Karinsimbi, Sabinyo, Hirwa, Amahoro, Bwengye, Group 13 (the Agasha group) and the Kwitonda. You can read more about these gorilla families from our dedicated page for habituated gorilla groups here.
Gorilla Trekking Safaris Accommodation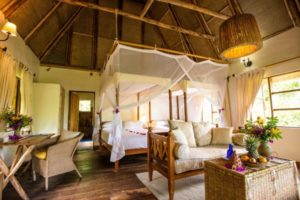 There are plenty of accommodation options ranging from budget,  mid-range, and luxury lodges/hotels/camps. The choice for your accommodation will determine the nature of your gorilla safari. Among the prominent safari lodges include Kinigi Guest House, Mountain gorilla view lodge, Virunga Lodge among others.
What else to Explore besides Rwanda Gorilla trekking?
Rwanda is home to many things to do and see and besides the gorilla trekking adventure in the Volcanoes National park, other safari destinations include Nyungwe Forest National Park, Lake Kivu, and the Akagera National Park. You can choose to go for chimpanzee trekking in the Nyungwe Forest National park, or a safari game drive experience to see the elephants, lions, buffalo, rhinos, monkeys, baboons, and so many mammals in the Akagera National Park. You can also choose to treat and relax at the Lake Kivu lakeside resort beach and luxurious guest houses.
Top Rwanda Gorilla Trekking Safaris (As Booked by our clients)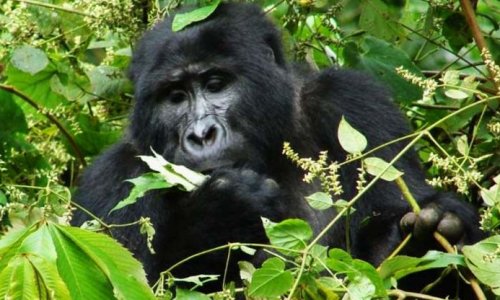 1 Day Rwanda Gorilla Tour
Do you ever dream of going for Gorilla trekking in Rwanda one day? Book this 1 Day Rwanda Gorilla Trekking in Parc Des Volcanos / Volcanoes National Park where you will have a chance to meet with these highly endangered primates.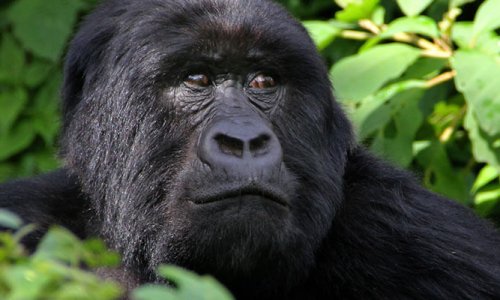 3 Days Rwanda Gorilla Trekking Safari
Meet and greet with the mountain goriilas of Rwanda  face to face on this 3 Day gorilla trekking safari. Rwanda gorilla trekking takes place in the Volcanoes park. You will also take trip to Ib'iwachu Cultural Village for a cutural experience.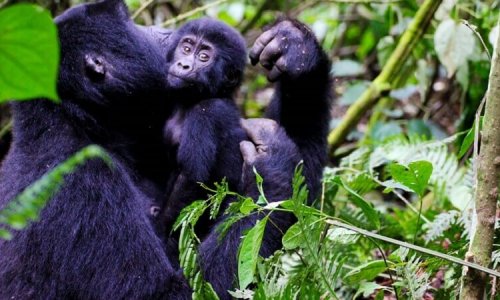 7 Days Rwanda Gorilla & Chimpanzees
This safari takes you to visit and treek the gorillas and chimpanzees in Rwanda. You will be rewarded with a close encounter with the endangered primates in their natural habitats as well trekking the Nyungwe chimpanzees among other attractions.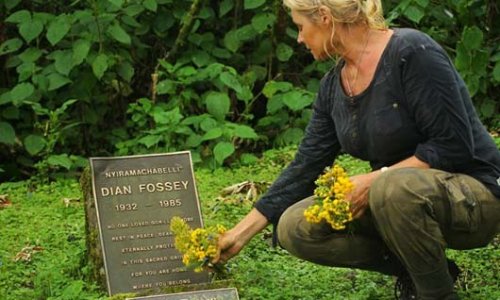 5 Day Gorillas & Dian Fossey Hike
This 5 Days Rwanda Gorilla trekking safari is designed to fit travelers who are enthusiastic to go for gorilla trekking in Rwanda. This trip offers an opportunity to go for golden monkey tracking or hike to the Dian fossey hike tombs.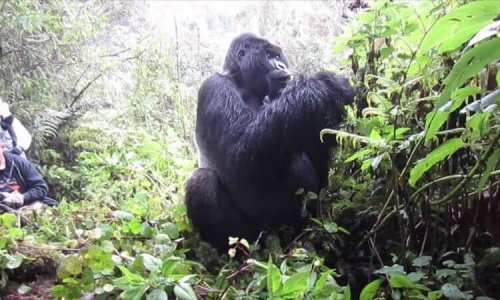 2 Days Rwanda Gorilla Trekking
On this gorilla trek safari, you will visit the mountain gorillas and visit any one of the 10 Rwanda gorilla families habituated for gorilla trekking. This is an exciting and memorable safari experience budded a must go safari adventure.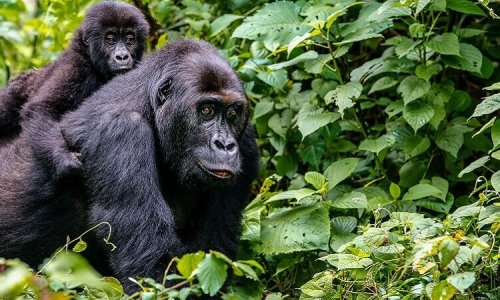 4 Days Rwanda Double Gorilla Trekking
This 4 Days double gorilla trek safari takes you deep into the bamboo trees of the park to meet face to face with the dominant silverback. You will have another day of trekking the gorillas taking on a different gorilla family in the same park.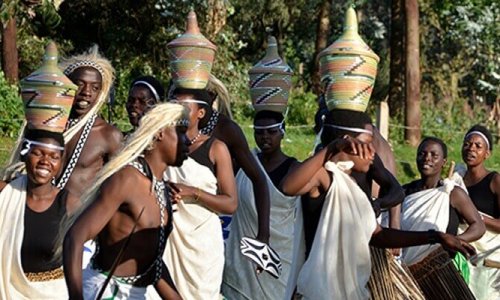 6 Days Rwanda Gorilla & Cultural Tour
Rwanda Gorilla and Cultural tour for a comprehensive gorilla trekking experience in the Volcanoes National park, hike to see the Dian Fossey Grave. Do not miss out visiting the Iby'iwacu cultural village for exceptional cultural experiences.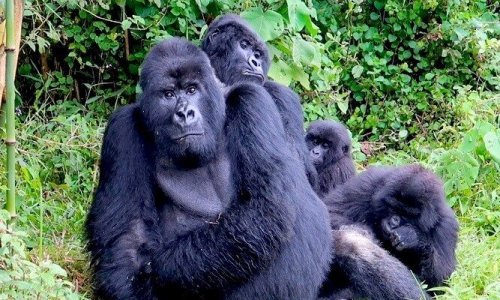 8 Days Best of Rwanda Gorilla Trekking
This safari will allow you to go for gorilla trekking in Volcanoes National Park, Embark on an adventurous canopy walk and Chimpanzee tracking in Nyungwe forest national park not forgetting to go for wildlife game drives.
RWANDA GORILLA TREKKING TIPS
Gorilla trekking in Rwanda is a very well run conservation project. In the morning you are taken to the park headquarters where you are assigned to a gorilla group and given a briefing.
It's possible to choose a particular gorilla group to track, but that is only possible if it was requested for early enough. If you are in a large group, it's best if you trek the same gorilla group to easily coordinate your pickups. Also if the tour group has some unfit people, it's best not to go for long treks. You get an hour with the gorillas once you find them. Reaching and seeing them is virtually guaranteed nowadays.
It is variable how long it takes to trek to the gorilla group because they are obviously free to roam anywhere.
The different Gorilla Groups
Amahoro Group (18 gorillas, ranging through all ages) 30 minute drive over extremely bumpy road to car park to start trek. Then 2 minute walk to the gorillas (loads of hurtful nettles – wear robust or waterproof-type pants because they can perforate through anything thin; if you get stung it will hurt initially but it settles within about 30 minutes or so). After nearly 10-15 minutes in the gap of the jungle (abundance of sunlight), you begin to view the gorillas move down the mountain into an area with a lot of bamboo, still reasonably open ground area but much less light. The weather is very uncertain its best to wear layers but it also gets pretty hot after walking. The whole hour with the gorillas is spent in a forested/bamboo area (low light).
Directions regarding gorilla trekking photography
Accelerated lenses are virtually sure necessary. It is not necessary when the gorillas were in the space in unswerving sun but most of the time they aren't in such strong light.