Cost of Gorilla Permits in Rwanda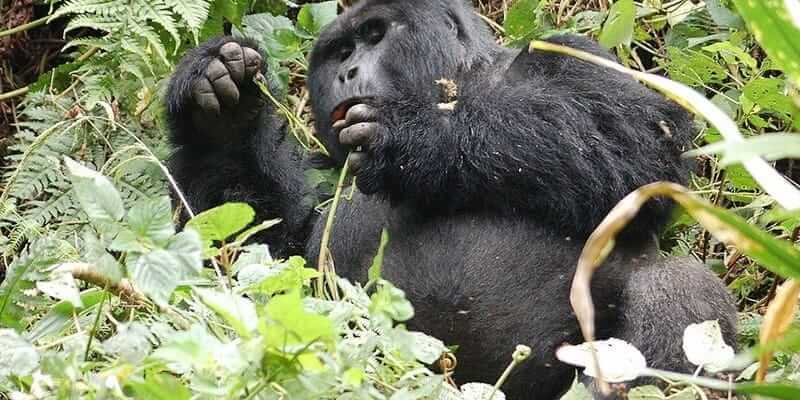 Cost of
Rwanda
Gorilla Permits, How to Obtain and Useful Guide
Many visitors traveling to trek the gorillas in Africa are often puzzled about the exact cost of gorilla permits in Rwanda. And in this blog, we bring you the necessary guide, booking info, and all the need-to-know about Rwanda gorilla permits.
Mountain Gorillas are only tracked in three African countries, that is:- Uganda, Rwanda, and DR Congo. However, in comparing the experience of gorilla trekking in Uganda Vs Rwanda, many travelers rank Rwanda as the best destination for gorilla trekking adventures. Want to know more? Check this article here.
To obtain gorilla permits in Rwanda, one needs to take necessary precaution and advice to ensure that the whole process goes on smoothly. So, why not go ahead and read about the useful tips crafted to guide you on the cost of gorilla permits in Rwanda and booking guide to obtaining and acquiring one.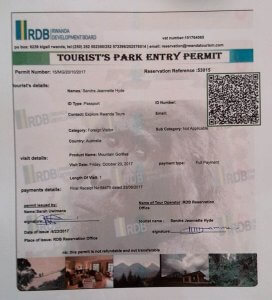 1. Make use of recognized tour operators.
It becomes very easy to acquire your gorilla permit with the help of the recognized tour operators in the country.
This is because these companies have a lot to provide you with more than just a permit. For example; hotel & Lodge reservations, safari transportation, and the necessary tour guiding services while on your safari.
All Rwanda Gorilla Permits cost $ US 1500 each and a person must be above 15 years-of-age to be given the permit.  The Permits can be got through a trusted local tour operator in Rwanda. We are ready to make your next gorilla adventure a truly magical experience. Contact us for bookings of your gorilla permit.
2. You can book for a gorilla permit through RDB
If you are not interested in booking through a tour company, you can as well book your gorilla permit through the Rwanda Development Board (RDB) – This is the governing body of tourism in Rwanda. You can contact them directly through email or calling their offices. Email: reservation@rwandatourism.com
3. You can choose to visit than one Destination in Rwanda
The best opportunity to obtain a Gorilla Permit in Rwanda is to make sure that you take up a safari package that allows you to visit more than one destination in Rwanda. You can choose our 5 Days Rwanda Gorilla Trekking Safari or any longer days safari that will take you to the more than one Rwanda National Parks in Rwanda.
You can visit Nyungwe Forest National Park and Akagera National Park on top of the gorilla trekking adventure in the Volcanoes National Park. Rwanda Development Board will reward you with a discounted gorilla permit at a reduced cost yet with magical wild adventures.
Which other cheaper destinations to visit for gorilla trekking in Africa?
Budget travelers can visit Uganda, where the gorilla permits cost as below as US$600 per person. This means that you save up to US$900 on a gorilla trekking safari in Uganda.
Does the authority make refunds or cancellations?
After booking and making payments for your gorilla permit, there cannot be any cancellations. If done, then there's a penalty that awaits. The refund charges if approved may charge about 100USD for any changes done on the tracking day.
What time is allocated for gorilla trekking in Rwanda?
On a typical gorilla trekking day, all trekkers assemble for a briefing about the gorilla trek. The Park rangers brief all visitors at the Kinigi park headquarters from 7:00 – 7:30 latest. Gorilla trekking time is limited from 8:30 a.m. to 7:00 p.m. All visitors are expected back at the campground by 7:00 p.m whether you have seen the gorillas or not. The trek usually takes 1-8 hours to see the gorillas.
What information is needed for a Visitor's passport
After full confirmation of the booking, passport details of the trackers will be required to process the gorilla permits. Please ensure the full names, passport number, and country of passport issuance are sent. You must be over 15 years of age to obtain a gorilla permit in Rwanda.
Please Note:

Note: Its highly advisable to book for your your permit earlier than the planned trekking date becuase the permits are highly on demand and they often get finished early. Volcanoes national park is home to 10 gorilla families and each group can only have 1 group of 8 people visiting a day for only 1 hour. Today Rwanda is receiving so many visitors coming to tour gorillas.