Tips for Chimpanzee Trekking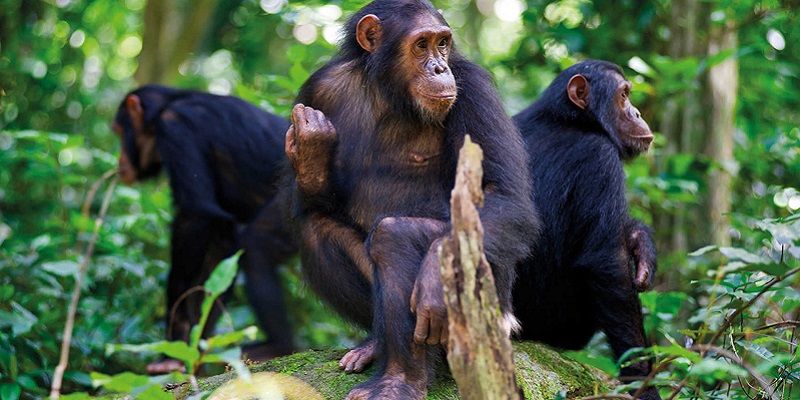 Just like any other place, trekkers face some challenges when they go chimpanzee trekking in Nyungwe Forest National Park. Some times the chimpanzees tend to move deep into the thick forest reducing the chances of seeing them. It is much easier to spot the chimps in the Cyamudongo forest because it is smaller and easier to cover on foot in a short time. Visit and tour Rwanda management has compiled some tips for chimpanzee trekking that are helpful for any participant.
Tips for Chimpanzee trekking in Rwanda
Chimpanzee trekking takes place in Nyungwe forest all year long. However, the best time for chimpanzee trekking is during the rainy/wet season. During the rainy season, chimps do not move a lot because there is plenty of food in the forest. The dry season is ideal for those who are interested in the canopy and nature walks because the chimps move deep in the forest looking for food which makes it hard for them to be seen.
It is not a guarantee to see the chimpanzees, especially in the Nyungwe forest.
You are guaranteed to see chimpanzees in Cyamudongo because the forest is smaller and isolated.
Chimpanzee permits cost $100 per person and are a must-have for this activity. Bookings are made directly through the Rwanda Development Board or your Tour Operator. The chimpanzee permit fee comes with a ranger and guide assigned to move with you and your group. Your chimpanzee tracking permit is the entrance ticket at the park just before proceeding to the beginning point.
Visitors can only spend one hour observing the chimpanzees.
One must have 16 years of age to be allowed to track chimpanzees.
It takes four hours of driving by road to reach Nyungwe forest from the capital Kigali city. One can also take a domestic flight from Kigali to an airstrip close to the park office which takes less than one hour.
The chimpanzees in Nyungwe forest are not fully habituated and therefore they are not as organized as mountain gorillas. Chimpanzees don't settle in one place they keep moving from one place to another and this makes for a demanding but also a thrilling task of following them wherever they go. This is why sighting them is not guaranteed. However, most people who track the chimps see them eventually because of the advanced methods of tracking and the ability of the experienced Rangers to know their previous place of rest.
You should pack enough drinks, snacks, a rain jacket, good hiking shoes, a longs sleeved shirt, sunglasses, and insect repellent to keep away mosquitoes. Do not forget to move with a good camera and binoculars.


Other Activities in Nyungwe National Park

Chimpanzee trekking is the most popular activity  in Nyungwe Forest but not the only activity in the forest. visitors can also take part in tracking smaller primates like golden monkeys, canopy walks, nature walks, birdwatching, visiting the tea plantations and visiting one of the waterfalls. It may now be possible to do the chimpanzee habituation experience in Uganda too.

Spotting other primates: Nyungwe National Park is blessed With 13 species, this can be compared to Kibale National Park in Uganda. The most sought out species after the chimpanzees is the Rwenzori and Angola Colobus. The Angola Colobus Monkey is now extinct in Angola itself. About 400 Angola Colobus are semi-habituated in the park. Golden Monkeys are also present in the forest.

Canopy Walks:  Taking a canopy walk is best way to explore this thick forest. It is the only one in East Africa The 60-meter-high strong steel bridge is built on the treetops which gives an aerial view of the birds, primates and endless thick forest. There are viewing points/decks along the walkway which offers one opportunity to rest as they marvel at the amazing scenery and wildlife. The activity starts from the visitor center in Uwinka and takes about 2 hours. A tour through the Canopy walkway costs 60 US Dollars per person.

Bird watching: Nyungwe National Park is one of the best places for birdwatching in Rwanda. Nyungwe Forest is home to over 300 species of birds of which about 26 are endemic to the Albertine rift. Apart from the species already mentioned earlier, one can also spot the Apalis argentea, Archer's Robin-chat, Dusky Crimson Wing, Grauer's Warbler, Handsome Francolin, Kungwe Apalis, Large blue Turaco, Ruwenzori Apalis, Ruwenzori Batis, Ruwenzori Nightjar, Shelley's Crimsonwing, Neumann's Warbler and Sunbirds. Birdwatching begins right from the window of your hotel room and while tracking the primates or going for the canopy walk.

Nature walks and Hikes: There are different trails for forest hikes in Nyungwe national park. If one is to complete all the trails, they would have walked for about 130 kilometers. To complete all the trails, one would need about a week. The main trails are the Bigugu Trial, Ngabwe Trail, Canopy trail, Kamiranzovu Marsh Trail, Congo Nile Trail, Bigugu Trail, Igishigishigi Trail, Karamba Birding Trail, Irebero Trail, Isumo waterfall Trail, Imbaraga Trail, Umugote Trail, Muzimu Trail, Rukuzi Trail and Umuyove Trail. The most popular trails are Bigugu and Igishigishigi. You need to be fit enough to enjoy your nature walk because the terrain is unpredictable. One thing for sure is that by the time you complete these trails, you would have seen most of the primates, birds, butterflies, rivers, insects and much more.