Titus Gorilla Family in Rwanda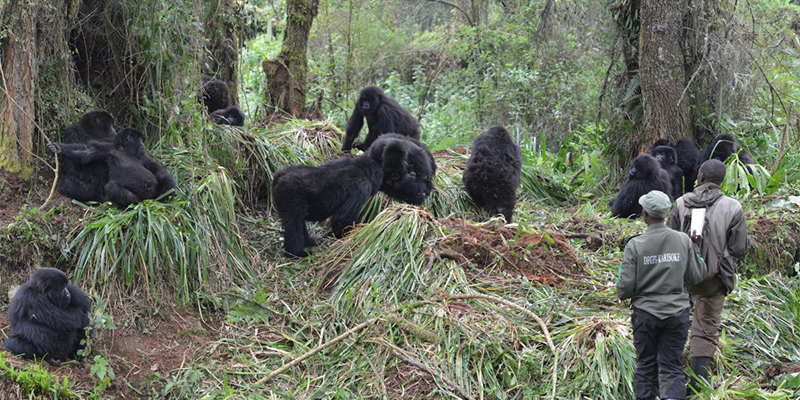 What's so special about Titus gorilla family?
Speaking of the oldest habituated gorilla family in Rwanda, Titus gorilla family is one of them located in the volcanoes National Park. The family name originated from the dominant silverback called Titus that lived sometime back during the times of Dian Fossey, the primatologist at the Karisoke Research Centre in the Virunga Conversation Area. Titus family was killed by unknown poachers and it had to forcefully join another family that had its own leader. After a while, the leader chased all the male gorillas fortunately, Titus was left in the group.  Later this family was taken over by Titus hence becoming the founder of Titus gorilla family after the death of Beestme (the leader of the family by then). Kuryama, Titus silverback's son took over the family till to date. Titus was found dead in his nest and doctors confirmed that he had died of natural death. The great interesting history of Titus gorilla family attracts many visitors to Volcanoes National park.
Trekking Titus Gorilla Family
Trekking this interesting gorilla family is thrilling especially when you travel with the best tour operator, Visit and Tour Rwanda. The important requirement is the gorilla permit purchased from the Rwanda Development Board.  Each trekker is allowed to trek once with his/her gorilla permit in Rwanda and it costs $1500 per traveler. It's always better to book for a gorilla permit 6 months before the actual date of trekking in order to avoid the last-minute inconveniences.
Does the season of trekking Titus Gorilla Family matter?
Yes, the season matters because during dry seasons movement through the thick forest are easier than when it rains and the soils seem to be soft. Best months for trekking; June, July, August, September, October, December, and January to February is the best time to trek the great family, Titus gorilla family. Note that during this period the number of travelers is really many, therefore book earlier for a gorilla permit.
How much is a gorilla permit to trek Titus gorilla family?
A valid gorilla permit is a must for Titus gorilla family to be visited. Each Rwanda gorilla permit costs $1500 bought directly from the Rwanda Development Board (RDB) or a registered tour operator, Visit and Tour Rwanda. Due to the high demand to trek Titus family, it's recommended to do booking at least 5 months in advance due to the high demand for gorilla permits. Among the essentials in your portable backup, a gorilla permit should come first and always endeavor to cross-check while at the briefing in the morning at the headquarters. Immediately after the briefing, all travelers are requested to present the gorilla trekking permit.
Booking permits for Titus gorilla group
For all our well travel well-wishers in trekking, Titus gorilla family are emphasized to do the booking of the permit earlier with us and to always be specific on the type of gorilla family to trek (Titus gorilla family). Be keen enough to let your travel agent know where your interest is.  At the headquarters (Kinigi)briefing, our driver will also ensure that you trek the right choice of the gorilla family. At that particular time, you will be allocated with other 7 trekkers to make a group of 8 members.
What if I fail to see Titus gorilla family?
Some of our travelers fear spending their payments for a permit to trek family and in the end, they don't see it. But you don't have to worry about it because in case the family has moved far, you are given another chance to trek the next day without paying again. However, they are other reasons that might fail you see them (failing to hike) note that no refund and no chance given to you to trek again. Travelers are advised to be physically fit for this activity.
What to pack for trekking Titus gorilla family in Rwanda?
Trekking this family is like any other gorilla safari, therefore the requirements are more so the same. The right dressing code and package in your backpack implies a comfortable memorable trek experience and makes it more interesting. Among the essentials are;
1. Hiking rubber boots for easy movement through the jungle.
2. Gardening gloves to protect your hands
3. Sunglasses for your eyes in case of too much brightness from sun rays
4. Long-sleeved shirts and pants to protect your body from scratches
5. Rain jackets for the unpredictable forest weather and also a scarf
7. Bottled drinking water due to too much hiking that drains your body.
8. Snacks in case you have taken time off to rest
Rwanda does not only have Titus gorilla family in Volcanoes National Park but a number of them. Depending on your budget, you may decide to trek another gorilla family on another day of the tour. other groups include;
1. Amahoro Gorilla Family. It's a peaceful family and aim at being a witness on your day of the tour. Amahoro family resides at Bisoke slopes however during day time, they move up the mountain making it hard to trek.
2. Agashya gorilla group
3. Umubano Gorilla family
4. Kwitonda gorilla group
5. Sabyinyo gorilla family
6. Amahoro gorilla family
7. Susa A gorilla Family
8. Karisimbi Gorilla Group
9. Hirwa Gorilla Family currently living in Mgahinga Gorilla National park Uganda.
Dos and don'ts of while trekking Titus family in Rwanda
Your safety is our priority and also we consider protecting our species safe for more generations to have a look at these loving species. Therefore rules and regulations are to be followed which may include;
• Do not trek when not feeling right
• Avoid direct eye contact with gorillas
• Keep a distance of seven meters' way from gorillas
• Do not use flashlight cameras
• Keep your voices low
• Do not litter in the park
Have a memorable Titus gorilla family experience with Visit and Tour Rwanda!