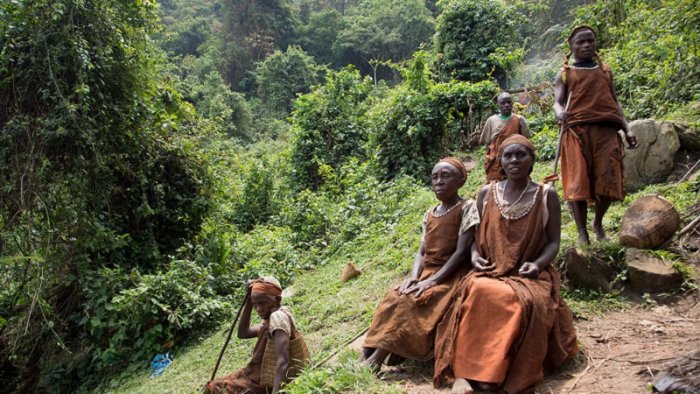 Batwa cultural trails can only be done in Bwindi Impenetrable National Park.  Batwa community trails are usually done after or before gorilla trekking but the experience is worth doing. These Batwa trails lead you to the batwa communities and homes. You get to experience how the ancient people lived with the wild animals for a very long time in this impenetrable forest before the introduction of gorilla tourism and conservation. The Batwa cultural trail in Bwindi impenetrable forest takes a shorter time compared to the Batwa cultural trail carried out in Mgahinga National Park where travelers spend the whole day experiencing the batwa's traditional forest life.
The introduction of gorilla tourism  in Bwindi, lead to the eviction of the Batwa from the forest edges. The batwa cultural trails in Bwindi take you to batwa local communities where you learn more about their forest life. This conventional community walk helps you have depth interaction with the locals which increase an understanding of who the batwa are. You may meet some small groups of batwa during gorilla trekking but a walk out to their homes is an amazing experience.
Know More About The Batwa?
Batwa lived harmoniously with wild animals in the jungle for thousands of years. These people would make small huts made of leaves and tree branches where they would stay comfortably in the forest. Batwa pygmies or the forest keepers did not do farming but lived a happy life in the forest. However despite their long living and free access to all forest resources, these indigenous people had no legal ownership of the forestland a reason why they were evicted with no compensation. Today, Batwa live in small communities and they are very welcoming towards the travelers in their homes sharing with them detailed information regarding their traditional forest life. Batwa are believed to have loved the forest like their lives and they knew well that God had blessed them with the forest as their own.
The Batwa people depended fully on the forest for a livelihood and they would freely roam all over the forest for food like honey, wild yams, fruits, firewood as well as hunting down small animals on which they survived. Batwa trails in Bwindi impenetrable forest national park are different from the Batwa trail in Mgahinga gorilla national park but both experiences reward you with a memorable adventure.
What To Expect?
While you move towards the Batwa community, expect to meet very short indigenous people from whose eyes you witness true love for the forest especially when they are telling a story of their eviction from the forest. On reaching their homes, visitors are allowed to take part in traditional and community activities such as how to make bush fire, preparing local food and traditional dances. All this is done out side the forest unlike in Mgahinga where the batwa demonstrate their traditional forest life inside the forest.
Why Visit Batwa Communities?
Batwa cultural trails give you a chance to experience how they lived there life in the forest. In trying to adapt to a normal life after their eviction from the forest, batwa have now started different coffee shops and restaurants where travelers can enjoy coffee as they listen to stories, others make craft products such as baskets, hand bags, hats, bead and mats among others which they sell to the travellers. Travelers are encouraged to buy these products as an indirect support to these less developed people. More still, an interaction with the batwa is a great opportunity to understand in depth their ancient forest life and their co-existence with wild animals.