Is Gorilla Trekking Safe in Rwanda and Uganda?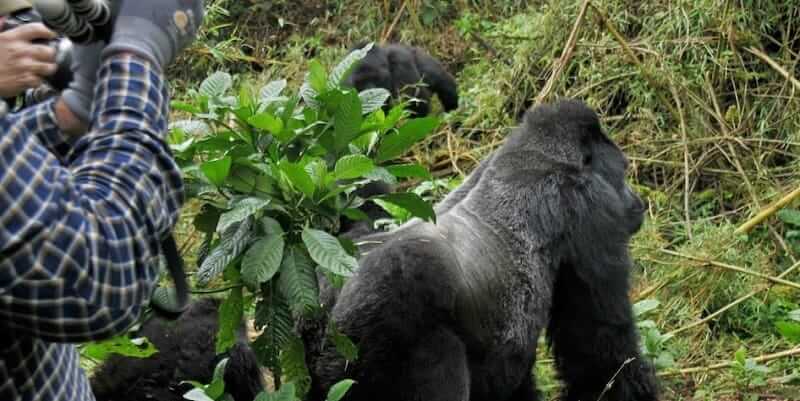 Trekking the gorillas in Rwanda and Uganda has far become one of the top leading tourist activity attracting thousands of tourists weekly and monthly. But most visitors normally have one question bothering them: "Is gorilla trekking safe in Uganda and Rwanda?
Whenever you think of a trip to trek the gorillas, safety should always come first in mind. Truth be told, this primates adventure tour gives you an exhilarating moment when with the gorillas and you may even not think of personal safety at any moment.
From our inception point of view, close interaction with the gorillas should not worry you. It is completely safe to be with the gorillas as long as you follow clear guidelines and instructions form your ranger guide. These guidelines are well laid and reiterated at the time of your gorilla trekking briefing before heading out to begin the hike. This is not the case with the wildlife safaris though! You can read about these rules and regulations for gorilla trekking in our article here.
The briefing about gorilla trekking is usually done at the park headquarters mainly to outline the general manner in which every trekker should observe while in the jungles with these critically endangered primates. Not like other species, mountain gorillas are equally wild creatures and they are humble, gentle unless irritated just like any creature that they can charge against you and perhaps cause harm that is why there are set rules and regulations governing the whole experience.
While in the wild, the park ranger guide who accompanies visitors also keeps reminding his group of the same dos and don'ts. Despite efforts to secure your stay in the wilderness, your safety starts with you first and this means you have to be keen and always observant enough!
In most cases, the ranger guides are too specific and therefore they will advise and enforce that you maintain a distance of about 7 meters away from these creatures at all times.

No eating, smoking, drinking is allowed in the presence of gorillas.

Direct eye contact should be avoided as they can misunderstand it as being hostile a factor that may make them irritated.

Just in case a group of these massive creatures get close to you, you are expected to stand still, avoid touching them and let them go.

You are supposed to keep your voices low at all times while in the jungles searching for these creatures. 

While taking their photos, flashlight cameras are not allowed and if yours has one, you are advised to turn it off before taking photos.

With also these dos and don'ts well-observed, your safety with these creatures becomes a sure deal.
Park officials are also very keen on the dangers that are likely to occur and they are updated on current security issues. In addition to park rangers, there are also other security organs that work together with rangers to ensure that the area is safe and secure and they include tourism police as well as Uganda Peoples Defense Forces. So far, Uganda Bwindi and Mgahinga National Park, as well as Rwanda Volcanoes National Park, are very safe destinations, unlike DR Congo which is still recovering from insecurities.
While on a trek, no trekker goes to the forest alone but rather with one-armed park ranger guide and tracker. All these are intended to boost visitor safety in the wild and no need for you to be surprised once you find a person with a gun.
Aside from this, you should consider observing the set rules and regulations a must. Your dress code also should be environmentally friendly and please, avoid any bright colors.
Normally, interested trekkers on this adventure need to have good waterproof hiking boots that are lightweight, rain jacket, gardening gloves, first aid kit, insect repellents, long-sleeved shirt/t-shirt, trousers, socks, and others.
In conclusion, gorilla trekking is a very safe adventure and can be done at any time of the year. You ought to observe the set rules and regulations and you will have the best of this primate experience. For any plans to track mountain gorillas in Uganda simply contact our selected tour operators and partners listed on this website.