Uganda's oldest chimp dies at 54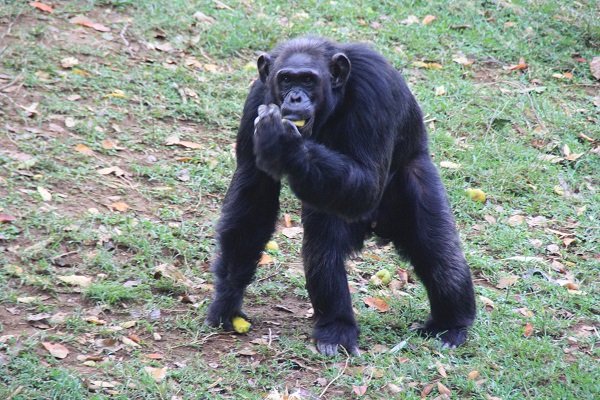 Uganda's oldest chimp dies at 54  in the year 2016. With deep sorrow and grief, UWEC (Entebbe Zoo) hereby announces the death of our oldest Chimpanzee in Uganda  Zakayo."
Isaac Mujaasi, suggest that Zakayo, Uganda's oldest chimp succumbed to Chronic Gastroenteritis- he had been vomiting persistently and had diarrhea that could have been caused by either viral or bacterial infection. Zakayo was under treatment for three weeks until he died on Wednesday. However, officials from UWEC waited for the post morten to been done and then announced his death a day later.
"Due to his old age, he was highly susceptible to opportunistic infections which have eventually led to his death. Mujasi asked Ugandans to join in and celebrate the life of this legendary Uganda's oldest chimp who once lived as a dominant male and brought up the chimpanzee family at UWEC," said Mujasi.
Zakayo Uganda's oldest chimp was discovered in 1964 when he was just about one year old by a white man in Bundibugyo. He raised him upto 14 years and then handed him over to the conservation authorities.
The chimpanzee acted as the alpha male and was the oldest known captive chimp in the East, West and Central Africa. The chimpanzee, which spent 42 years in the custody of wildlife conservation officials, nurtured two young chimpanzees including "Matooke" who died in 2013 and later Aluma.
The death of Zakayo was a big loss to the Uganda conservation fraternity and tourism since he acted as a legend and a signature specie that attracted tourists from across the world thus increasing revenue from tourism.
Zakayo's internal organs were buried  while his body is being preserved at the Uganda Wildlife Education Centre in Entebbe. Several tour operators across the country eulogised Zakayo as the first Chimpanzee that boosted the tourism industry.
Zakayo's name has been synonymous to Chimpanzees both in the wild and those under captivity. People in their 40s or 50 years of age, tell stories of how Zakayo would be offered cigarettes and alcohol in return for his acrobatic antics.
His death came a few months after the primate had just celebrated 54years in 2015, at a ceremony that was attended by over 1000 school-going children and graced by the state minister for primary education Hon. Rosemary Seninde.
About Zakayo
Zakayo was the Alpha male(leader) from 1970s to 2011, when he handed over power to Matooke who was later toppled by Aluma. Although he has no-longer been the Alpha male- a super active individual, he has seen the rise of Matooke, Aluma and Onapa challenge each other for the alpha male position at UWEC.
James Musinguzi, the managing director at UWEC said, in all situations, Zakayo has been coming out as a peace lover and maker whom other aggrieved chimpanzees used to run to, for consolation and help. He added that Zakayo has been making the integration of new or infant chimpsanzees into the group, look very simple.
"He never disrupted nor interfered with the transfer of leadership neither could he involve self in aggressive displays or fights," said Musinguzi.
Zakayo died a highly respected member of the 18 UWEC Zoo chimpanzees.