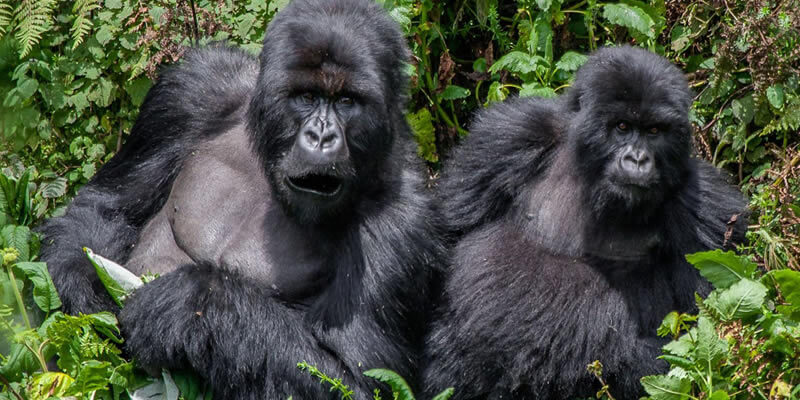 2 Days Rwanda Gorilla trekking Safari Overview
The 2 days Rwanda Gorilla trekking safari will give you un unforgettable gorilla trekking adventure in Rwanda's Volcanoes National Park. With the big number of tourists planning to visit Rwanda for the Mountain gorilla trekking experience, in their natural habitats.
Rwanda's Volcanoes national park is among the four destination parks where one is able to see the gorillas. The other three parks are; the Bwindi Impenetrable and Mgahinga Gorilla National park in Uganda, and the Virunga National Park in DR Congo.
On this 2 days gorilla trekking safari in Rwanda, we make you get the most of your gorilla trekking adventure. The 2 day gorilla tracking trip works well for visitors on short stays in Rwanda, like those flying in to Kigali to attend a conference or on business with little time to spend with the gorillas.
Volcanoes national park is about 2 hours drive from Kigali. As you travel to the home of mountain gorillas in the  Volcanoes, enjoy the scenery of 'the thousand hills'. The Gorilla trekking safari will lead you deep into the jungles as you search for these massive animals. Your guides at the park will lead you to the Gorillas. You are allowed to spend up to one hour with the gorillas, as they go about their days activities, and you will be allowed to get within five feet of the Gorilla once you locate them. Some times, expect the young playful gorillas, out of curiosity to come closer to you or even touch you but you are not expected to respond because the silverback could respond violently as it tries to protect the young one from you.
2 Days Rwanda Gorilla Trekking Safari - Itinerary
DAY 1 of 2 OF 2 DAYS GORILLA TREKKING SAFARI : DRIVE TO VOLCANOES NATIONAL PARK.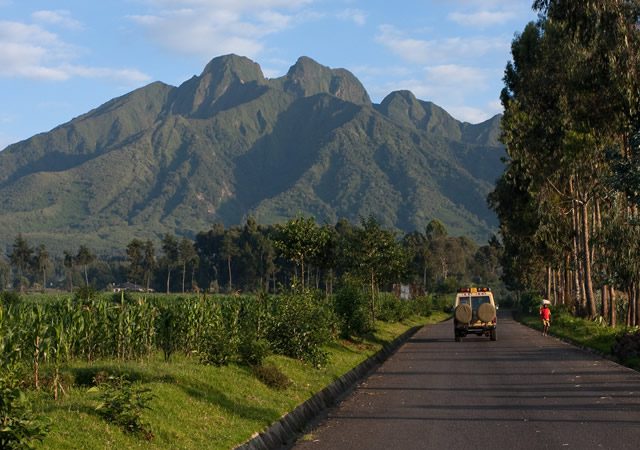 On arrival at the airport, you will be received and welcomed by a tour guide from Visit and Tour Rwanda and transferred to your hotel in Musanze formerly known as Ruhengeri. For travelers who are already in Kigali, you will be picked from your hotel or designated location and drive to Musanze. Enjoy the scenic breathtaking 2 hours journey to from Kigali to Musanze takes about 2 hours.
During you 2 hours drive, Enjoy the beautiful scenery of Rwanda, the thousand hills with great views of valleys and pathways to different homes and trading centers. It is advisable to get enough sleep the day before so that you are prepared for both a short or long hike depending on where the gorillas are that day.
In the afternoon you can take a canoe ride on River Mukugwa or choose to visit the gorilla guardians village.
Dinner and overnight.
Luxury: Mountain Gorilla View Lodge,
Mid-range: Le Bambou Gorilla Lodge,
Budget: Kinigi Guesthouse.
Meal plan: Lunch and Dinner
DAY 2 OF RWANDA GORILLA TREKKING EXPERIENCE : RWANDA GORILLA TREKKING IN VOLCANOES NATIONAL PARK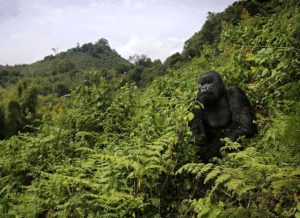 The gorilla trekking experience in the Volcanoes National park is a life changing experience and memorable.
Your driver guide from Visit and Tour Rwanda will transfer you to the briefing area at the park headquarters very early morning after your breakfast. You will be briefed on the does and donts of gorilla trekking, the Gorilla families to trek, and then transferred to meet your ranger guide to start tracking the gorillas. After further briefing on likely distance to travel and expected behavior while in the forest, you start your trek into the jungles of volcanoes national park. For some gorilla groups, you are expected to drive out a bit before starting the trek. You are advised to take a long a porter to help curry your bags, it is easy to think that you do not need one but they can be helpful if the gorillas nested further a way from your starting point. Meal plan: Breakfast and Lunch.