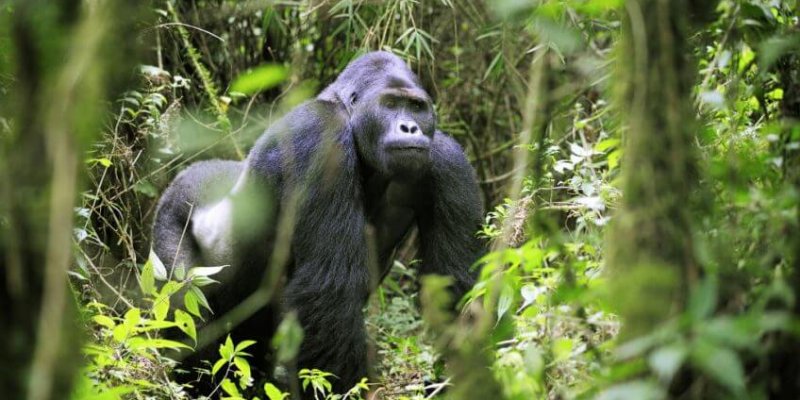 The Ultimate Guide to Gorilla Trekking in Rwanda
Rwanda is known to the world as a famous mountain gorilla trekking destination with almost half of the remaining mountain gorillas evident in the Volcanoes National Park. Of the remaining mountain gorillas (over 900 members), at least half of this population is resident in the Virunga Mountain ranges that sprawls across Uganda, Rwanda, and the Democratic Republic of Congo. For any curious tourist, mountain gorilla trekking is a climax of an African safari experience enjoying the wild jungle hikes and trails through the misty forest highlands leaving you with unforgettable memories. Visit and Tour Rwanda gives you the latest gorilla trekking safaris and tour packages to fulfill your ultimate urge and venture for a lifetime trip to trek these endangered mountain gorillas.
The Ultimate Guide to Actual encounters with Mountain Gorillas
According to researchers who have habituated the gorillas for over years, the mountain gorillas share 98% of their DNA with human beings record from the way these enchanting creatures behave, related to one another, their emotions, how sensitive and intelligent they are, something which continues to attract throngs of tourists to explore this in reality especially for first-time visitors.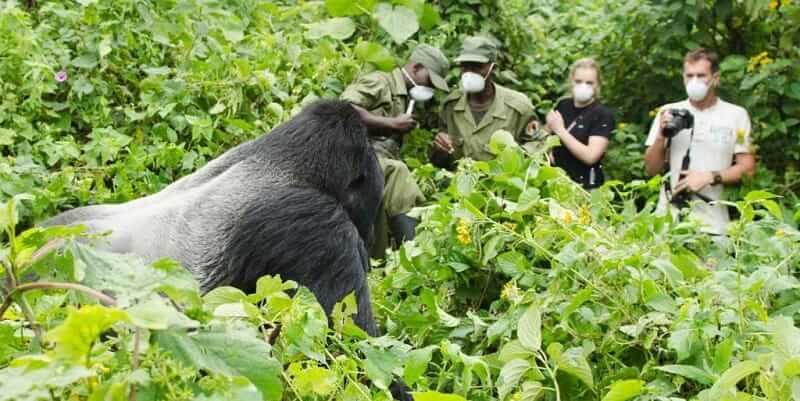 On a typical gorilla trekking day, all tourists are led into the thick misty green forests tucked with tall bamboos with backpacks on their back to trek and hike up the jungles to meet these gentle giants of the mountains. The hike up the jungles is quite strenuous but worthy a satisfying physical exercise with for your healthy body. The park ranger stiffens, and points out for the group tourists, whispering in a hearable voice tone: 'They're just up there, hope you can see them' pointing to a gorilla nest located just a few yards away. The experience on a gorilla trekking safari is just amazing; you hear rustles and echoing low grunts of the gorillas throughout the mist forest; this explains the motive behind the movie "Gorillas in the Mist". The visitors' group follows the rangers slowly through the thick brush and with no minute, you are face to face with the mighty gorilla giants. One of the visitors narrates an encounter with the Umubano gorilla family;
I can never forget a thrilling encounter with the Umubano; A baby gorilla just a few months old clings to its mother's chest, as juvenile males playfully push each other through the undergrowth. Charles, the massive silverback and de facto head of the family, observes stoically nearby.
The group, a selection of tourists from all over the world, is spellbound. The sheer size of these humanlike creatures is astounding, and their misty forest home beyond serene. A gorilla toddler shows off his newfound climbing skills by scaling a nearby eucalyptus, as the group joyfully watches on until the maximum hour permit is finally up and its time to leave the gorillas.
The Umubano gorilla family continues to be a preferred gorilla family out of ten habituated gorilla families commonly trekked by tourists and visitors due to its easiness to find and them being very kind and peace to mankind. Rwanda mountain gorillas were made famous by an American primatologist and senior environmentalist Dian Fossey, who contributed greatly to the conservation of these endangered creatures, and ever since her death, the government of the Republic of Rwanda has continuously upheld her initiation works preserving these amazing primates of the world through the gorilla fund center in Karisoke Research center. Part of the efforts in the gorilla fund center is funded by gorilla trekking funds collected from selling gorilla permits to trekkers.
How to acquire gorilla trekking permits in Rwanda 
Gorilla trekking permits in Rwanda cost $1,500 (USD) per day, per person and the reason behind this overwhelming price is the move to fund Rwanda's conservation work of protecting the gorillas and supporting local communities staying near the gorilla destinations. Gorilla permits can be acquired by contacting a tour operator to make reservations for you or directly through the Rwandan Development Board. You can send us an email here to get started on your next gorilla trip. You are kindly advised to book and acquire your permit early enough to guarantee availability, remember out of the 10 habituated groups of gorillas, there are only eighty (80) permits available daily.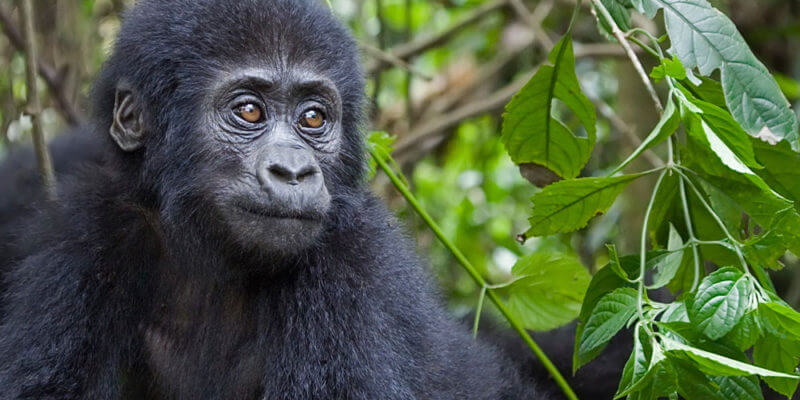 The ultimate guide to the best time for gorilla trekking in Rwanda
Gorilla trekking in Rwanda can preferably be done in the dry months of June to September and December to February since the muddy seasons somehow give you difficulty in the trekking with slippery trails and slopes and also, the discounted gorilla permits aren't available for rainy seasons. When choosing to visit Rwanda, you can fly to Rwanda using the official national airline of Rwanda, the Rwanda Air. other flight options include; Turkish Airlines, Brussels Airlines, Qatar Airways, Kenyan Airways, whatever choice you may like. All travelers are required to obtain a tourist visa on arrival by paying a nominal fee of only $30 U.S.D.
The Ultimate guide to the best accommodation on a gorilla trekking safari
Gorilla trekking in Rwanda is carried out in the Volcanoes National Park which is located in Musanze, North of Rwanda which features some of the best accommodation for a safari holiday in Rwanda. Recommended safari lodges in Rwanda for gorilla trekking. You can optionally book mountain view gorilla lodge, Kinigi guest house, gorilla's nest lodge, Muhabura guest house among others.
The new Bisate Lodge in Musanze gives you a luxury treatment on your gorilla safari and it has rebranded the whole accommodation for gorilla trekking thanks to its innovative design. Musanze also features the Virunga Lodge commonly known as one of Rwanda's finest for gorilla trekking safaris as it is stationed near the Virunga mountain ranges. For more budget or mid-range accommodation, we can help you tailor a budget fit safari lodge that will give you comfort. Contact us today!
What to Expect: The Ultimate Guide to Gorilla Trekking in Volcanoes Park
Of course, the hike is as strenuous as you would expect. This is evident because of the mountainous ranges that provide habitat to the mountain gorillas. A typical gorilla trek ranges from anywhere between 1-6 hours of hiking into the thick forest until you finally come to face with the gentle giants. The difference in time is attributed to which gorilla family you are visiting and what are their current movement! (since the gorillas are wild animals and therefore unpredictable). The minimum age limit for trekkers is strictly 15 years but there is no physical strength and ability required, anyone in moderate trek the gorillas, but expect a serious workout with some possible rain showers and mud up to your knees. This is why we recommend that you carry along with you rain jackets and good hiking boots, to ensure you are ready for a trip of an experience of a lifetime.
At about 8:00 am, you arrive and register at the park headquarters for a pre gorilla trekking briefing where trekkers are divided into groups of eight (8) basing on their fitness level and also assigned a lead park ranger for the trekking. Enchanting and exciting special performances from the cultural dance troupes of Intore follow after the briefing as you get ready for the actual hike. At around 9:00 am, trekkers pile back into their cars and get transferred to the starting point of the particular gorilla group assigned (expect to first drive for some gorilla groups). As the hike begins, porters are available for hire to carry backpacks (and sometimes trekkers themselves) up to the steep mountain paths. Sturdy walking sticks are also given for free to give you support in the sturdy and slippery muddy trails.
The gorilla trekking experience gives you the most exciting experience with the hikes and magical sounds bird species, reptiles and a variety of wildlife species and mammals in the park. Lead park rangers are always aware of the gorilla's movements and exist to deter poachers, monitor the gorilla's health, and guide tourists in the whole gorilla trek activity. With a blink of an eye after several minutes and hours of search, you finally meet the gorillas in a circle. You find them either playing, feeding, climbing trees, and the park rangers will ask you to discard the bags and hiking sticks before officially entering the gorilla's territory. You are permitted a maximum duration of one hour before trekking back to the lodge.
Although tourists must keep themselves 7 meters away, the gorillas usually tend to get as close as they want. Thankfully, these majestic creatures are usually very friendly and safe. Get ready to see them play, eat, sleep, swing, and just do their general gorilla thing. These encounters feel entirely natural, and will undoubtedly be the capstone to an excellent trip in Rwanda. However, should a gorilla charge against you, you are advised to simply look down, stay calm and follow the advice of the park ranger.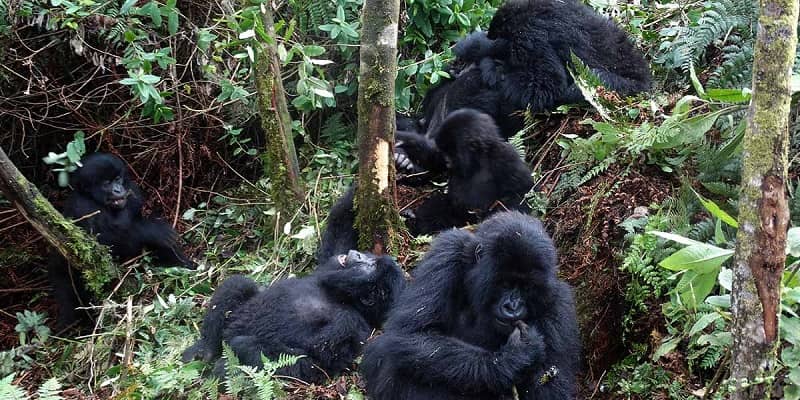 Am I Guaranteed to See Gorillas on a Safari?
Both Rwanda and Uganda authorities never guarantee an encounter. However, there are only a few tourist groups usually miss out to see the gorilla, BUT it's just rare! This could be just because you met with the gorillas but for safety reasons, you are prevented from visiting the group as it is displaying highly aggressive behavior. In such cases, however, the gorilla trek for such a group is rescheduled for the next day for another gorilla group. You can only miss out to see the gorillas when you are not fit enough to complete the trek or when you are ill from contagious diseases such as cough and flu. In this case, you won't get an opportunity to trek that day but if you stay longer, you can then trek the gorillas in the next days.
Interesting Facts About Mountain Gorillas in Rwanda
Mountain gorillas normally live in groups of 5 to 30 individuals. These are patriarchal, typically led by a mature adult male.
When males reach adulthood they grow a silver band of hair on the back, hence the name silverback gorilla.
Researchers disagree but the general consensus is that a mountain gorilla is ten times stronger than the average human. Their bite is even stronger than that of a lion or a great white shark!
There are many other amazing facts about mountain gorillas. For example, did you know that mountain gorillas make themselves a new bed from leaves and twigs, every single night!
Suggested Gorilla Safaris