Rules and Regulations of Gorilla Trekking, Dos and Donts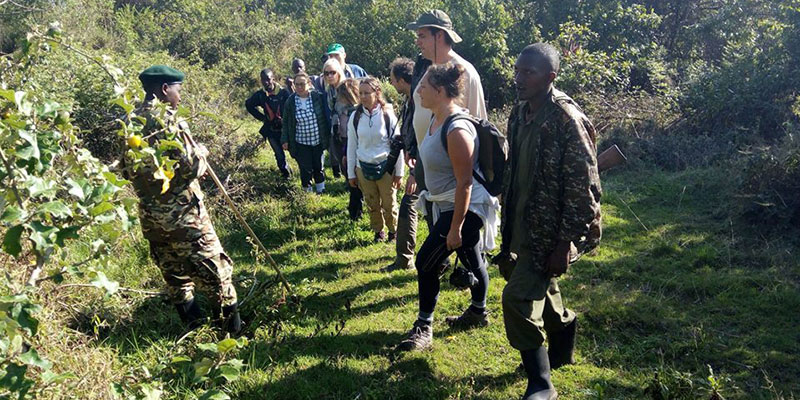 Gorilla Trekking is an adventure you wouldn't want to miss out on. In fact, many travelers travel long distances to see and have fun with these enchanting primates. However, knowing the rules and regulations of gorilla trekking is very essential so that your trek doesn't turn out a misery instead of fun. These regulations are put in place by the Authorities managing the gorilla parks to preserve these highly endangered primates. These dos and donts will definitely be issued to you in a manual at the time of briefing before you go for gorilla trekking but it is quite necessary that you travel when you are aware of them. Read about the rules and regulations of gorilla trekking below;
Rules and Regulations before gorilla trekking:
Only a total of 8 visitors may be allocated to a particular gorilla group, and only one group of tourists can visit them. This is intended to minimize the risk of behavioral changes and exposure of the gorillas to human infections and contagious diseases.
Gorilla Trekking is restricted to only persons aged 15 years and above. This is very strict despite someone's physical appearance and interest to go for the trekking
All visitors are advised to maintain a high level of hygiene and cleanliness when going to meet the gorillas. Washing hands at the park headquarters before the start of the trek is a must!
Do's and Donts when trekking to find the gorillas:
Always keep your voices low. This will give you the opportunity to watch out for a variety of wildlife to see and also not to scare the gorillas.
You MUST not litter garbage at the park rubbish pits. All your trash must be disposed of at the park headquarters or in the backpack when in the forest. Ensure that you carry all the trash you move with like the water bottles.
Always follow the instructions of your lead guide as you search for the gorillas in the jungle. These guides are professional, experienced and well trained to ensure that you have the best experience on your gorilla trekking adventure.
Dos and Donts of when you meet the gorillas:
A distance of 7 meters (21 ft) should be maintained between you and the gorillas. This will not only keep you from any possible attack by these gentle creatures but also will them feel more relaxed, hence having the best experience with them.
Do not dispatch off from your group members. You may get lost and be left alone in the forest. Therefore, always stay in the company of your group members.
Keep your voices at a low pace. This makes them gorilla feel relaxed and undisturbed by human presence. However, you can always ask your guides questions about that particular gorilla family.
Eats and Drinks MUST not be taken when with the gorillas as this may result in disease transmission. Gorillas are very vulnerable to contagious diseases.
Should the mountain gorillas charge against you, keep calm, look down and follow the guides' instructions. Never look directly into the gorilla's eyes and do not risk to run away as this may cause them to attack thinking you are a danger to them.
Flash photography is not permitted when with the gorillas. You must use non-flash cameras to take good photos of these wonderful apes.
You MUST not touch the gorillas. These are wild animals whose behaviors are unpredictable even though they are being habituated.
You will be allowed to spend one full hour with the gorillas. In instances when they become agitated bu human presence (which is very rare), the guide will advise you to leave the gorilla habitats.
Still, when leaving the gorilla premises, voices should be kept low until a distance of 200 meters.
General Health rules and regulations of gorilla trekking:
Since mountain gorillas are vulnerable to human infections and contagious diseases, the following health rules and regulations must be observed;
Respect the maximum number of visitors allowed to trek the gorillas per day since this helps to reduce possibilities of disease transmission from human to the gorillas which preserve their presence.
Visitors who have contagious diseases like a cold will be requested to stay behind and be refunded their money or be advised to visit the gorillas on a different day if they are to stay longer in the country
Should you want to cough or sneeze when with the gorillas, you are kindly requested to turn away from the gorillas and cover your nose and mouth with a handkerchief to avoid the spread of bacteria or viruses to the gorillas.
Ensure you are 7 meters (21 feet) away from the gorillas. This will help in preventing them from getting infected with human-related diseases.
In case you feel like using the toilet, talk to the ranger guide and he or she will advise accordingly.
What to carry for gorilla trekking:
Ensure that your hiking boots are carried for the trek. These will enable you to hike up and down the jungle and through the muddy trails.
You are advised to carry earplugs that will cover your eyes if you are not comfortable with forest sounds but I don't think it is that scary because you will be in a group and you may also need to listen to instructions.
Make sure to carry energy-giving snacks or your packed lunch from the lodge and enough drinking water.
A raincoat/gear, sunscreen lotion, a hat (for the unpredictable weather) and insect repellent (to deter off insect bites) are very essential for gorilla trekking.
You will also need to carry a camera to take photos keeping in mind that flashes turned off.
Visit and Tour Rwanda wishes you a magical encounter when you meet the gorillas