How difficult is Gorilla trekking in Rwanda?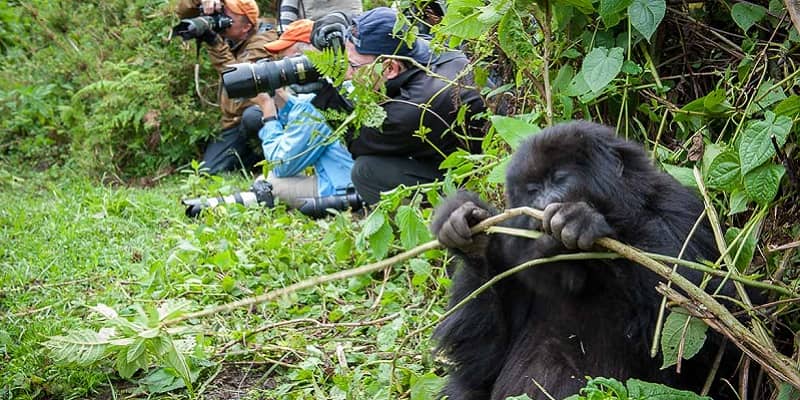 Majority of the visitors whose tour package includes gorilla trekking normally inquire about How difficult is Gorilla
trekking in Rwanda?. The other minor questions include; what is the age limit of Gorilla trekking?, When does gorilla trekking end? and many more. Gorilla trekking is mainly difficult in volcanoes because of the conditions like the ever wet slippery grounds and the thorny bushes. If you  planning for a Gorilla tour and you don't have  any hiking experience, you are encouraged to do a bit of practice some time so as not to tire out so fast and you enjoy the hike with a rewarding experience at the end. You can hire guides to help carry the back pack in the difficulty areas.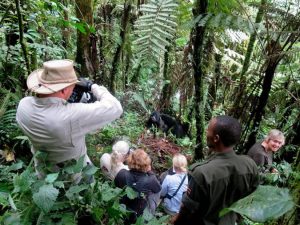 The difficult of Gorilla trekking is also due to the location and distance of some gorilla families in the Volcanoes National Park. This makes some gorilla families be hard to trek well while others are not. Some of these gorilla families live in low altitudes well as others in high altitudes. Remarkably, the Susa gorilla family is the  highest number of individuals in Volcanoes National Park numbering up to 42 members. Though, the  hardest to trek because they are found in high altitudes.
Although gorilla trekking can be done anytime of the year, the weather and season also matters a lot. During the rainy season, it makes gorilla trekking more difficult since you will have to pass through the thick jungle as you approach the gorillas. Therefore, when going for gorilla trekking  its always preferable to go for long sleeved clothes to avoid injuries.
How difficult is Gorilla trekking: Age Limit and Hours of Trekking;-  It should be noted that gorilla trekking in Rwanda is limited to only persons aged 15 years and above, therefore minors who are below the age 15 years are not allowed to go gorilla trekking in the Volcanoes National Park. This is because they are considered to be young because its risky for them since its a jungle with thorny bushes and going over hills. The distance is tiresome for them to manage.   Therefore, if you are planning to come to trek the gorillas in Rwanda, you will need to disclose your age before being permitted since the authorities are so strict about the age limit of gorilla trekking. Though for the elderly or the disabled, sedan chairs/bamboo stretcher carrier are provided for them.
In the process of Gorilla trekking, the Guide will provide you a walking stick to support you in the slippery and muddy areas. The same stick can support you in the hilly areas. You don't have to hesitate to request for a stop over in-case you tired. You advised to carry refreshments like a bottle of water and some snacks in-case of stop overs.
Want to know more about how difficult Gorilla trekking is in Rwanda, please talk to one of our experts today, we have a team of experienced and well informed tour guides and planners to give you all he information you need as you plan on your next gorilla trip. Send us an email: info@visitandtourrwanda.com.