Gorilla Trekking in Uganda Vs Rwanda Comparison
Where to go for gorilla trekking – Rwanda or Uganda? We have compared the differences!
Gorilla trekking in Rwanda and Uganda has always been one of the top adventures by tourists when traveling to Africa. Seeing mountain gorillas in the wild jungles of Bwindi and Volcanoes National park rewards travelers with one of the most unforgettable experiences. However, it is advisable that before deciding which country to visit for your gorilla safari experience you know the comparisons first. Our travel safari experts bring you the reliable and most accurate information about gorilla trekking in Uganda vs Rwanda comparison.
Gorilla Trekking in Uganda vs Rwanda – Where is the best trekking experience?
This is one of the top questions disturbing travelers when deciding on where to go for the gorilla trekking adventure. According to our previous clients, it is the experience you get with the gorillas that matters and not the country. We, however, bring you the contrasting difference in the gorilla trekking experience of Uganda and Rwanda
Why Choose Rwanda over Uganda for Gorilla Trekking
Rwanda has done a terrific job promoting the country since it's the Mountain Gorillas in Volcanoes Park which attract the main tourists in Rwanda. Journalists all over the world visit the Land of a Thousand Hills to experience the popular gorilla trekking experience in Africa.
Previous travelers acknowledge that both Uganda and Rwanda offer great opportunities for gorilla trekking. However, many travelers favor Rwanda, as most of the terrain during the gorilla trekking is a little bit more open and therefore it is easier to get a good view.
"Rwanda is a very clean and organized country; travel distances are relatively small, and the roads, in general, are good. In Rwanda, the view of the volcanoes around you whilst trekking the gorillas is breathtaking. Says Baas, one of our previous travelers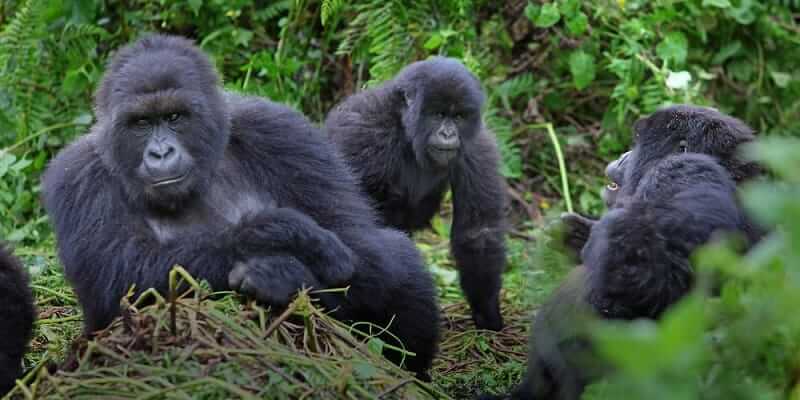 Rwanda is generally considered to be a bit "less difficult" in terms of terrain for tracking when compared to Uganda. On the other hand, the altitudes can be higher, which means it is still an activity for fit and active clients. Due to its growing diversity with the reintroduction of lions and rhinos to Akagera National Park, this makes it a wonderful addition to the gorillas found in Parc National des Volcans (Volcanoes National Park).
Another reason why gorilla trekking experience in Rwanda is more preferred vs Uganda is that Volcanoes National Park in Rwanda with its golden monkey trekking adds an additional experience to the gorilla-trekking adventure. "So, if clients want to see both golden monkeys and gorillas we recommend that they visit Rwanda."
Another advantage of choosing Rwanda over Uganda is that gorilla trekking in Rwanda is more open to business travelers and delegates attending conference meetings thanks to the infrastructure the country has to offer. Rwanda has recently been ranked among the most popular conference and events destinations on the continent by the International Congress and Convention Association.
Why Choose Uganda over Rwanda for Gorilla Trekking
Uganda is one country that offers clear benefits when it comes to gorilla trekking experiences despite the less developed infrastructure. The main benefit enjoyed when you choose to go gorilla trekking in Uganda is that the gorilla permit is twice cheaper than in Rwanda. Uganda permits for gorilla trekking costs only $600 and yet the country has a lot to offer as regards the gorilla trekking accommodation from budget safari lodges to luxury camps.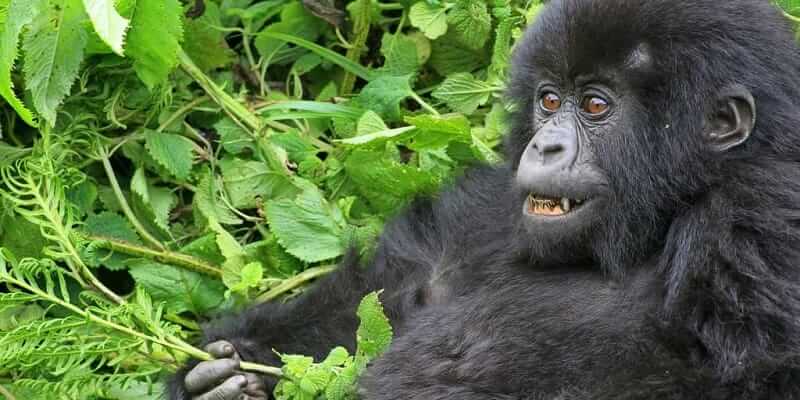 Despite the benefits as seen above, gorilla trekking in Uganda is a bit more strenuous and challenging because the rain forests of Bwindi are mostly wet and muddy, even during the dry season which may, therefore, require some physical stamina to match up with the trekking capabilities. Gorillas in Bwindi cover large territories and tracking time can vary greatly from day to day, from 1  hour up to eight or nine hours. The vegetation can be very thick, hence the name Bwindi Impenetrable National Park. Slopes can be steep, often steeper than a flight of stairs, and there are no trails.
To show that Uganda again has more advantage over Rwanda for gorilla trekking, one can go for chimpanzee trekking in Kibale or have other safari circuits and attractions in the Bwindi region, including experiences with the indigenous Batwa people.
What's the bottom line?
Ultimately, the deciding factor between Uganda and Rwanda is the possibility of securing the gorilla permit and how convenient it may be to track the gorillas. There is only a limited number of gorilla trekking permits available daily which dictates that intending travelers have to book for these permits several months ahead. Use of a local tour operator can be key to secure your permit and be confirmed that you will join the team trekking the gorillas in Uganda or Rwanda
Whether Rwanda or Uganda, on the day of the trekking, the park will decide which gorilla family you can visit for that particular day. The allocation of the gorilla group is always based on the current location, your strength, and your physical fitness level. Spending time with mountain gorillas in the wild in Uganda or Rwanda is one of the most exhilarating experience you will ever have on your African safari holiday trip.
Where to find mountain gorillas in Uganda, Rwanda or DR
Mountain gorillas currently live in Uganda, Rwanda and the Democratic Republic of Congo. This means that gorilla trekking can be done in the parks that straddle the three countries, namely the Virungas National Park in the DRC, Bwindi Impenetrable National Park and Mgahinga National Park in Uganda plus Rwanda's Volcanoes National Park.
Mountain gorillas of Rwanda
Mountain gorillas in Rwanda are only resident in the Volcanoes National Park (Parc Des Volcans) that is located northwest of Rwanda in a 3 hours drive time from Kigali. This park sits across the borders of Rwanda, DRC, and Uganda with an estimated population of about 300 mountain gorillas living here. These gorillas are divided into 10 habituated groups an implication that 80 gorilla permits are issued out daily for visitors to visit them.
The mountain gorillas of Rwanda are the one the late American zoologist Dian Fossey researched about at the time she was living in Rwanda. Today, Rwanda Development Board has implemented a high-end strategy to promote its gorilla tourism which has put the gorilla permit at US$1500.00 per person which more than double the price of Uganda gorilla permits. This also means that a gorilla safari in Rwanda is one of the most expensive to take if you stay in the most premium gorilla lodge Bisate Lodge, which a cost losing to about US$10,000 for two people and two nights.
The Final Verdict about Gorilla Trekking in Uganda vs Rwanda Comparisons
The table below shows our best comparisons about gorilla trekking in Uganda vs Rwanda putting together the major factors that most people do consider. For best comparisons, we have included DR Congo on the comparisons since gorilla trekking is also possible in the Virunga National park of Congo. The main decision factors we considered in the comparison the price of gorilla trekking permits, distance, and location of the national parks, where the actual trek starts from, flight arrangements, accommodation options and the number of gorilla groups you can choose to visit on your trekking day.