Expectations on a gorilla safari in Rwanda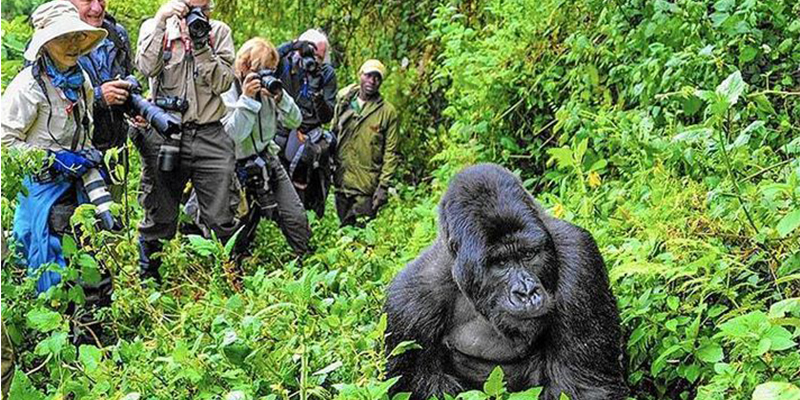 Some visitors who have traveled to Rwanda purposely for Gorilla Trekking say, "Gorilla trekking is an adventurous lifetime tour one should never miss".  What's your suggestion about it or what are your expectations on a gorilla safari in Rwanda? If you have never traveled to Rwanda for a gorilla safari, this might become a challenging question on your side.  A gorilla safari is an undoubtful tour because the most exceptional exciting activity undertaken by the majority of visitors all over the world. Expectations on a gorilla safari in Rwanda gives a thrilling experience and our expecting participants should plan for it earlier.
For the first time visitors, in most cases wonder about the expectations on a gorilla safari in Rwanda and what makes Rwanda the best land for gorilla trekking? Rwanda has got the best jungles for habituated gorilla families with favorable weather conditions. Volcanoes National Park is located in the north-western part of Rwanda with over 10 habituated gorilla families. 8 trekkers are allowed in a group with a gorilla permit (MUST) per visit. Different individuals who have ever tracked gorillas in Rwanda have a different story to narrate due to the difference in their experiences
Gorilla Permit. The acquisition of a valid gorilla permit is a must in Rwanda for gorilla trekking. It's offered by the Rwanda Development Board or a certified tour operator to allow you to trek one of the habituated Gorilla groups. This the major document considered if you wish to have a gorilla safari in Rwanda in accompany the other documents such as a passport for non-nationals. A gorilla permit costs only $1500 per person per trek.
Dressing code for gorilla trekking. Expectations on a gorilla safari in Rwanda include the appropriate dressing code while you in the thick rain forest in order not to hurt yourself. Every individual may consider any dressing code as being appropriate however during a gorilla trekking take note these;
Long-sleeved clothes to protect you from the wet grass and preferably of lightweight.
Hiking boots, these have a rubber sole for easy maneuvering through the soft soils in the jungles.
Gloves preferably gardening gloves for protecting your hands.
Rain jacket to cater for the unpredictable weather.
Also wear cotton socks (for warmth), a hat (for the dripping water droplets), and a waterproof backpack (for your gadgets or a snack). This adds on your comfortability while trekking in the jungle and so your experience.
Early waking up for a briefing at the headquarters. For visitors who are not used to waking up very early, I would suggest you set an alarm. For a day of gorilla trekking, you expected to have a hot cup of tea at your before reaching the headquarters. The briefing is very crucial on this day, therefore by 7:00 am you expected to be already there with the park ranger. Trekkers are briefed on how to conduct themselves while in the jungle and are allocated trekking groups according to the level of physical fitness.
Provision of walking sticks by the park ranger and hiring porters(optional). Walking sticks are provided to you while still at the headquarters by the park ranger for support while climbing the steep gradients while in the jungle and at times paving way for you. Hiring a porter is optional, provided you have a heavy or slightly heavy backpack because with time it turns to be heavier. The porters also give you a push or a pull where you be stuck in the jungle especially in times when the floor is wet/slippery.
Trekking for gorillas and hiking. The jungle has different land terrains for some good hours. Trekkers are expected to hike and trek through the jungle until they identify a gorilla family. A gorilla safari combines other tours like birding while in the tropical rainforest. The jungles have different flying bird species, butterflies and it gives you a glimpse of the Virunga Volcanoes.
Of all the expectations on a gorilla safari in Rwanda, meeting and spend one magical hour with mountain gorillas is the most memorable experience. This is the long-waited moment for our visitors to encounter the beauty of the black giant mountain gorillas. This is the main activity or reason for hiking through the jungle. The one hour you spend with a gorilla family, you will notice why gorillas are said to have a 95% DNA like for humans. Focus mainly the way they; play, rest, and groom while you take their photos.