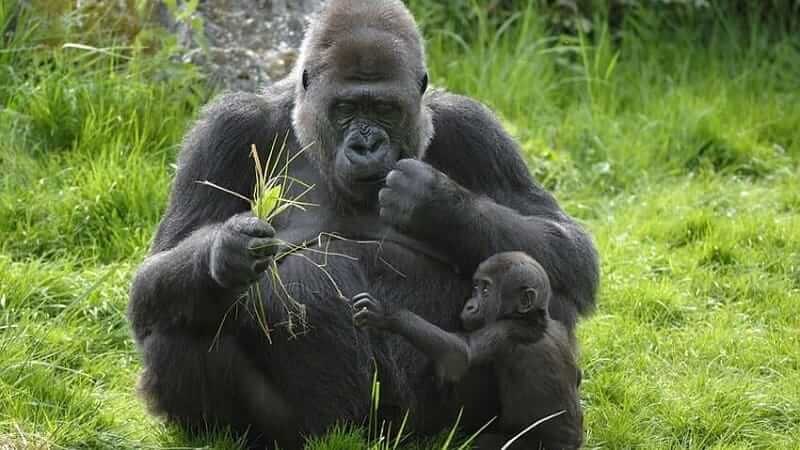 5 Days Congo Gorilla Tour and Nyiragongo Hike Safari Overview
This 5 days Congo gorilla tour is an exceptional tour package designed to grant you a comprehensive tour of Congo with trips to trek the mountain gorillas in Virunga gorillas, Eastern lowland gorillas in Kahuzi Biega national park and the adventurous hike to the top of Mount Nyiragongo Volcano. This tour starts and ends in Rwanda's capital Kigali.
Tour Highlights & Itinerary Summary
Day1: Arrival in Kigali, Transfer to Virunga National Park
Day2: Gorilla trekking in Virunga National Park
Day 3: Nyiragongo Volcano Hike
Day 4: Descend from the Volcano and transfer to Kahuzi Biega National Park
Day 5: Lowland Gorilla Trekking & Transfer to Kigali
Itinerary for the 5 Days Congo Gorilla Tour and Nyiragongo Hike
Day 1: Transfer from Kigali – Virunga Nationa Park
On arrival in Rwanda, you will be met by a driver guide from VIsit and Tour Rwanda who will brief you on the itinerary highlights of the 5 Days congo gorilla tour and then transfer you to Mikeno Lodge at Rumangabo in Congo in a 3-4 hours journey of about cruising past the magnificent landscape sceneries venerated with unique natural setting and local populations. Upon arrival, you will check in at the hotel, have an evening cup of coffee and take a day's rest with anticipation for the upcoming gorilla trek in Virunga National park.
Dinner and overnight at Mikeno Lodge (Upmarket), Bukima Tented Camp (Moderate) Nyiragongo Volcano Summit Shelters (Basic)
Day 2: Mountain Gorilla trekking in Virunga National Park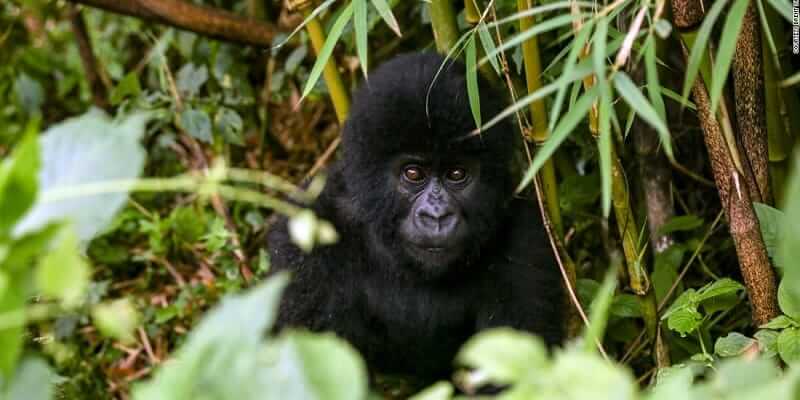 After having a peaceful breakfast coupled with a cup of coffee, you will be driven to the Bukima, the headquarters of Virunga National park where you all assemble with other trekkers for a gorilla trekking study and briefing from the park ranger guide where you also assigned a particular gorilla group to trek. After the briefing, you will start the trek with the help of a lead ranger guide searching for the gorilla group allotted. Seeing these mild giants in their natural environment is an exclusive an incredible experience where you can take photos (BUT NO FLASH), and also ask from the ranger guides questions you may have about that gorilla family in the maximum allocated time of only one hour. After a successful trek, you can then return back to your lodge for the late meal and leisure.
Day 3: Mount Nyiragongo Volcano Hike
Wake early for a coffee breakfast, then drive with your guide towards Nyiragongo Volcano Base located about 30 km from Mikeno Lodge. Here you will meet up with fellow hikers and park rangers will take you through the basics of the volcano hike before you start the hike to the top of the Nyiragongo Volcano. Mount Nyiragongo is an active stratovolcano with an elevation of 3,470 m in the Virunga Mountains associated with the Albertine Rift.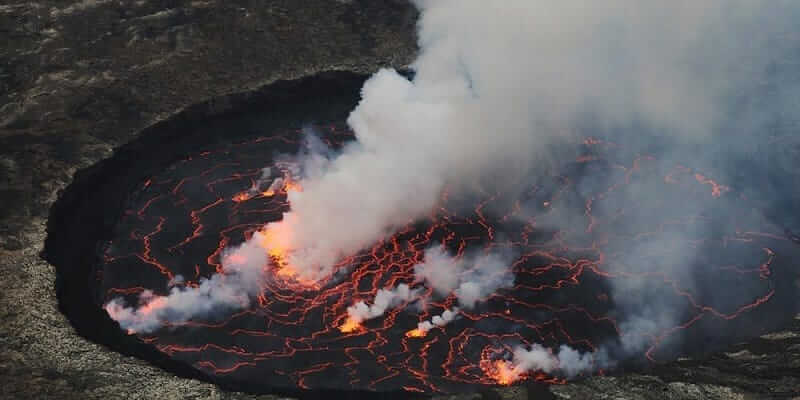 Hiking Nyiragongo volcano will take one about 4-6 hours till you reach the peak of the worlds most lively volcano. The way to the summit is somewhat easy although a bit tiring, often hot and in an uncomfortable state. Along the journey, you will enjoy amazing sights and views of rare birds and undersized mammal groups. You will enjoy the view of the lakes of boiling lava once you reach the top of the volcano and get the chance to relax at its peak. Dinner and Overnight will be spent in the tents on the edge of the huge crater, elevated above the dynamic lava lake.
Day 4: Descend down the Volcano, Transfer to Kigali, Departure
After your breakfast, you will begin descending down to the base of Kibat Patrol station from the peak of Nyiragongo. On reaching down the base, you will have lunch and transfer to Kahuzi Biega National park where we trek the Eastern lowland gorillas the next day. Dinner and overnight at Orchid safari lodge.
Day 5: Lowland Gorilla Trekking, Transfer to Kigali, Departure
Have morning breakfast and go for a briefing on the lowland gorilla trekking at the park headquarters. You will then hike into the forest searching for the gorillas until you meet them. After the trek, you will descend back to lodge, have lunch and then depart off to Kigali via the Cyangugu border. Your driver will drop you at the Airport for your scheduled flight back home or drop off at the hotel in Kigali for another overnight stay at your cost which marks the end of your 5 Days Congo gorilla tour. Thanks for interesting a trip with us!
Full Day service of a professional English speaking driver/guide
Exclusive use of 4WD for the whole day
1 Congo Gorilla Permit pp (USD400)
Emergency Evacuation Insurance pp
Park Entrance Fees
Government levied taxes
Airport Pickup and Drop Offs
A bottle of drinking mineral water
Tourist Entry Visa
 International Flight Tickets
 Travel Insurance
 Items of Personal Nature
 Tips and Gratuities