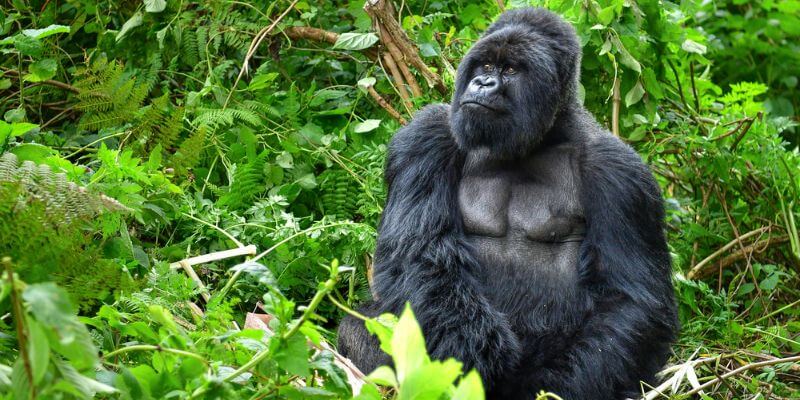 1 Day Gorilla Trekking Uganda
Day 1: Travel to Bwindi Impenetrable National Park.
This 1 Day Gorilla Trekking Uganda will take you to visit the beautiful jungles of Bwindi Impenetrable National Park. This day gorilla tour includes a Uganda gorilla trekking permit of USD $600 per person which guarantees you the chance to interface with the mountain giants of Uganda.  The Bwindi Impenetrable National Park, a name which originates from the local word 'Mubwindi' meaning a swampy wetland.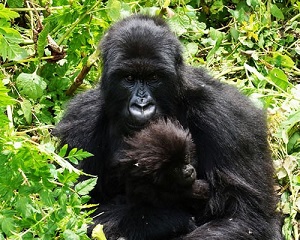 Bwindi impenetrable national park was opened in 1993 and covers an area of 33 sq meters. It has got over 4 habituated gorilla groups including; Habinyanja, Mubare, Nkuringo and Rusengura. More so, the park also is home to 12 gorilla families that are open to trekking by the tourists. The animals that are found here include; over 120 mammals, 27 species of chameleon, 348 bird species, 220 butterflies, also lots of flora is found in the park including; 1000 flowering plants, 163 tree species, 104 species of ferns and many more. The birds mostly found here include; the horn birds and the Turacos. The primate species mainly found here include; mountain gorillas, colobus monkeys and chimpanzees.
Detailed 1 Day Gorilla Trekking Uganda Itinerary
You will be picked up by your driver guide at 4:00 am for your 1 Day Gorilla Trekking Uganda after your early breakfast from your hotel in Kigali and be transferred to Kisoro or Kabale, traveling for about 3-4 hours, expect to be on time for the 1 Day Gorilla Trekking Uganda briefing on the does and donts as well as what to expect while trekking, thereafter you will be grouped in a group of 8, though some times only 2 or 3 or 4 trackers may trek; this is based on the season. We, however, advise that you carry enough water for drinking as well as enough energy snacks (Optional: packed lunch) since gorilla trekking in Uganda is so strenuous and can take from 1-7 hours depending on previous gorilla movements in their habitats.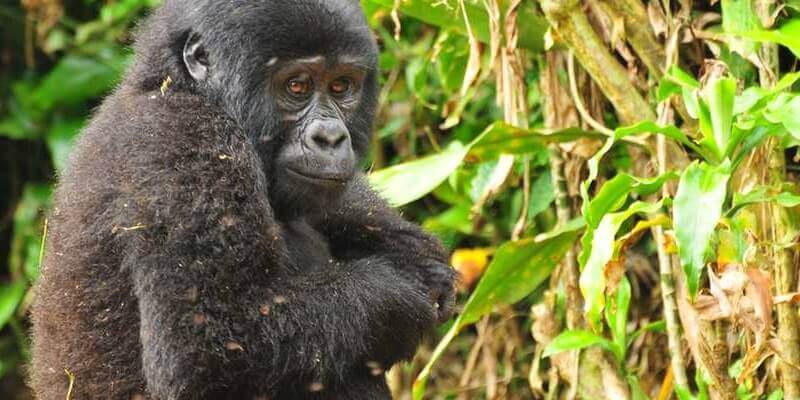 Accompanied by the trained guides, your 1 Day Gorilla Trekking Uganda begins. Gorilla Trekking can be tough some times, so one may need a walking stick. It also needs someone who is strong enough and physically fit. The trekkers should also carry raincoats and boots since the weather is unpredictable in Bwindi impenetrable forest. The moment you encounter the mountain gorillas, your rangers will guide and show you how to handle and behave while with them, mainly by standing 6 meters away from the gorillas as you enjoy viewing them.
Immediately, after the trek, continue to the park headquarters for your gorilla tracking certificates, and get back to the road towards Kabale or Kisoro where you will proceed with the journey crossing over to Rwanda's Kigali through the Chanika or Katuna border to mark the end of your 1 Day Gorilla Trekking Uganda.
Full Day service of a professional English speaking driver/guide
Exclusive use of 4WD for the whole day
1 x Gorilla Permit pp (Rwanda)
Emergency Evacuation Insurance pp
Park Entrance Fees
Tourist Entry Visa
 International Flight Tickets
 Travel Insurance
 Items of Personal Nature
 Tips and Gratuities