How much does a Gorilla Safari Cost? Of course, various tour operators will give you quotes, roughly the cheapest gorilla safari should have a price of about $ 1100 of course depending on the number of people. The super luxury should be cost you between $ 4000 to $ 6000 per person.
The average mid-range three day gorilla safari costs approximately $1200, depending on the number of people in your group. The cheapest way to see the gorillas is to travel on a scheduled overlanding trip during low season.
Kigali, 7th May, 2019 the Rwanda Development Board (RDB) has double the gorilla permit cost from $750 to $1500 Per person for one hour watching gorillas in the Volcanoes national park. In the same statement the RDB has introduced a new exclusive offer for visitors looking at trekking the entire gorilla group for 15,000 U.S dollars with an exclusively personalized tour guide watching gorillas for 1 hour.
The price increase has taken effect from the date of the statement release, but will not affect those tourists who purchased their gorilla permits ahead of the new change. In addition, the RDB offered a 30% discount for visitors who plan to stay longer for 3 days or more visiting mountain gorillas and other Rwanda national park like Nyungwe forest, Akagera national park and other attractions. Conference tourists in the country are also eligible to a 15% discount if they wish to trek gorillas earlier or after their conference in Rwanda.
Gorilla tracking is one activity that is worth visiting, its one thing that can force you reach and experience the beauty of Volcanoes National Park by trekking through the forest. has about seven familiarized gorilla groups that are visited by the tourist.
[cz_image fx_hover="cz_image_zoom_in" id="cz_32998″ image="4048″ hover_image="4127″][/cz_image]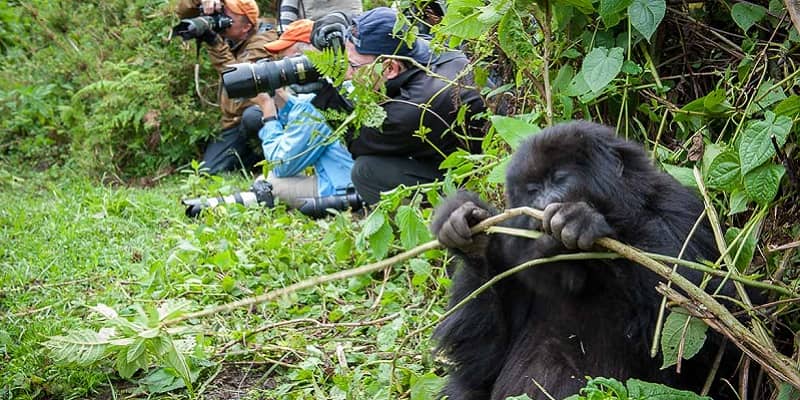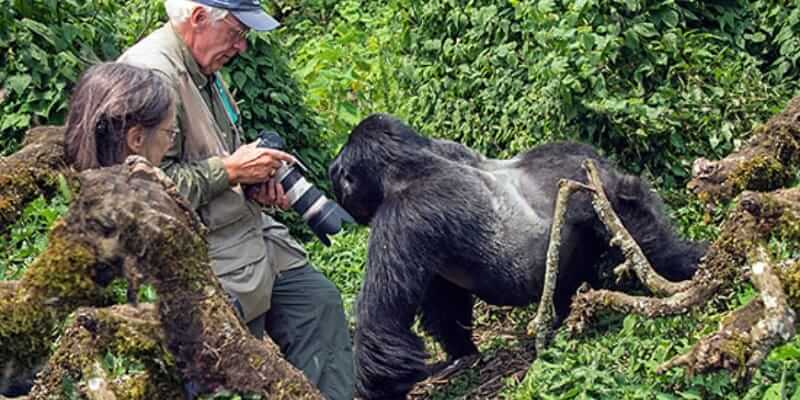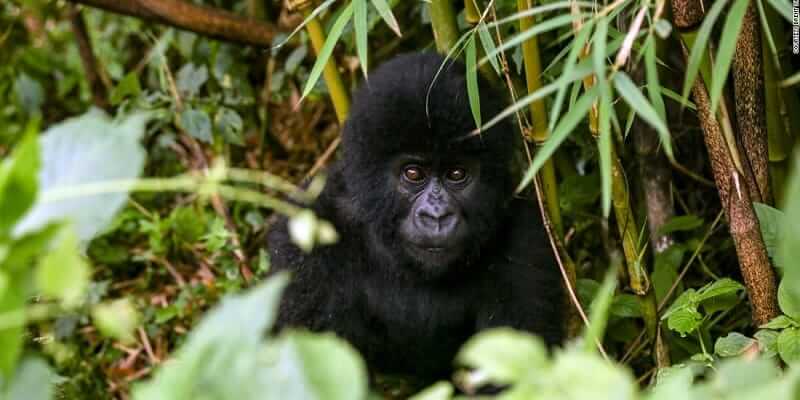 [ultimate_heading main_heading="GO AHEAD AND BOOK YOUR GORILLA SAFARI" main_heading_color="#5a3708″ spacer="line_only" spacer_position="bottom" line_height="2″ line_color="#394834″ line_width="150″][/ultimate_heading]
[ultimate_heading main_heading="What people ask" main_heading_color="#5a3708″ alignment="left" spacer="line_only" spacer_position="bottom" line_height="2″ line_color="#394834″ line_width="150″][/ultimate_heading]
How To Acquire a Rwandan Gorilla Permit
Use a recognized tour operator.
Its alway easier to book your gorilla permit through a recognized tour operator in Rwanda. This is because safari companies provide much more than  just a permit. They will reserve your hotel, plan your visa, provide transportation and also show you other destinations within Rwanda.
Contact RDB
If you are not interested in booking through a tour company, please contact Rwanda Development Board to help you get a permit.
Visit More than one Destination in Rwanda
The best opportunity to acquire a Mountain Gorilla – Tracking Permit is to reserve a Mountain Gorilla Tracking-Safari for either a 5-day safari or it merged with a longer safari involving additional Rwanda National Parks like Nyungwe Forest National Park and Akagera National Park. Rwanda Development Board gives a Gorilla permit discount if you spend more days visiting other destinations in Rwanda.
Other Cheaper Destinations
A gorilla permit costs US $ 1500 in Rwanda, while in Uganda, u save US $ 900 when you track the Uganda gorillas.  You can still visit Rwanda but cross to Uganda to track the gorillas! One prominent company to help you with gorilla permits and tracking either side  is Visit and Tour Rwanda
Is Gorilla Trekking Worth the money?
Gorilla trekking is worth the cost, energy and time. Past travelers have reviewed the experience as unforgettable, magical and life-changing worth the penny. Despite the high costs, discomfort and time, gorilla watching tours in Rwanda, Uganda & Congo remain the best wildlife experience worth doing. Over time, most people who have never been to the jungles of Uganda, Rwanda and Congo ask themselves "is gorilla trekking worth it?
The magical feeling that one gets on seeing the Silver-back Gorilla, the human-like characters of Gorillas in their families and their social interactions make these gentle giants worth visiting.