Best Country to Visit for Gorilla Trekking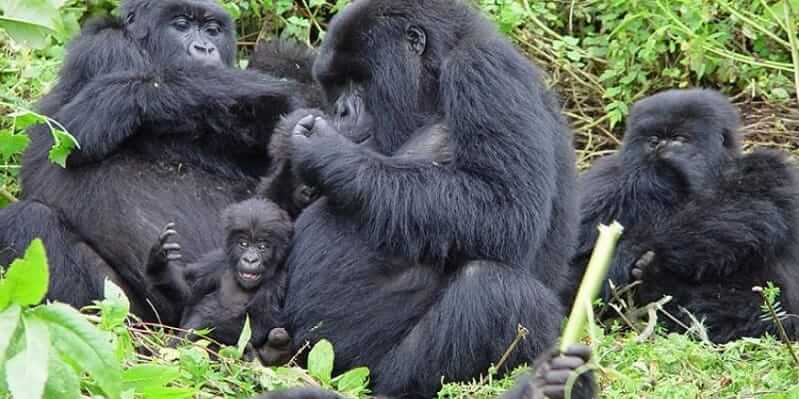 Which country is best for gorilla trekking: Uganda or Rwanda?
What is the Best Country to visit for Gorilla Trekking in East Africa? Uganda or Rwanda. All your questions answered in this blog. Find out whether it is Uganda, Rwanda or DR Congo given their Geographical uniqueness.
Trekking the gorillas in East Africa is something that many travelers and adventures are excited about and looking to try out. The only countries that remain a hub to visit for gorilla trekking are Uganda and Rwanda and there is absolutely no argument about that although DR Congo also has a center for gorilla trekking in the Virunga National park. However, due to the political unrests, trekking the gorillas in DR Congo is often overlooked leaving the battle for the best to visit for gorilla trekking as Uganda and Rwanda.
Most travelers usually debate about which national park is the best to trek the gorillas from, whether it is Volcanoes National Park in Rwanda or the Bwindi and Mgahinga National Parks in Uganda. We cannot definitely pick which one is best, but we can compare the two and let you choose which one will be best for you. There are a number of factors that you need to consider as you choose the best country to visit for gorilla trekking, and these include among others:-
Choosing the best country to visit for gorilla trekking in terms of gorilla permit prices
Both Uganda and Rwanda require visitors to have a gorilla permit in order to go for gorilla trekking in any of the destinations. in Uganda, the gorilla permits cost 600 USD per person whereas, in Rwanda, the permits cost 1500 USD per person per day. In DR Congo where gorilla trekking is very rare, the gorilla permits cost 400USD.
Therefore, if you are a budget traveler, DR Congo and Uganda are affordable than Rwanda, but for a truly magical experience, Rwanda's mountain gorillas reward you with an exhilarating adventure experience. However, adding up all costs of the safari trip, a 3 days gorilla safari in Uganda is almost the same as the price of a 3 days gorilla safari in Rwanda. The difference is that there are more activities to add to your safari in Uganda.
Comparing the best country to visit for gorilla trekking in terms of time and travel:
The main entry point into Uganda is Entebbe international airport. It is a 9-10 hour drive from Entebbe international airport to Bwindi impenetrable forest and to one of the four starting points for gorilla trekking in the thick rainforest. You can charter a flight to Bwindi Impenetrable forest at an added cost of course. You will either have access to Rushaga and Nkuringo in the north of the Bwindi impenetrable forest or Buhoma and Ruhija in the south. If you choose to travel by road, however, you will need three days for gorilla tracking. The good thing is you can add many more things to do on your trip such as chimpanzee trekking, golden monkey tracking, game viewing, a dugout canoe safari or enjoy some cultural tourism.
In Rwanda, gorilla trekking is a 3-4 hour drive from the airport in Kigali. A two-day safari is ideal in Rwanda. You can visit one wildlife park probably Akagera national park and go chimpanzee or golden monkey tracking in addition to the gorilla tracking, or explore Kigali and visit the memorial center.
Distance Between the City and the Gorilla Parks: Best Country to Visit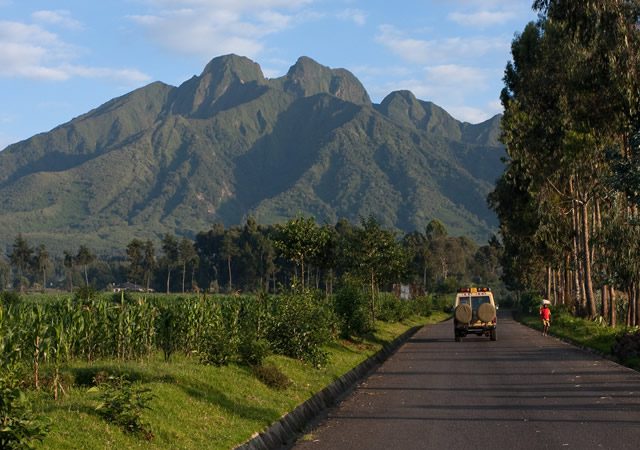 The lengthy distance from Entebbe Airport to Bwindi Forest Park and Mgahinga Gorilla National Park where Gorillas are trekked from in Uganda (8-9 hours' drive), turns off the Rich and weak Tourist who opt for Rwanda as their ideal Gorilla Trekking destination.
The same happens to Congo, Gorilla Trekkers need to fly into Kigali Rwanda and drive to Goma Congo thereby paying Rwanda and Congo Tourist Visa fee separately which is very expensive.
In Uganda, you can get to Bwindi Forest and Mgahinga Park in 2 hours' time when you fly with a scheduled flight of AeroLink Uganda, thereby paying less and get a chance to reduce the distance and enjoy trekking Gorillas with cheap Uganda Gorilla Permit.
The Gorilla Trekking Experience: Best Country to go!
Gorilla trekking in Uganda in Bwindi impenetrable forest seems to require more physical fitness and stamina. The forest is very thick and takes more physical effort to track the gorillas through it. It for most people this makes the experience more exciting. Tracking the gorillas is just as thrilling as or even more thrilling than finally seeing the gorillas up close.
In Rwanda on the other hand, gorilla tracking is done on the side of a volcano, and the tracking is a bit easier. On a Rwanda gorilla trek, you are assigned a group based on your physical abilities.
Viewing and photography: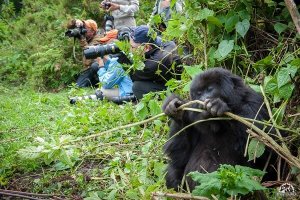 Bwindi Impenetrable Forest is quite dark for if you want to take pictures, but whether you get good pictures depends on a number of factors such as the family you are visiting, and the location. But it is very possible to get good pictures of the gorillas within the impenetrable forest, many have done it before.
In Rwanda, you will be climbing up the side of a volcano, tracking through the vegetation might be a little challenging but you will still get a clear view of the gorillas and some pictures as well. So whether it is Rwanda or Uganda, you will see the gorillas just fine and will be able to take good pictures.
Mountain gorilla population: which country has more mountain gorillas?
The mountain gorilla population in the African wild is over 880. Some of these are in Democratic Republic of Congo, some in Rwanda and some in Uganda. 1/3 of the 880 gorillas is found in Rwanda, and 480 of them, which is more than half are found in Uganda. 400 in Bwindi impenetrable forest and 80 in Mgahinga gorilla national park.
There are 10 groups of habituated gorillas in Rwanda, one in Mgahinga gorilla national park and 11 groups in Bwindi impenetrable forest. Habituated gorillas are gorillas that have adapted to the human presence they are the ones that are open to visitors.
What other activities can you do on top of gorilla trekking in either country?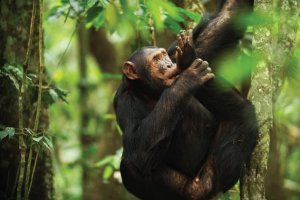 In Rwanda, you can go chimpanzee tracking or golden monkey tracking. You can also go on the Nyungwe forest canopy walk, visit Akagera national park, or hike the Congo trail in addition to tracking gorillas.
In Uganda, there is a host of things to do as well. you can chimpanzee tracking, visit some of the game parks such as Queen Elizabeth national park and go on game viewing drives, or bird watching, see some tree-climbing lions, go white water rafting on the Nile, enjoy some mountain climbing and enjoy a bit of cultural tourism. Both countries are destinations rich with tourist sites and activities. So you can go for your gorilla safari in whichever one feels right and more adventurous for you. We here at insight safari holidays can plan a trip for you to either country and do our best to make sure it is fun and memorable.