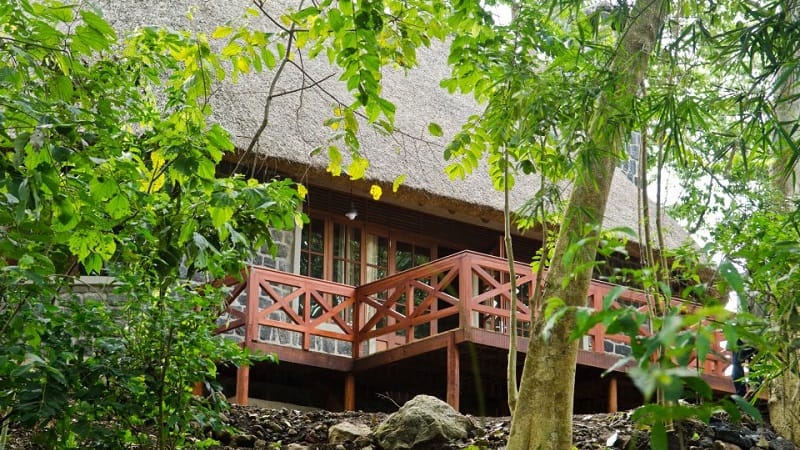 Safari Accommodation in Congo: Best Hotels & Lodges to Book
The key to a successful and enjoyable congo safari has to take consideration of the safari accommodation in Congo, which lodges and hotels to stay in, how close are these lodges to the national parks where the safari activities are commenced. This page will give you the guidelines to ensure that you book the safari accommodation in Congo in order to have a remarkable safari holiday in the DRC.
The safari lodges and hotels picked out for you here are well sought to be safe to stay in with charismatic and eco-friendly environment yet at affordable pocket-friendly rates. Our listed hotels are handpicked based on how close they are located to the key tourist destinations in Congo. The rates for these hotels and lodges are always subject to change, therefore it is advised that you check for up-to-date prices before deciding on where you'd like to stay. For those who interest in booking a hotel from abroad, we can assist to ensure that you cover your safari accommodation in Congo before you even travel for your safari holiday. Just send us your inquiry to info@visitandtourrwanda.com
For camping lovers, there are relatively available opportunities for camping though visitors often have to hustle with the camping gears most especially if you have to visit many remote national reserves and parks, with proper planning, we can as well get the camping gear for you at an affordable cost you can afford.
Let's take a look at the available Safari accommodation in Congo with keen interest on the key tourist destinations they are connected to!
Bukima Tented Camp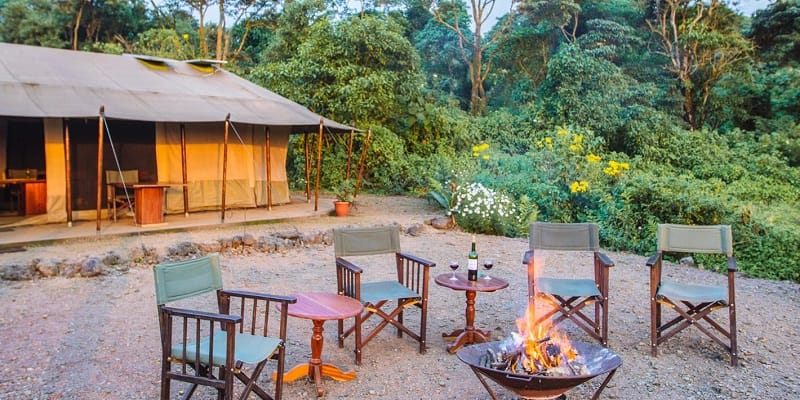 Bukima tented camp lies adjacent to Virunga's starting point of trekking gorillas, just outside Virunga National park. Initially, it was built for researchers, but now it belongs to the trekkers. The overnight guests are availed with platform tents, which are quite plush by camping standards. The tents have adjoined bathrooms with running water and nicely appointed rooms and dresser for clothes. The camp has spectacular views such as Mikeno mountain over the gorilla sector to the south, Nyiragongo volcano across the valley where the lava lake colors the night sky with a red glow.
Bukima tented camp never ceases to impress the guests and the prices for the camp includes breakfast, lunch, and dinner on full board. Alcoholic beverages are available at an additional cost, The rooms offered range from singles to doubles depending on the visitors choice. For inquiry about the accommodation rates of this camp, please send in an inquiry here
Mikeno Lodge: Congo Safari Accommodation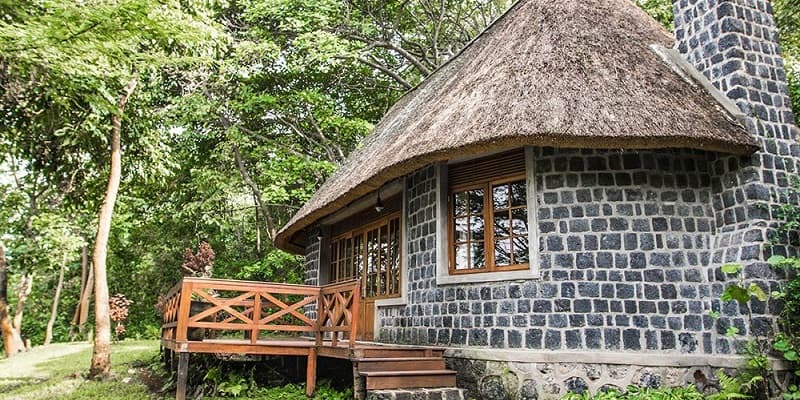 Mikeno Lodge is a cozy lodge situated on a forested hillside at Virunga National Park Headquarters which makes it easier and flexible for all that transfer to the Democratic Republic of Congo for Gorilla trekking and Mountain climbing/ hiking activities. It only takes one an hour and a half to travel from Goma town to this destination. Due to its strategic location in the middle of various attractions, one should expect to encounter and spot many different bird species, local blue monkeys, colobus monkeys, and baboons. Chimpanzees are usually spotted too making staying at this lodge very exciting, unique and exceptional.
The lodge has 12 spectacular bungalows strategically located in an area where they can view the surrounding forest as well as the environment and terrain. These were designed very appropriately with lava stone, mahogany and thatch material and are perched with in the thick green forest pointing out through the trees. For inquiry about the accommodation rates of this camp, please send in an inquiry here
Tchegera Island Tented Camp: Safari Accommodation in Congo
The Tchegera island tented camp is located at the northern shores of Lake Kivu, a place where you can easily relax after your hectic Nyiragongo hike and also when you want to stay away from the noise from Goma town. You can also enjoy the spectacular clear views of the lake and the tremendous volcanoes( especially Nyiragongo and Nyamulagira) which turn the night sky red due to their glowing lava. This island is worth for a calm relaxation due to the beautiful singing tones of the birds because the area has been blessed with a variety of bird species which include; African eagles, Cormorants, gulls, herons among others. For inquiry about the accommodation rates of this camp, please send in an inquiry here
Lac Kivu Lodge: Best Safari Accommodation in Goma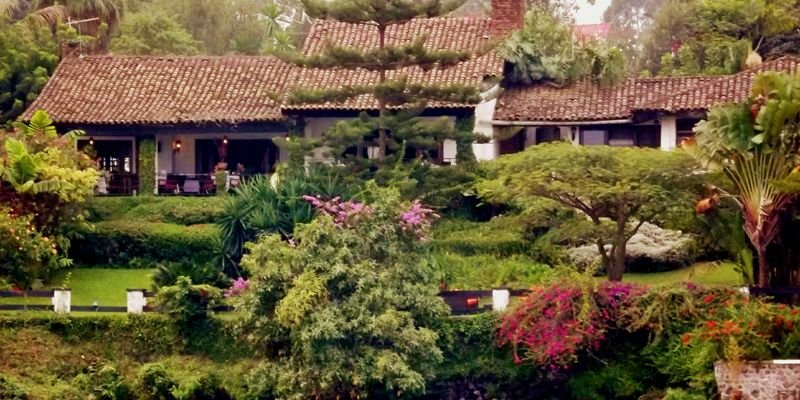 Lac Kivu Lodge is a destination safari accommodation in with comfort to give to all travelers who get there whether on holiday or adventure. It is situated in Goma and is very tremendous with nice looking green tropical grounds along the shores of the magnificent Lake Kivu which is surrounded by many hills/ mountains. The rooms provided here apply to all people i.e economic, standard plus, classic and deluxe rooms. From Budget to Deluxe type, espresso coffee machines are provided per room with locally made rocking chairs on each balcony as well as an IPAD which is provided upon prior request at the reception. There is an onsite restaurant that serves the best cuisines and services in Goma as well as two different conference rooms for seminars, discussions, and meetings. For inquiry about the accommodation rates of this camp, please send in an inquiry here
Orchids' Safari Club and Restaurant in Bukavu Congo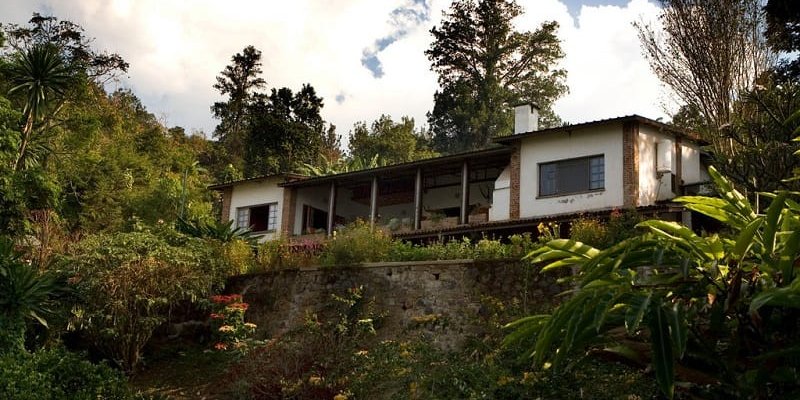 Orchids safari lodge is found at the foot of Lake Kivu in the Eastern Democratic Republic of congo. It is known as the waterside haven located near the most prominent park – kahuzi biega national park.It is blessed views of water on one side and animal kingdom on the other side depending on which window you are gazing at.
The area favours the finest gorilla watching in Central Africa and the amazing opportunity inspired the creativity and writing of a book and movie called "Gorillas in the Mist". Squint through the mist as it settles on Lake Kivu to spot these animals do their daily chores close to the hotel. The hotel has 22 spacious rooms at pocket-friendly charges, but the view is free. The hotel is open annually with a restaurant that has various menus and delicable meals to cater for guests who gather to eat in the dining room.
Safari Lodges & Hotels in Congo
Mikeno lodge
Bukima Tented Camp
Nyiragongo volcano summit shelters
Tchegera island tented camp
Kibumba tented camp
Orchid Safari Lodge
Coco-lodge
Lake side hotel Bukavu.
Mount Kahuzi hotel
Mboko Camp in Odzala NP
Cap kivu- Goma hotel
Congo Safari Travel Guide