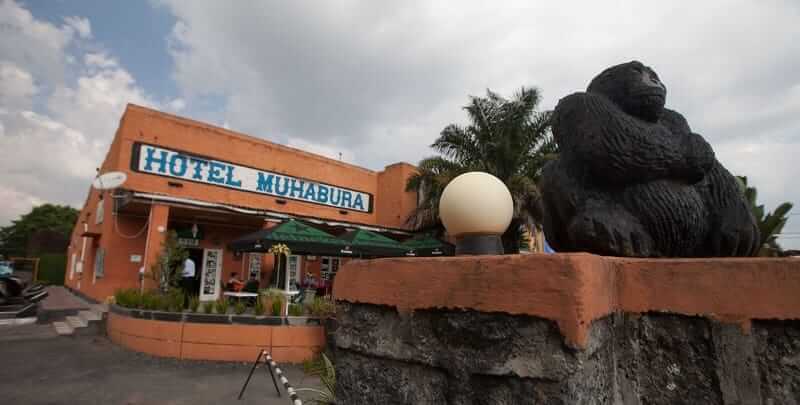 Best 6 Rwanda Gorilla Trekking Lodges in the Volcanoes National Park
Are you planning on your first gorilla safari holiday to be in Africa? Or you are probably just anxious to go for gorilla trekking adventure for another time? Whatever it could be, any trip is most enjoyable and memorable when you stay in comfortable and best Rwanda gorilla trekking lodges throughout your itinerary. Since the gorilla trekking activity starts very early in the morning we have always advised our travelers to book safari lodges that are very close to the park headquarters so that they do not miss out gorilla trekking the next day.
With over 30 safari lodges and hotels available in Musanze and Ruhengeri close to the Volcanoes National Park, a variety of accommodation plans are available for every traveler. These plans range from budget (basic) safari accommodation, mid-range (Medium) and Luxury (upmarket) accommodation. Find out the Best 6 Rwanda Gorilla Trekking Lodges we recommend for your next gorilla safari here!

Bisate Lodge opened in 2017 but stands out as the best of all gorilla trekking lodges in Rwanda. Built and modeled in the form of traditional palaces, this five-star funky safari eco-lodge is a glamouring accommodation for Rwanda gorilla trekking adventures. Bisate is well facilitated with spacious conical chalets, impressive exterior and interior and outstanding views across the brooding volcanoes. This lodge is also located within the vicinity of golden monkey circuits, the gorilla fund organization as well as being close to Dian Fossey's grave and the twin lakes of Ruhondo and Burera. You can also participate in the local community programmes while staying at this lodge.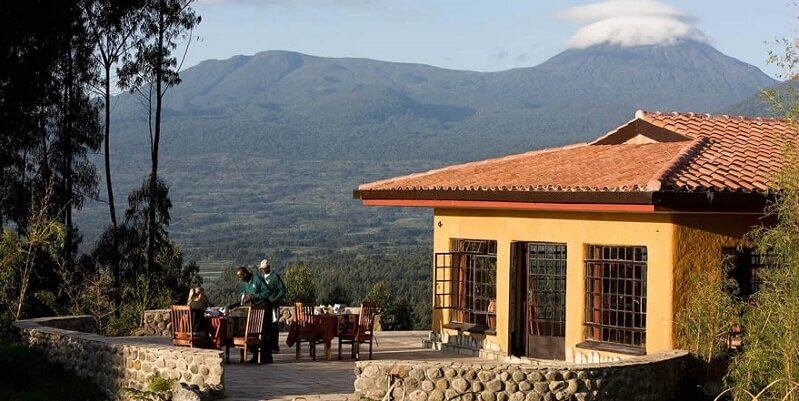 Sabyinyo silverback lodge is a top-rated classic safari lodge located at the foothills of Volcanoes National park with exceptional views of Karisimbi white shell volcanos on the Virunga Mountains. This lodge is a perfect accommodation for one to enjoy gorilla trekking adventures in Rwanda.
Located in just a few minutes drives from the park entrance, this lodge is the best for one to start the gorilla trek from. You enjoy the best local cuisine and a morning cup of coffee (recommended for the strenuous trekking activity).

Mountain gorilla view lodge is located on the edges of the Volcanoes National Park, the home of Mountain Gorillas in Rwanda. Staying at this hotel gives you time to have enough rest from a long hours journey from Kigali with less than 15 minutes of driving to arrive at the gorilla trekking point in Kinigi. This eco-lodge type of safari accommodation consists of 30 spacious modern rooms each with a sitting area and a fireplace plus a tea/coffee making machine.

Le Bambou Gorilla Lodge is also one of the Rwanda gorilla trekking lodges recommended to stay in for gorilla safari holiday. This lodge offers midrange and budget safari accommodation in and around Parc National des Volcans. This facility was constructed using environmentally friendly local fabrics such as Bamboos made fitted by local community workmanship. With eye-catching cottages, a private terrace and self-contained bathroom/toilet facilities, Le Bambou Gorilla Lodge are on our list of the top safari lodges for gorilla trekking in Rwanda.

Kinigi Guest House is one of the top safari lodges for gorilla trekking in Rwanda. This budget-range lodge is located opposite the park headquarters in Kingi, Musanze. Kinigi offers a perfect stay to easily enjoy the gorilla trekking experience more especially for first-time travelers. Basic accommodation is offered at affordable cost from budget travelers to medium budget (deluxe) travelers. Owned by the local community, your stay in Kinigi will be one of the ways the local communities can benefit from your visit to Rwanda.

Hotel Muhabura offers basic accommodation tour business travelers and visitors to Volcanoes National Park. From this hotel, you can easily set off for your gorilla trekking encounters or optionally choose to go for Golden Monkey tracking and a visit to the Dian Fossey Hike. You can also go for volcano hiking and climbing on Mt. Bisoke for hikers. The hotel is well facilitated with over 30 rooms ranging from singles, doubles, and twin bedrooms. You can as well enjoy entertaining performances from cultural groups and dance performers when staying at Muhabura Hotel.