Rwanda Gorilla Safaris, Rwanda Gorilla Tours & Gorilla Trekking in Rwanda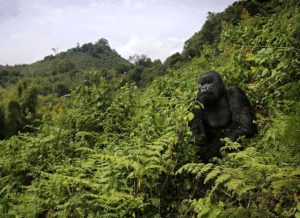 Visit and Tour Rwanda brings you affordable Rwanda Gorilla Safaris to give you a chance of trekking the mountain gorillas in the Volcanoes National Park located northwest of Rwanda in Ruhengeri (also known as Musanze province). You will be more than priviledged to visit and met face to face with one of the habituated mountain gorilla groups in the Volcanoes National Park on your gorilla trekking safari. The Virunga Ranges that constitute part of the Volcanoes National Park are shared by three countries of Uganda, Rwanda and Democratic republic of Congo. This is the conservation area home to the world's only remaining mountain gorillas.
Why Choose our Rwanda Gorilla Safaris
All our Rwanda Gorilla safari packages are organized to cover all costs of your trip including your Gorilla permit which is very essential if you are to take part in the gorilla trekking activity. Our team of tour experts will do this by helping you book your permit with Rwanda Development board. As long as you confirm the booking for your gorilla trekking permit, you will be guaranteed to spend a full hour with the gorillas on your trekking day.
How do I book for the Rwanda Gorilla Trekking permit?
To ensure you do a obtain a gorilla permit, all you need to do is to inform us about the exact date of trekking so that we check availability of gorilla permits on that very day. Once permits are available, then you will provide us with your passport details to enable us book it for you. We also organize transport to and from Ruhengeri for your gorilla trekking. Our driver-guide will be with you throughout the whole tour to make sure that all your transport requirements are met. We organize accommodation on all our Rwanda Gorilla Safaris and this basically depends on your budget and interest. We have a long standing relationship with budget, mid range and up market accommodation properties both in Kigali and Ruhengeri for your pre tour, tour and post tour accommodation. Kindly let us know of your budget and we will advise accordingly.
Checkout our Rwanda Gorilla Safaris
Below we have selected some of our best Rwanda Gorilla Safaris on our website which you can choose from and should you have other special requirements, do not hesitate to contact us.
[pt_view id="8080c9cgto"]