The beach is located Lake Kivu and you have a front view with unique taste of tranquility. There are about 10 exclusive bungalows with panoramic views of lake Kivu and its land scape. The gardens give you breathtaking soul stirring with exotic. The private beach is so peaceful and relaxing offers you an opportunity to safely swim in the lake or just sun bathe in an ambient of serenity.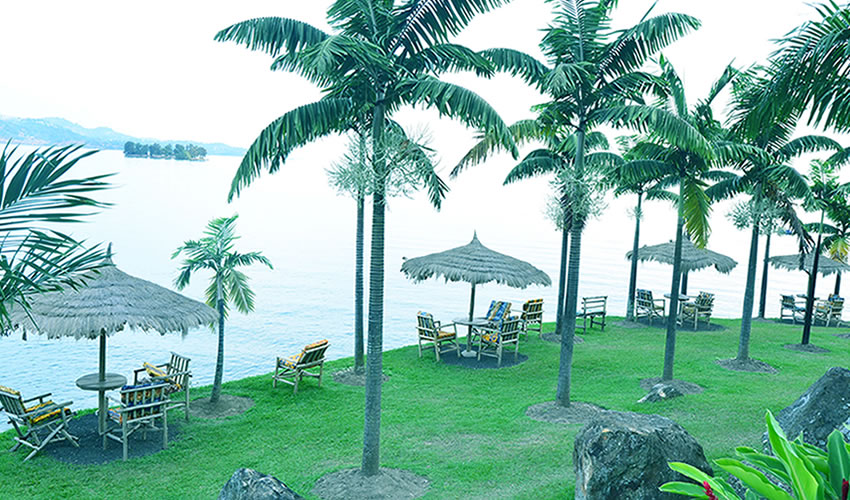 African Bungalow is situated in the lower part of the domain, on the shores of Lake Kivu, the bungalow in African style and decorated with local craft are surrounded by a large garden lined with palm trees and exotic flowers. This bungalow is also ideal for families or friends traveling together yet like some privacy.
Modern Bungalow
This is located in the higher part of the resort, the bungalows, built with volcanic stones and is surrounded by flowers with great perfumes and exotic plants. The bungalows are made of one room, a bathroom with private toilets and a terrace with beautiful views of the lake.
You get to enjoy the impressive landscapes and un discovered islands, explore the scenery as well as birds and wildlife. The local guides can help you discover in depth local culture and beautifully attraction points including the hot springs, night fishing safari, traditional dance and more.
The beach restaurant offers you to taste the local specialties like fish or goat skewers and grilled beef on a bed of Makala. You can dine along the shores of Lake Kivu and enjoy the beautiful sunset.