The House is located just south of Lake Kivu on the Burundi border and its set amongst the richtea plantations of Gisakura on the superiority of the Iconic Nyungwe National Park. This national park covers roughly 1020km of rain forest, bamboo, grassland, swamps and bogs. It's one of the last mountain rain forest habitants on the planet. The Lodge is located in remote wilderness, just 230 km from Kigali international Airport and can be reached by road, or domestic flight or helicopter direct to the helipad.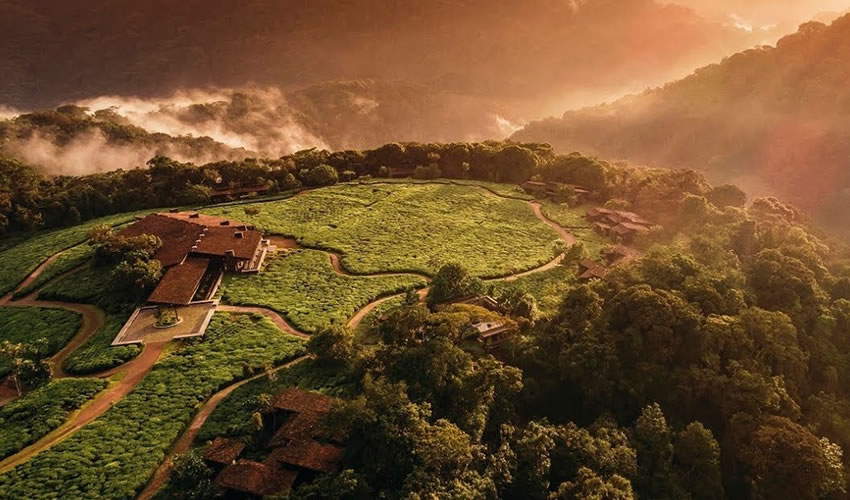 The resort was originally developed in conjunction with Rwanda government in 2010 and in 2017; it was managed by one and only after a renovation and an upgrade of the facilities.
The Resort offers great accommodation and a one kind escape, bordering one of Africa's oldest rain forests. It's located in five great wooden villas, clusters, tree skimming, luxury suites and rooms that are private in the great untamed surroundings, accommodating all adventure seekers and paying homage to Rwanda's heritage and beauty. You will also enjoy the excellent dinning and selected beverages included in your stay and the two signature resort experiences daily.
The Two bed room Forest suite:
This one boasts the primeval forest views and it's designed for the wild at heart and intrusive of spirit. It's ideal for those traveling with friends or family, the luxury suite offers plenty of room across large living spaces and the private out door decks, this means that you can um wind in an engaging rain forest experience.
The Nyungwe Room.
This Nyungwe room celebrates Rwanda's natural beauty, from its immersive tree grazing balcony to its chic African design and considerate furnishings. It has substantial spaces and beautiful interiors that make this bed room amongst the trees a serene hub for the great ecological adventures and wildlife encounters.
The common amenities found here include; dining room, A one & only spa and refreshing area, tea lounge and bar, as well as the 24 hour internet that is available in all the guest rooms in the main resort building including the guest room, bar and restaurant.