One and Only Gorilla Nest Lodge is surrounded by influential eucalyptus trees, and it awakes a wild spirit of adventure. The lodge encourages you to stare into the mirror through eye opening encounters with majestic mountain gorillas and experience the story of Rwanda. The lodge is a hidden oasis atop the misty volcanic mountains. Feel concurrently wild yet stylish floating amongst the trees, showering in the open air and dinning to the beat of Rwanda music. The lodge offers choice, privacy, personalization so that you can experience an escape with the highest degree of safety.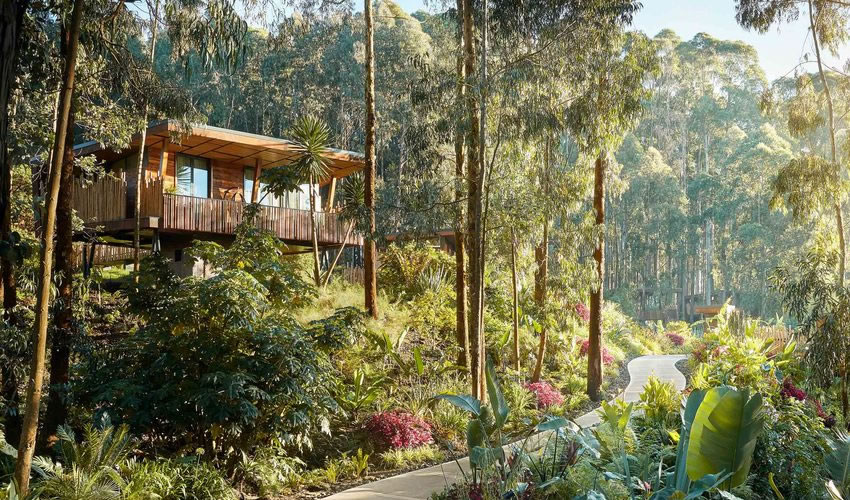 The main offers that the lodge include; daily breakfast, lunch and dinner at the Nest restaurant accompanied with select alcoholic as well as non-alcoholic beverages. There are also two signature resort activities per guest per day.
Enjoy every movement and sound in this great setting, where each tree is selected to attract an array of different lifeforms and every meandering path leads to a new adventure. The lodge is a home of freedom and positivity. The resort is home to variety of animal species including; mountain gorillas, golden monkeys, 300 bird species and many more.
Accessibility
By Land;
One & only gorilla's nest is a 2.5-hour scenic drive from Kigali international Airport. You can book a safari vehicle to transfer you to the Lodge. Let your heart be captured by the rolling vistas and the local communities that pass by.
By Air;
Get to enjoy a historic entrance, in your own chartered helicopter, only 25 minutes from Kigali international Airport and 45 minutes from one & only Nyungwe House. You are blown away by the volcanic vistas and gardens below.
The permit to view mountain gorillas not only allows the most respectful encounter, with limited numbers, controlled by experts but also contributes to both the local environment and national initiatives.
The main lodge amenities include; volcanoes national park, Nest restaurant, Nest bar, fitness center and one and only spa and club one.
Accommodation facilities
The forest king lodge.
Enjoy a continuous connection with the natural world from your romantic private lodge. Here you can follow the scents and sounds of nature onto your private open air viewing deck or al fresco shower, where the dramatic surround sound awakens you.
Two bed room forest lodge
The couples, family and friends share the magic of Virunga in this two bed room garden haven bordered by un disturbed rain forest. There are separate bed rooms, blissful privacy with furnished outdoor viewing deck offers a space to marvel at the theatre of nature.
Virunga Suite
This is where the floor to ceiling glass and open air bathtub indoor living to celebrate the views beyond.
Ingagi Suite
Here you will immerse yourself completely in the Rwandan gardens with an extended private space facing on the spacious deck. You also get to dine in the fresh forest air. The striking master bed room is also complemented with expansive living and dining.
Silverback Suite
Get to enjoy splendor and privacy in our crowning suite. You can speak out over an endless expanse of greenery, feel immersed in every corner of rain forest from your open air lounge, featuring an inmate fire pit overlooking your private pool.
Virunga Silverback Lodge
Virunga Lodge is a very spectacular location that overlooks the Virunga volcanoes and shimmering lakes Ruhondo and Bulera. The lodge is set on a hillside and has ten bandas that overlook terraced gardens. Virunga Lodge compares favorably with other high end lodges for the travelers visiting the gorillas in the park.
Each stone and tile roof banda features its own private terrace, fire place, double vanity bath room, and charging station. Wifi is also available in the main common area. Other than gorilla trekking, guests can also climb a volcano, track the golden monkeys, Diane fossey grave or go for gentle strolls around the picturesque villages near the lakes. The only problem is it's not right outside the national park gate which means that you need to wake up so early on the day of gorilla trekking.
The lodge is a lovely eco- friendly lodge, built close to the volcanoes National Park. A central building houses the reception, restaurant as well as the public areas all with magnificent 360 degree views across the lakes Ruhondo and Bulera and the Virunga volcanoes.
There are ten rustic bandas that have a simple in design in sympathy with the surroundings and their ecology, located around the property. It has been recently renovated, and all bath rooms now including; flushing toilets and hot showers in an en suite bathroom, which is a great improvement.
The lodge has got very comfortable feel to its large rooms and local touches. The bar lounge area is very convenient with a circular open fire in the middle, lots of comfory chairs and lots of books and board games and a new spacious balcony that has plenty of cozy arm chairs where you can see the views. The Virunga lodge prides itself on having an ecofriendly with furniture made from local materials, naturally wild gardens and solar power. The staffs here are very friendly and cooks wonderful meals.
The Lodge is just 40 minutes' drive from Volcanoes National Park headquarters, although the road has recently been resurfaced. It's an interesting drive with very stunning views and you will pass lots of locals along the roadside going about their daily business so if you don't mind the journey time, it's a good lodge to base yourself at for a few days of gorilla tracking activities.