Moriah Hill Hotel is located right in on shores of Lake Kivu, and this is completely renovated resort is everything you need for the perfect vacation, family gathering or a romantic getaway. Each and every room is equipped with amenities that will help you relax and feel refreshed by the caressing breeze from Lake Kivu, which is one of the cleanest lakes in the world.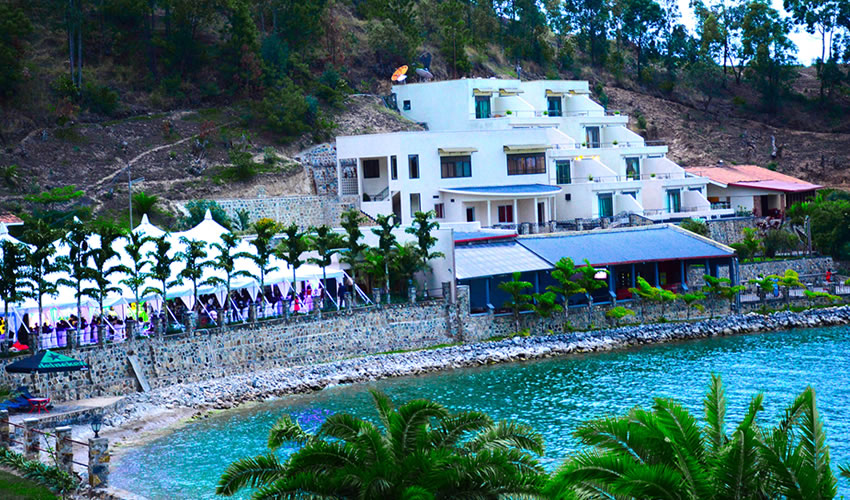 Each single room is well equipped with a HD TV, air conditioner, hair driers, refrigerator, wireless internet as well as a safe locker for the valuables. Come and enjoy other recreational activities including kayaking, canoeing, boat tours, swimming, and beach volley and tanning lakeside enjoying a delicious cocktail.
Take your vacation in style in an elegant resort. Enjoy the breeze on beautiful shores of Lake Kivu. The multi-level resort features spacious terraces over looking at the beautiful lake also the best place to enjoy the enthralling sunsets, the beautiful sunsets, the beautiful sound of colorful birds and the evenness of the waves. Sit back, relax and enjoy your perfect getaway.
You will enjoy kayakers, as they look to explore a slightly different perspective of lake Kivu. You will be able to explore a number of Islands in the lake Kivu. You will explore a number of islands in the lake, including the Napoleon's hat and the peace islet. The single Kayaks and double kayaks are available for rent.
Accommodation Facilities
Standard Single room.
The standard room at the Moriah hill resort in Kibuye is a perfect formed contemporary room filled with stylishness and comfort.
Standard twin
It has 2 twin beds that are ideally equipped for 2 people traveling together. You can share in a twin room especially if you are traveling as a couple.
Executive suites
Get to enjoy more of the suite in an executive suite from 75 sqm, the executive suites combine classic luxury with state of the art technology. The elegantly appointed bed room includes a king sized bed for lazy mornings, and often a well-designed desk.
Standard room
The standard rooms feature ground glass windows designed to resemble a shoji screen motif offer an ideal place to enjoy a refreshment or room service.