This is the newest lodge in the Kibuye area and its set in an enviable location on a private peninsula in Lake Kivu. This is a sister lodge to mountain Gorilla View lodge at Volcanoes National park, it has 21 rooms, all with great views out across the lake. The lodge opened in January 2017 and was originally called Kivu Safari Lodge which aims to be a relaxing stop off for the guests that travel from Nyungwe Forest up to Volcanoes National Park.
With its location on a small peninsula off the main road to Kibuye. Kivu lodge is set in a remote and serene location, in an area that previously has been little to no tourists. When getting closer to the lodge, the quality of the road is reduced by the beautiful views around you.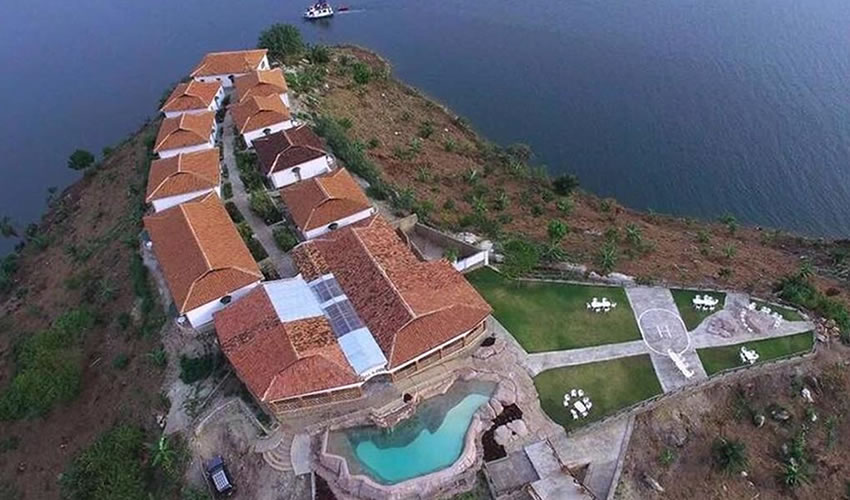 The lodge has got a large infinity pool, set into the rocks in front of the hotel. Overlooking the lake, Gardens and a fire pit also overlook the water, offering views across to the mountains of the nearby DRC.
The lodge has got 21 double and twin rooms, due to the size of the peninsula, the rooms are a little close together, and feel a bit crowded from the path leading through from the reception. Each room has got a private balcony from each one giving a more spacious feeling as you look out to the lake.
The rooms at Kivu are so spacious, though relatively sparsely decorated, with a large and very comfortable bed, complete with cozy bedding for the cooler nights, and soft bed side rugs as well as slippers next to the beds. The rooms are set up as doubles, but extra beds can be added in case the twin room is requested in advance.
The lodge also has a generator which is turned on at 7- 8 am and again from 6- 10 pm, and on request in case the guests need it. This means a lamp on the tables at each side of the bed is a rechargeable torch, next to convenient plug sockets.
Each of the rooms has a desk, small table and a few chairs, internet, bath rooms as well as showers. There are sliding doors that open up onto a small balcony with table and chairs that overlook the lake. Just at sun set, you can watch the fishermen heading out for their night's work.
The bathrooms are basic but functional, with plumbed in with flush toilets, and hot showers. Its showers are brightly colored with stones inset into the wall, giving a splash of color to an otherwise pale room. The main area of Kivu lake houses the reception plus a bar area with sliding doors. There are plastic chairs and tables next to the pool area, which are a little jarring to the atmosphere.