The Hotel was inaugurated in 1973 as the grand hotel of the country and became a shelter to about 2,000 people who were saved by the hotel opening its doors in 1994 during the genocide against the Tutsi; the lodge is surely the most hotels in Rwanda. The hotel is located in the central business district and allows you to enjoy the breath taking views over the hills of Kigali while indulging in culinary delights from casual to fine dining, international cuisine to local signature dishes.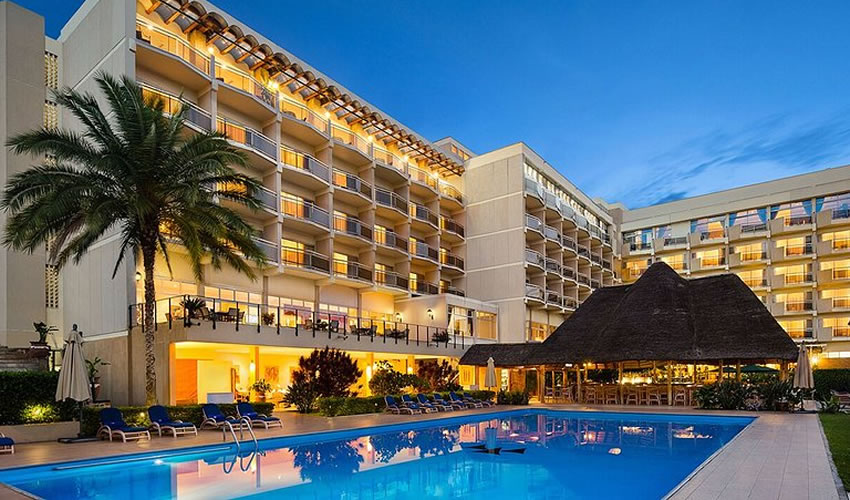 The hotel has been known to promote local artists as well as Rwandan culture and produce. This is shown through the display of local art around the hotel which not only beautifies it but generates incomes for the local artists as the art pieces are sold.
The lodge is set in large gardens in the heart of Kigali and it attracts a largely business clientele and also the location makes it a good base for exploring the Rwandan capital. The hotel has got a great reception with stylish monochrome sofas that are backed by designer wall paper, colorful art work and the beautiful views over the gardens.
The hotel has got 112 spacious rooms that are clean and comfortable, without being luxurious. The rooms have private bath rooms, satellite televisions, PC hooks and most other standard hotel amenities. The hotel overlooks the city and has got beautiful gardens that feature a large swimming pool surrounded by an extensive patio set with sun loungers. The bars and restaurants at the hotel cover many options
La terrasse which is set on a large terrace from where you can see the gardens and pool beyond. Buffets at breakfast, lunch and dinner feature a wide range of hot and cold dishes.
Le panorama which opens every evening and offers a gourmet dining experience. It's pretty at night with the large windows that give great views over the twinkling lights of Kigali.
The Legancy lounge; is a classy bar that serves a range of drinks and cocktails. Come here on Friday or Saturday evening and enjoy jazz music.
Lieu de View is a relaxed pool bar that serves range of tasty snacks and drinks and its known for some of the best kebabs in Kigali.
The other facilities include; a small gym, a curio shop that sells locally produced crafts, and a couple of conference rooms catering for up to 80 people.