Gisakura Guest House lies two kilometers outside the forest close to the Gisakura Tea estate. The accommodation is also extremely basic, but clean and so comfortable. The rooms are thinly furnished and the showers and toilets are communal but all is spotlessly clean. The staff here is friendly and welcoming and huge meals that can be prepared with a couple of hours' notice. Even as basic, the rest house offers good access to the waterfall trail and the colobus troop living on the Gisakura Tea estate. The vervet monkeys pass through the grounds and a fair variety of birds are present in the small patch of forest in front of the rest house.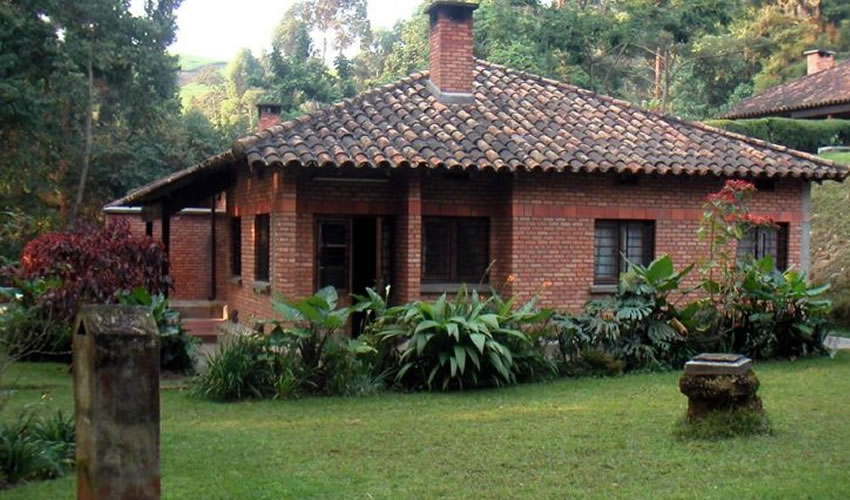 The guest house has a number of nearby relic forest patches offering a small ramble, a good birding and the chance to meet forest monkeys. All in all, it's very simple, but pleasant and the only accommodation in the area anyway.
Gisakura guest House is run by the national park and it's just adjacent to a lush tea plantation just outside the Nyungwe Forest National Park boundary. The accommodation is basic and the bathrooms are shared but do have hot water and are kept very clean. The meals are simple but plentiful and the staffs are always friendly and so hospitable. There is also a camp fire at night that offers the perfect opportunity to meet other guests and swamp wildlife encounters.
Gisakura guest House is located 2km away from Nyungwe Forest National Park, the largest area of intact montane rain forest in East and central Africa. The lodge sits on the edge of the Gisakuratea estate and has many trails that guests can explore. The highlight of a visit to Nyungwe forest is to track and watch the habituated troops of chimpanzees that live the park as well as the 13 other species of rare primates and much other wildlife.
The facilities on this guest house include; the restaurant, lounge, bar, camp fire and the private bathrooms with hot water showers.
The local wildlife;
There are 13 species of primates and great ape including the habituated chimpanzees, L Hoest's monkeys, grey cheeked mangabey, the Angolan black and white colobus, Owl faced monkey as well as the mona monkey. The park has got 86 mammals and 120 butterfly species and chameleons and 280 birds including 26 central highland endemics. The optional activities carried out here include; chimpanzee and primate tracking in the park. The treks to waterfalls and scenic view points as well as the canopy walk are also available.