The lodge is set on a steep hill, leading down to the shore of Rwanda's lake Kivu, the rustic yet stylish cormorant lodge in Kibuye has got a small number of wooden cabins, each affording beautiful over the lake. This lodge is set on a quite small plot, with picturesque lakeside location and is well run by friendly staff. It makes a good spot to relax either before or after seeing the gorillas, or as a stop off on your journey from Volcanoes National Park to Nyungwe Forest.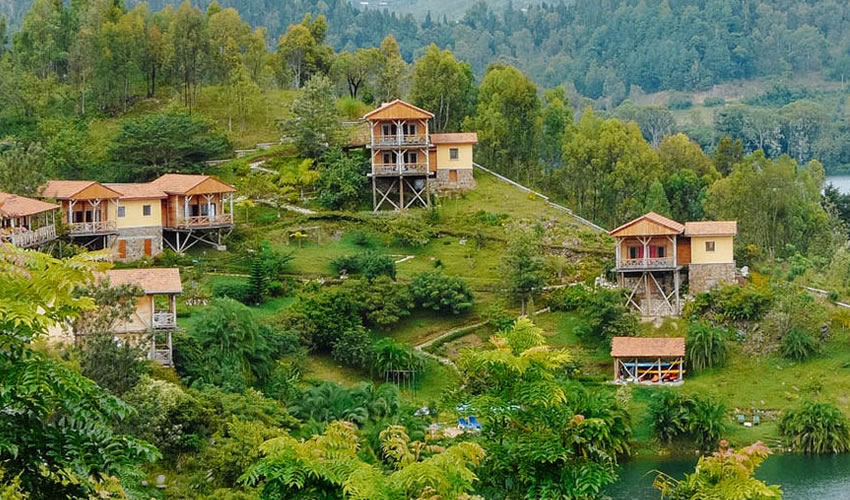 The lodge is set on quite location and is well run by friendly staff. Slightly smaller and more personal than the nearby Lake Kivu. The central areas of Cormoran Lodge consist of a large wooden structure that is set into the hill, supported on wooden stilts, with recently renovated wooden decking. Just at the heart of the lodge is a large bar and a big fire place, which is lit in the cooler evenings. On one side, there are sofas, chairs and a TV, on the other, tables that are set out for dinner.
These main areas are decorated with lifesaver rings and chucky ropes to create a nautical feel, while African ornaments and statues lend a local atmosphere, and the vast amounts of wood that make it feel slightly alpine.
The lodge has got seven cabins and these are identical though they all have a different color scheme. Located in lush, well maintained and botanically interesting gardens, the cabins are reached along quite steep path ways with step leading up to the doors; cormorant lodge is not for those who are unsteady on their feet. The room inside is quite, simple and rustic, with wooden floors, ceilings and walls and carved shelving in small alcoves.
Each cabin has either a large wooden double bed or twin beds, with mosquito net, a small writing desk and a couple of comfortable chairs in front of a flat screen TV. There is also fin a mini bar, safe, tea and coffee making facilities and an umbrella for rainy days. The spacious en suite bath rooms have a very natural feel, decorated with individual stones that are set into concrete. Each has a flush toilet, large shower and a single sink with a mirror. Carved wooden towel rails and the shelves complement the décor.
In front of the bed room, there is a small terrace, with a nautical style rope mesh to prevent children from failing through the gaps, it's a great spot to sit and watch the sunrise in case on a clear evening.
The steep steps lead down to a private man made beach next to the lake, with a few sun loungers, a campfire and toys and swings for children. The beach is a quite small, and could feel crowded but it's nice to relax.
The most common activities here include; renting kayaks or motor boats or water skiing as well as boat trips.