Chez Lando Hotel is located at the heart of a busy Remera business suburb in Kigali. The hotel represents the essence of a homely, green, family friendly and hospitable hotel with one of the most beautiful menus in the city. The hotel carries a character that sprews of freshness, vibrancy, hope, ambition as well as confidence resonating from a past of pain and loss.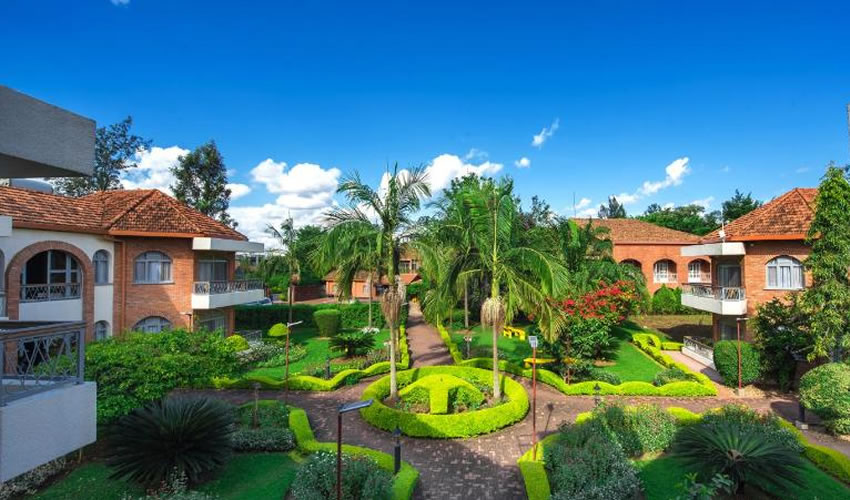 At the hotel, we apply the tradition of Rwandan hospitality to the needs of modern guests. The garden style hotel is located just five minutes from Kigali international Airport and is sight on the way to the heart of town.
This hotel has a style that happily marries history and memory in a special tribute to its founders. The hotel offers a total of 82 rooms where life is good and both the locals and visitors feel at home. The hotel is a mosaic of culture and colors, where simplicity and warm hospitality are offered in rare moments of enjoyment.
Accommodation.
Chez Lando Hotel has got 82 quaint rooms with individual patios. Just in the rooms, you have views of the gardens or of the rolling hills of Kigali and you will feel at home and surrounded by beauty.
The pavilion which offers a class of art accommodation offers you a snap on the Rwanda hospitality. The Bungalows most especially for the travelers and consultants looking for a quiet place to work from. The hotel offers free shuttle to and from the airport for the hotel guests.
Each of the rooms has got a private patio and very beautiful views of the expansive gardens. The hotel offers 2 restaurants to choose from, a popular local dance club, a children's playground and business center with internet connections and printing.
The room types include; standard rooms; with 1 queen size bed, 23 inch TV, bath room and basic bath amenities, Work desk, balcony with garden view, and its located in the main building.
Bungalow rooms with 2m king sized bed, 32 inch TV, comfortable work desk, bathroom, Mini bar, balcony with garden view and its located in Garden Area.
Pavillion Rooms; with M2, 2m king sized bed, 32 inch TV, daily coffee & Tea provision, comfortable work desk, Bath rooms, Mini bar large balcony with Garden access and its located in the private Garden Area.
The main restaurants include; Chez Lando Hotel grill and la friongale restaurant, Chez Lando Hotel's La Fringale restaurant.