Our 6 Days Kenya Safari Tour will have you adventure wildlife, the trip will take you to Samburu National Park, Aberdare national park, Lake Nakuru, and Masai Mara Game Reserve exploring the wildlife and best of  Kenya, there will be popular views of animals species along the floor of the great est African rift valley, some of which are rare and endemic to the ecosystems, the major highlight of this safari is the great wild beast migration.
Itinerary overview
Day 1: Arrival and Transfer to Samburu national park
Day 2: Game drives –Transfer to Aberdare ranges
Day 3: Aberdare ranges –Lake Nakuru national park
Day 4: Lake Nakuru national park-Masai Mara game reserve
Day 5: Full day game drives Masaimara
Day 6: Departure to Nairobi.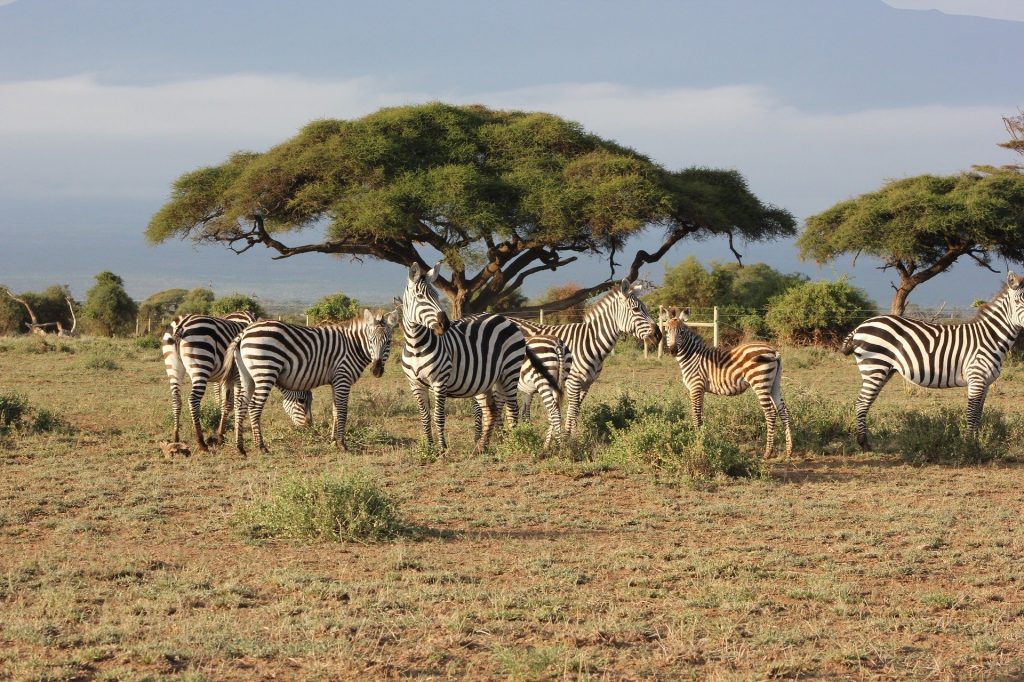 Detailed itinerary
Day 1: Transfer to Samburu National Park
Upon arrival, you will be picked by our company representative who will transfer you to Samburu National Game Park, arriving in time for lunch, and afternoon game drives in the conservation area, expect to see zebras, Somali ostrich, side stripped jackal, returning to the lodge that has been booked for your dinner and stay overnight at
Luxury: Samburu Sopa lodge
Midrange: Samburu riverside tented camp
Best Budget: elephant bedroom camp
Meal plan: Breakfast, lunch, dinner
Day 2: Game Drives – Transfer to Aberdare Ranges
Early morning game drives, return to the lodge for breakfast checkout and Transfer to Aberdare ranges arriving for a hot lunch, check-in at the lodge and afternoon game drive, expect to see popular large herds of the African buffaloes returning to the lodge for relaxation  at beautiful views at the lodge veranda
Luxury: Aberdare country club
Midrange: the ark
Best Budget: Aberdare fishing lodge
Meal plan: Breakfast, Lunch, Dinner
Day 3: Transfer from Aberdare to Lake Nakuru National Park
Lake Nakuru national park is a beautiful conservation area known for the beautiful pink pelicans, after breakfast, we will transfer to the national park, passing through angelic vegetative covers driving along the floor of the great east African rift valley, brief stop over at the Nyaruhuru Thomson fall, go for afternoon game drives along Lake Nakuru, you will have excellent views of the pink flamingos, black Rhinos, baboons and many park animals after which we will head to the lodge for dinner and stay overnight.
Luxury: Lake Nakuru lodge
Midrange: Hill court resort
Best budget: wildlife club guest house
Meal plan: breakfast, lunch, dinner
Day 4: Lake Nakuru–Masai Mara Game Reserve
Early morning breakfast and transfer to Masai Mara national game reserve viewing game along the rift valley floor, we arrive in time for lunch and relaxation as we prepare for the following day's activities in Masaimara
Luxury: Sentrim Mara camp
Midrange: olmoran tented camp
Best budget: Enchoro  wildlife camp
Meal plan: Breakfast, lunch, dinner
Day 5: Full Day Game Drives Masai Mara – Community Visit
You will have an early morning breakfast followed by a full day game drive at the Masai Mara National Reserve we will embark on driving to the park entrance where you will have a chance to animals including lions, elephants, giraffes, wildebeests, leopards, cheetahs, zebras, hippos, Thompson's gazelle among many, your driver-guide will give you detailed views and explanation of each animal species, having a chance to drive to the Mara Triangle for a close wildlife view, after the drives, we will have a picnic lunch and head to the villages for a great cultural experience in the Masai villages.
Luxury: Sentrim Mara camp
Midrange: olmoran tented camp
Best budget: Enchoro  wildlife camp
Meal plan: Breakfast, lunch dinner
Day 6: Transfer to Nairobi
In our 6 days Masai Mara Kenya safari, you will have a leisurely breakfast and then ready yourself to leave the park. You might decide to have a night in Nairobi town or go to the airport for departure.
Trip includes
Park entrance and conservation fees
Meals and drinks as stipulated in the itinerary
4*4 wheel car drive
English speaking guide
Accommodation as indicated
Water on board
Excludes
Meals and drinks not included in the itinerary
Visa fees and air tickets
Gratitude and tips to hotel staff
Costs incurred due to personal delays.