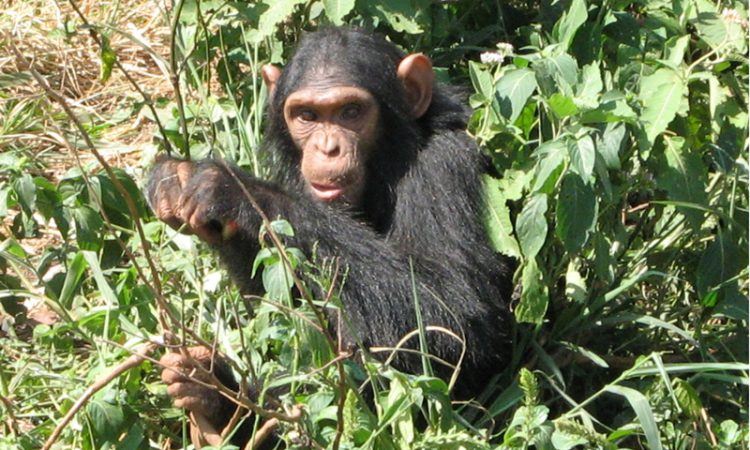 The 6 days Gorilla and Chimpanzee trekking safari in Rwanda is a flawless package taking you for gorilla trekking safari in Volcanoes National Park and chimpanzee trekking in Nyungwe forest national park.
Rwanda gorilla trekking starts off with an early morning briefing at the park headquarters by the rangers. You will be picked up by a van to the starting point of trekking the gorilla family you have been allocated. Trekking may take a minimum of two to three hours or rather a maximum of seven to eight hours. Once you find the gorillas, you will be restricted to only and only spent an hour with them as you watch them living their life, taking care of the young ones, feeding them and trying to comb their hair. This Rwanda gorilla trekking activity is very rewarding and memorable. This 6 days Gorilla and Chimpanzee tracking safari is the best wildlife encounter exposing you to the closest relatives to human beings in the jungle alongside Kigali city among others. The trip starts and ends in Rwanda.
Arrival – Transfer to Nyungwe Forest
Upon arrival at Kigali International Airport, our driver / guide will be waiting for you, lunch in Kigali and then transfer you to Nyungwe forest Nation Park which is made up of a variety of habitats including montane forests, Think vegetation , grasslands, and swamps. This is a home to 13 primate species such as Chimpanzees, endangered white and black colobus monkeys, Blue Monkeys, red tailed monkeys and grey checked Mangabeys. There are also about 300 bird species. Relax in the evening as we wait for dinner and Overnight at Nyungwe Hill Top view/ Gisakura Guest House
DAY 2
Chimpanzee tracking and Afternoon Colobus monkeys or Canopy walk
Wake up very early in the morning and have breakfast and then after go for chimpanzee briefing and thereafter, drive to Uwinka Overlook OR Cyamudongo depending on where the day activity will start from. Nyungwe forest is known of search for colonies of Chimpanzees and many monkey species like Blue Monkeys, red tailed monkeys and grey checked Mangabeys, Colobus monkeys, plus beautiful forest birds among others. Back to your lodge for lunch, relaxation as preparing for any one of the above mentioned activities of your choice, in the afternoon. Retire for dinner and overnight at your lodge. Meal plan
DAY 3
Gorilla Tracking
Rise up very early in the morning and have breakfast and thereafter proceed to volcanoes national park offices for briefing about the gorillas and allocation of Gorilla groups and guides. Thereafter get into the tropical rain forest to trek mountain gorillas starting from where they were the previous day onto where they are. You will find them doing their daily chores of feeding their young ones, climbing trees and others just relaxing. Take your best photographs having switched off your flash. This whole exercise takes a maximum of 1 hour and then return to the starting point where you left your safari car and drive you to the hotel for lunch, Evening at relaxation or drive to the Twin lakes to enjoy a every beautiful view of Burera and Ruhondo.
DAY 4
Transfer to Kibuye & boat to Gisenyi
After having your breakfast, transfer to Kibuye for Boat cruising in lake Kivu and then embark on drive to Gisenyi or You may decide to be transferred by the boat to Gisenyi and visit some beautiful islands on the Lake Kivu, enjoy the view of the beautiful lake and take photographs, Overnight and meal plan at Lake Kivu Serena Hotel (Luxury) or Paradise Marahide Hotel[budget] on the shores of Lake Kivu. F/B.
DAY 5
Morning Biking and transfer to Volcanoes National Park
Wake up very early in the morning and have breakfast then go for biking along Lake Kivu which is over 35 km for about 3hours and then afterwards return for lunch at your hotel. From here in the evening embark on the drive to Musanze district in Ruhengeri. Meals and overnight at Mountain Gorilla View Lodge (Luxury), Muhabura Hotel (mid-range) or 5volcanoes hotel (luxury)
DAY 6
Dian Fossey Tombs Hike/Golden monkey
After breakfast, you will hike to the tombs of the great lover of Gorillas (Dian Fossey), read more about her achievements towards the conservation of Gorillas. Other optional activities include golden monkey tracking, adventurous trek to Mt. Bisoke / Bisoke or Musanze caves exploration. Return to your lodge for lunch then leave to Kigali for a city tour inconclusive of Gisozi genocide memorial site, local art & craft shops, do last minute shopping before heading to the airport for your departure flight and this will mark the end of the 6 days Gorilla and Chimpanzee trekking safari.