The safari takes you to explore the best tourist destination in Uganda, Rwanda and Burundi including Tracking mountain gorillas, chimpanzees, wildlife viewing and many more.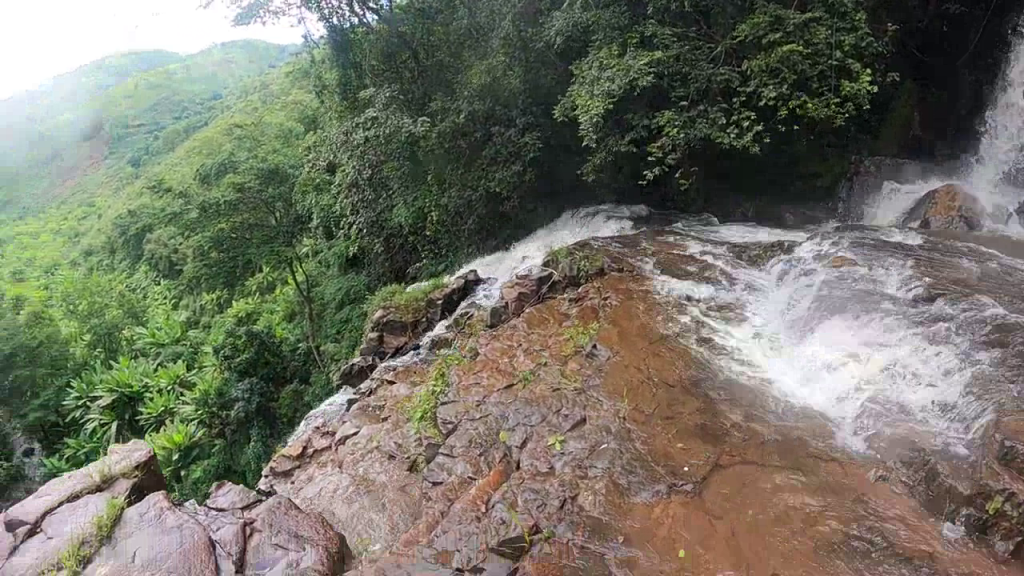 Detailed Itinerary
Day 1: Pick up and transfer to Fort Portal – Amabere Ga Nyina Mwiru
Have breakfast at your lodge in Kampala and then transfer to Fort portal a tourism town in western Uganda known for its clean streets and fascinating conical hills that overlook the town creating a great scenic view. Arrive at fort portal in the afternoon, have lunch and then proceed to Nyakasura hills home to Amabere Ga NyinaMwiru caves. These caves have got both cultural and geographical theory which is explained in details by the site guide. After this adventure, you will get to your lodge for dinner and an overnight. Overnight at Primate/Kibale Forest Camp/Kibale guest cottages. Meal plan: Full board
Day 2: Chimpanzee Trekking & Bigodi Visit
After breakfast at your lodge and then proceed to Kanyanchu the park headquarters for a briefing and later embark into the forest in search for the chimpanzees which are the closest apes to human beings. The chimpanzee experience lasts 2-5 hours, including one hour in direct contact with these great creatures. The other species to meet include; baboons, bush babies, colobus monkeys, Mangabeys and many squirrels. After lunch, you will transfer to Bigodi community wetland for a nature walk, to explore this diverse habitat.
Get out for a walk in the Bigodi swamp sanctuary to enjoy birding and exploring the exceptional wetland vegetation and animals that unveil I n this sanctuary. Return to the Lodge after the experience, relax for dinner at Primate lodge/Kibale Forest Camp/Chimpanzee guest cottages. meal plan: Full board
Day 3: Transfer to Queen Elizabeth National Park & have community walks
After the morning breakfast at the lodge, proceed to Queen Elizabeth National Park which is one of the famous parks in Uganda, located in Kasese town just after the Rwenzori mountains. Arrive at lake George in mid-morning, to star your community experience interacting with the local people and get introduced to their daily activities. Return from the walk and proceed to your lodge for relaxation and overnight at Mweya safari Lodge/Ihamba safari Lodge/Simba safari camp. Meal Plan: Full board
Day 4: Morning game drive and afternoon boat cruise along Kazinga channel
Have breakfast and then drive in the main camp at Mweya peninsular which is attractively positioned, separating lake mGeorge from Lake Edward by Kazinga channel. Proceed to the Ksenyi plains, the known mating ground offers you a memorable experience to meet variety of wild game families at a great view including elephants, buffaloes, waterbucks and kopbs along with predators like the lions, jackals, and the leopards. The game drive takes 3-4 hours before you retreat back to the lodge for lunch.
After lunch proceed for lunch cruise along the Kazinga channel. This boasts to be home to one of the largest concentrations of hippos as well as herds of elephants, buffaloes, and other wildlife species that come to drink from the channel. The Kazinga also attracts variety of bird species including the African Eagle, white ingrets and the pied kingfishers. Overnight and dinner at Mweya safari Lodge/Ihamba safari Lodge/Simba safari camp. Meal plan: Full board.
Day 5: Transfer to Lake Bunyonyi
Have breakfast and then embark on the trip to Lake Bunyonyi in south western part of Uganda. You have a game drive enroute in Ishasha sector of the tree climbing lions. The area of the park is well endowed with the infamous climbing lions together with other wild game that live in this open savannah grassland part of the park. The tree climbing lions like to lie flat on fig tree branches in the mid-morning sun while waiting for their prey. After, proceed on a drive to the scenic Lake Bunyonyi arriving in the evening and relax for dinner and overnight. Dinner and overnight at Arcadia cottages Bunyonyi/Bunyonyi safaris Resort/Spreme Adventure park. Meal Plan: Full board
Day 6: Activities on Lake Bunyonyi& Transfer to Volcanoes National Park
Wake up so early in the morning and get to admire the sun rising over this scenic lake and enjoy viewing it just from the Balcony of your room. Lake Bunyonyi is famous for its unequalled terraces that overlook on of the deepest lakes in East Africa with 29 islands dotted all over the lake. Take a mid-morning boat cruise to explore the 29 islands all around Lake Bunyonyi and visit the local Batwa communities who have lived in this area for centuries. Return from the safari early enough and transfer to Rwanda in Volcanoes National Park through verdant country side across the Virunga chain of mountains. Arrive in the evening for relaxation and overnight at Bunyonyi safaris Resort/ Le Bambou Gorilla Lodge/Muhabura Hotel. Meal plan: Full board.
Day 7: Golden Monkey Tracking & Transfer to Lake Kivu
Have breakfast and then head to the jungles of Volcanoes National Park to explore the endangered golden monkeys in their natural habitat. Trekking these beautiful creatures in an epic encounter that allows you to see, sturdy and take memorable photos as they mix up freely within their distinctive troops. In the jungles, you will also be able to see other primates that unveil in this park, including Red & white colobus monkeys, red tailed monkeys, baboons, among others. Golden monkeys are also considered endangered primate species with two habituated troops that are available for tourism in the park, both of which make about 80 members altogether. Prepare to travel to the western side of Gisenyi, to Lake Kivu near Congo Border for an overnight and relax along the lake. Overnight at Lake Kivu Serena Hotel/ Water front resort, Lake Kivu/Paradise Malahide Hotel. Meal plan: Full board
Day 8: Cross to DRC, Kahuzi Biega National Park
Have breakfast at your place and then transfer to Bukavu area in DRC. Cross via Changugu border, with undulating views of Gisenyi based Lake Kivu and the scenic Congo Nile trail occupying your journey to the Kahuzi – Biega National Park. Spend the rest of the evening chilling at the lodge in Bukavu town awaiting gorilla trekking tour in Kahuzi- Biega National Park the next morning. Overnight at Orchid Safari Lodge/ Hotel Horizon.
Day 9: Trek the Eastern Lowland gorilla trekking
Early in the morning, you will head for a lifetime adventure experience of the lowland gorilla trekking in KahuziBiega National Park. Tracking lowland gorillas is an amazing experience, lowland gorillas differ from the mountain gorillas, the lowland gorillas are bigger in size, usually 1-4 hours tracking. These gorillas stay in bigger families as compared to the mountain gorillas; You will not regret the safari effort once you meet these amazing gorillas! After tracking, you will go for a nature walk in the KahuziBiega park and visit Tshibati waterfalls, Visit Bukavu town, Mbayo tea plantations, the research center and the surrounding traditional homes. Return to your Lodge for dinner and overnight. Dinner and overnight at Orchid Safari Lodge/ Hotel Horison.
Day 10: Drive to the border and transfer to Bujumbura City
After breakfast, check out from the Lodge, and drive to Bujumbura city; arrive in the evening to relax, and have dinner at your lodge in Bujumbura. Club du lac Tanganyika/Roca Gold Hotel/ Hotel Dolce Vita Resort. Meal plan: Full board
Day 11: Visit the source of the Nile, Karera waterfalls.
Early in the morning after breakfast, take a visit to the source of the Nile, drive to Rutana to admire Karera waterfalls, later you will visit the source of the Nile at Rutovu, a not so small forest with a river stream that many researchers, including the BBC have corroborated to be the source of the Nile, the longest river in Africa and second longest in the world. Dinner and overnight at Club du Lac Tanganyika/ Roca Golf Hotel/ Hotel Dolce Vita Resort.
Day 12: Gishora drum Sanctuary – Gitega National Museum.
Have breakfast and then drive to Gishora drum sanctuary and visit the Burundi National museum, visit Mushasha catholic village and later continue to the ancient administrative offices during colonial time, then after return to your hotel for dinner and overnight. Dinner and overnight at Club Du Lac Tanganyika/ Roca Gold Hotel/Hotel Dolce Vita Resort.
Day 13: Transfer to Kigali City.
Have early morning g breakfast at the lodge and then drive to Kigali city, to your lodge; rest and have dinner. Overnight at Kigali Serena Hotel/Hotel ChezLondo/ Murugo Hostel.
Day 14: Explore Kigali City/ Relax at the Lodge
Explore Rwanda's city, Kigali one of the highly rated smart and cleanest city in the world, marked with hospitable people, historical buildings and monuments, genocide sites, craft markets and shopping centers. Overnight at Kigali Serena Hotel/Hotel Chez Londo/ Murugo Hostel. Meal plan: Full board
Day 15: Transfer to the Airport and Departure Flight.
Have breakfast and then transfer to Kigali Airport for check in procedures for flight connections depending on flight time.
END OF SAFARI
Tour Inclusions
Professional Driver guide
Gorilla permits
Chimpanzee permits.
Transport in 4 x4 safari vehicle
Accommodation as per the Itinerary
Drinking water while on safari
All the activities in the itinerary
Entrance fees
Ranger fees
Tour Exclusions
Both international & domestic flights
Visas
Tips for the guides
Extra accommodation facilities not detailed in the itinerary
Other Beverages or Drinks of any personal nature like Alcohol
Optional Activities
Laundry services
Extras not detailed in the itinerary.